When Bleeding Cool Grabbed Shailene Woodley And Veronica Roth For A Quick Divergent Chat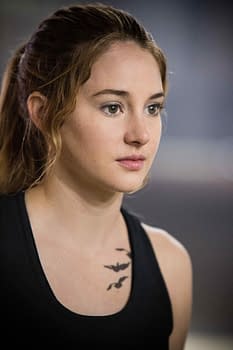 After a screening of early footage from Divergent the other night, our fearless proto-Lois Lane, Becky Lewis, grabbed star Shailene Woodley and author Veronica Roth for an unscheduled chat. Here's Becky's report.
With the Twilight franchise over and numerous others deservedly (The Host) and undeservedly (Beautiful Creatures) fallen by the wayside, it's currently only The Hunger Games, with Catching Fire about to be released, flying the flag for blockbuster-worthy YA adaptations.
But we've high hopes that Lionsgate's Divergent will add to the short list of outstanding YA adaptations – despite today's announcement that the UK release date has been pushed back to April 4th 2014 (the US date remains March 21st).
Divergent is an adaptation of Veronica Roth's dystopian debut novel. The story follows Tris, a young girl who lives in a society where everyone is forced to choose which of five factions they are going to live their life in, whether it be Erudite/intelligence, Abegnation/selflessness, Dauntless/bravery, Amity/peace and Cando/honesty.
We were allowed a sneak peek of some new Divergent footage this week, and we also met up with the author of the worldwide bestseller, Veronica Roth, and her new leading lady, Shailene Woodley. Spoilers ahead!
The footage, unfortunately, didn't feel like anything we hadn't seen before. The previously released trailer was shown as well as a new featurette with choice commentary from Woodley, Theo James, Kate Winslet, Jai Courtney and Maggie Q. We were also shown a longer scene that had been cut down into a shorter clip, and this was the most intriguing, taking us a little further into Tris's world.
The initiation ceremony into the Dauntless faction begins with the new members having to jump off of a moving train. They they have to leap from rooftop down into a dark unknown. It's down in the dark that Tris first meets Four, the instructor for the new faction transfers, and of course, her soon-to-be love interest.
This scene is action-heavy, and has the same grey undertones of the outer districts that we saw in The Hunger Games, continuing the main comparison. As Tris and Four bond, and alliances and enemies are forged, director Neil Burger reveals two leads with great chemistry – something that was clearly important for the production as they went through months of testing before picking James.
Strong female leads are something that we're seeing more and more of out of Hollywood blockbusters, but this is a first for Woodley, who broke out in George Clooney's The Descendants.
When we spoke to Woodley, she told us that the reason she picked Divergent over the other franchise scripts she received was because there were so many metaphors for today's society in the novel. "I thought that was so fascinating, and the emotions that a book like that could create. It was set in the future and it was a completely different world than what we're used to."
Roth, who recently released Allegiant, the third and final book in the trilogy after Divergent and Insurgent, said it's been hard "letting her baby out there to be judged." The ending to Allegiant has been widely discussed online with hugely varied responses to the shocking, and unexpected, finale.
"It's been mixed but it was always going to be", says Roth. Woodley added that although she hadn't yet finished the second novel, she has asked to be told how the third book would end – "I think it's awesome, and the coolest decision that's ever happened in the young adult novel world. I'm such a fan!"
As Becky said, Divergent has been scheduled for release on April 4th next year. It does seem to be a cut above a lot of other films in this subgenre.