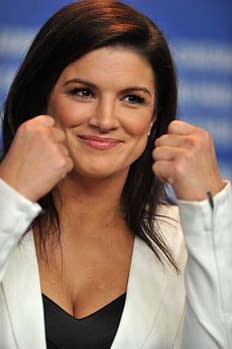 For once, the star of a Steven Soderbergh movie might not be Soderbergh himself. Gina Carano, the sometime MMA fighter who toplines his spy film, Haywire, is in almost every scene of the film, including a series of jaw-on-the-floor action set pieces. When she's going at full tilt, she's frankly astonishing to watch.
A few days back I called her up to have a chat about the film, and about what else she has in the pipeline. I was sitting in England, in the rain, while Carano was enjoying the beach near her new LA home, and reconciling that gulf is where our conversation started.
Moving To LA
I'm on the beach, actually. I just moved to LA. I'm still getting my stuff organised in my new apartment. I love LA. When I used to visit I said "There's no way I could move here, ever," but the closer you are to the beach, the more creative it is and the more like a little town, I guess. So I'm moving close to the beach.
Action Heroines
I feel that filmmakers just need to figure out how to portray female action characters in the right way. You don't want to make a female be a man, you need to make a female be a strong female. A lot of times they've confused it and they've made the female lead play a man, or a very unrealistic woman. I think that we're at the start of a new era for females and I hope get to be part of that.
Preparing to Go Haywire
When I got the [Haywire] job we didn't have a script and Steven [Soderbergh] said that "I just wanted to meet you and see if you'd be interested in doing a movie with me." It was after I said "Absolutely" that he went to Lem Dobbs and got the script written. They wanted to write the script on a level that would be similar to me but the character ended up being not like me at all.
They sent me to a retired secret service guy instead of an acting coach. They were pretty much brainwashing me. I think it was pretty cool to be able to change, to go through a bootcamp and go from never having acted before to being ready for this movie.
Out Of Her Head
They didn't give me any insights into acting. Steven just said he just wanted me to be myself. He wanted it to be very realistic and he said that he would take care of the rest.
If you watch the movie you'll notice he's always got me doing something. He's always got me "out of my head" and I think that was a huge thing. He didn't want me to work with an acting coach and get all "in my head" about it. The whole time he kept me busy. I'm always doing something – grab that glass, take a drink out of it.
Soderbergh gave me very simple directions throughout. He's a very unique man, and very special. He knew how to keep me "out of my head." Everybody on set kept telling me "It's never going to be like this again."
Up Next
I think that my next acting experience will be quite different but it will be good for me to be a part of a completely different production. I'm prepared for anything, I'm not worried at all, I'm super excited. I've come from getting punched in the face repeatedly so I'm excited to wake up every day and be alive, really.
Before I got the Fast 6 offer I was working on a movie called In The Blood but that got pushed and we're probably going to films that afterwards now. I was reading through that script and I connected to the character. She's had a harsh life and she gets married and thinks things are going to go better but she gets hit hard again. I responded to that character because I do like to be able to bring some femininity as well as strength. I think it's important that I can relate to the character. I think that doing Fast 6, such a big film, will help In The Blood get a lot more momentum.
And our conversation ended with more talk of the beach and my accent. Gina said that she's looking forward to coming to the UK this Summer for filming on Fast 6. I tried to get her to comment on the rumours that the Olympics were somehow involved, but she genuinely didn't seem to know.
Haywire is available on DVD and Blu-ray in both the UK and the US now. It contains some of the best action I have ever, ever seen so, even with the occasional sticking point, it comes most strongly recommended. Thanks again to Gina for taking the time to speak with me.
Enjoyed this article? Share it!