Will A Detective Comics #27 9.0 Sell For $2 Million?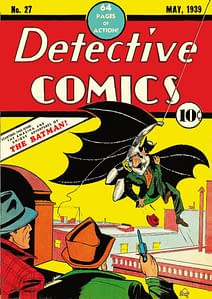 On Friday night the high-end vintage comics community was abuzz that Metropolis Comics had listed an unrestored copy of Detective Comics #27 on their website with the CGC condition grade of 9.0. No such edition of the first appearance of Batman has been released onto the market in such a high grade without restoration.
No stranger to the rarified at the top end of the market, the company recently achieved a record price paid for a comic book with their sale of an Action Comics #1 CGC 8.5 for $1.5 million through their auction arm comicconnect.com.
However, as soon as the Detective Comics listing was up, it was taken down again, not even making in into Google's cache. Also the CGC index listing has nothing for an unrestored 9.0 Detective Comics #27…
A Detective Comics #27 CGC 7.5 was sold through rival auction house Heritage Comics earlier this year for $1.075 million. A 9.0 copy would be considered substantially nicer than that, and would in all likelihood be the first comic to break the $2 million barrier. The listing on the Metropolis site also contained a notation that it was the second best copy in the world.
The best copy has long resided in a private collection owned by an individual known as "The Dentist" and is not expected to come to market any time soon.
Asked about the listing at the Wizard World Chicago Comic Con, Metropolis co-owner Vincent Zurzologave this website a very definitive "No Comment".
Metropolis is well known as one of the best marketers in the business and often garner major media coverage for their sales. When they are ready to announce, if indeed that's what they are going to do, expect everyone to hear about it.
By Mark Seifert and Rich Johnston