Will We Be Getting A Black Spider-Man?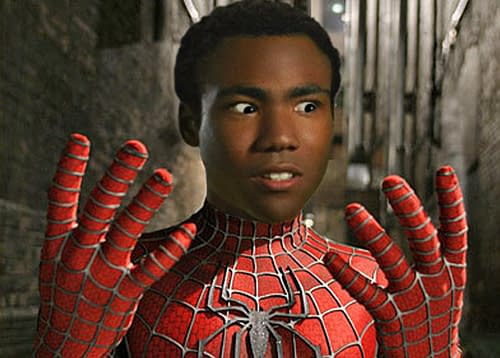 Something's in the air.
It wasn't long ago that Donald Glover was trying to get cast as Peter Parker in the new Spider-Man movie.
It caused a little controversy on both sides, but even Stan Lee said he should have a shot.
There's a scene in yesterday's Amazing Spider-Man where everyone becomes alternate dimensional counterparts to thmselves, and for a second I thought we had a black Spider-Man for a couple of pages. Or at least a light brown one.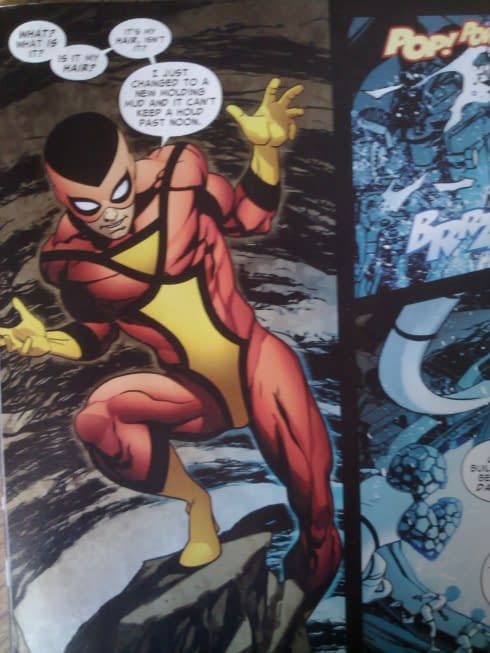 Turns out that was just a slight colouring issue and could well just have been my copy of the comic. Or even that the head section gave an impression of an afro hairstyle
But then there was all that fuss over Idris Elba playing Heimdall in Thor (and in the process stealing the show), that followed up on Samuel Jackson playing Nick Fury and Michael Clarke Duncan cast as Kingpin.
Like I said, there's something in the air.
Marvel are expecting big media coverage for their relaunch of Ultimate Spider-Man. Without Peter Parker, and a new person in that suit. What could it be that could get the media so interested? Gender, race or sexual orientation?
We have a female Spider-Man. We don't have a gay Spider-Man that I'm aware of… but I think the aspect that could get real play is a black Ultimate Spider-Man. Not that you'd know under the costume of course. But still. Enough to get the media attention that Marvel is expecting. And to tell some new Spider-Man stories.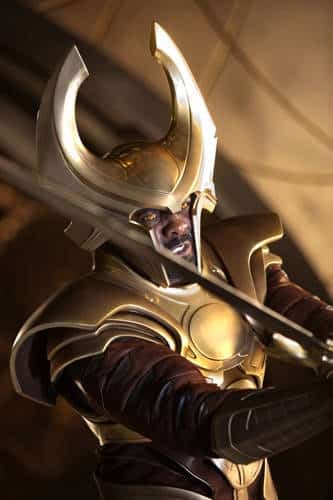 When the Marvel Universe began, it featured pretty much all white characters in the leads. As society and what it has expects changed, Peter Parker, Reed Richards, Doctor Strange, Tony Stark, they all stayed white. Though I suppose Bruce Banner went from grey to green.
And while black characters began to gain a presence, Storm being the most prominent in the public's mind today, it's been a struggle. And there's a feeling that it's unlikely there will be, say, a black lead in a top ten book. That it's just the way the market is, apparently. Since Spawn anyway. Unless someone does something radical. An affirmative action in comics with the intention of changing the way things are. Could that be about to happen with Ultimate Spider-Man?
This is pure mindless speculation or course. As is the speculation that the new Ultimate Spider-Man cartoon, also written by Brian Bendis, doesn't show Peter Parker's face in the trailer at all, or mention him by name. Could they be reflecting the same character in comics and on TV? Could we have a black Spider-Man on telly as well?
No idea. Like I said, this is totally and utterly mindless speculation. Maybe we'll find out at San Diego…