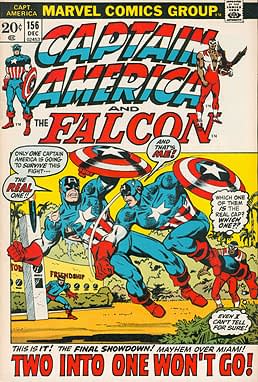 There's an interesting interview at the American off-shoot of Den of Geek (which probably has more hair but almost inevitably less charm than the UK version) Stephen McFeely and Christopher Markus, the screenwriters of Captain America: The Winter Soldier and, so far at least, the in-development third Cap movie.
Pressed for something newsy about that third picture, McFeely offered up just a hint of the comics they're looking to draw some elements from. He wouldn't name names or number numbers, but he might as well have:
All I'm saying is psychotic 1950s Cap.
This definitely seems like a reference to William Burnside, a fan and then scholar of Captain America who blackmailed his way into the suit during the 50s and then lost his mind.
His story soon saw him running wild in the present day – at that time the early 70s – and threatening Sam "The Falcon" Wilson and Sharon "Please stop calling me Peggy, Brendon" Carter – two characters that are, conveniently enough, nicely introduced to Cap's world in The Winter Soldier.
It's about time they introduced the communist version of The Red Skull too, I think, and that could work out very well with Burnside involved.
Hmmm. How interesting. And teasing.
Captain America 3 is expected to land on May 6th 2016.
Enjoyed this article? Share it!