It became a catch phrase. A moment of fun. The still-incomplete All-Star Batman And Robin The Boy Wonder from 2005 by Frank Miller, Jim Lee and Scott Williams. And if there was one moment that summed up the whole book, possibly aside from Batman painting himself in yellow paint to fight Hal Jordan, the Green Lantern, it was this.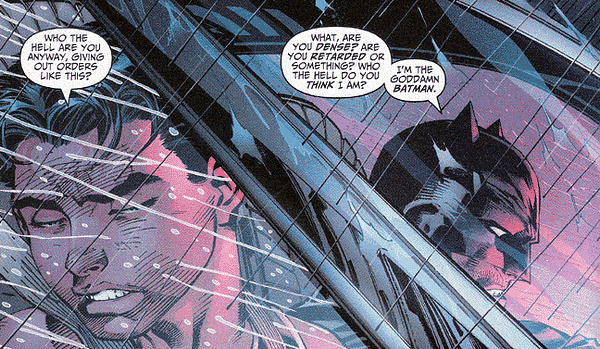 With a callback.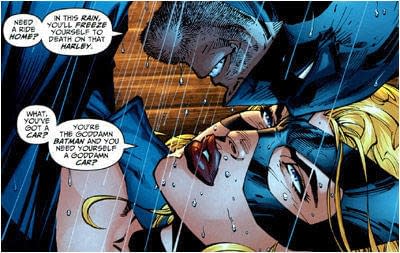 And another. So when today's members of the Justice League in the new Justice League #1 by Scott Snyder, Jim Cheung, Mark Morales and Tomeu Morey – which we teased and reviewed earlier – start doing their impersonation of Batman, Wonder Woman has hers down pat.
Although the CENSORED means… well… she probably didn't say Goddamn or Damn… after all, Lex Luthor gets away with that later…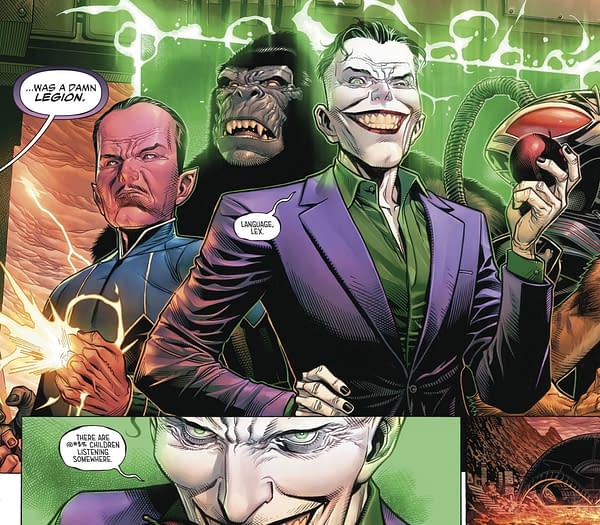 Looks like both Wonder Woman and Joker need a little censoring. Naughty Diana. Naughty Jack. Wash your mouths out with carbolic. Unless of course Martian Manhunter's telepathy is more censorious that DC Editorial. Which, I suppose is possible. Goddamned Batman it is then.
One day Frank and Jim might get round to finishing the planned mini-series Dark Knight: Boy Wonder that would have finished it off. It did end on a kind of cliffhanger… announced in 2010, in 2015 Miller said he has just started working with Jim Lee on it…
JUSTICE LEAGUE #1
(W) Scott Snyder (A) Mark Morales (A/CA) Jim Cheung
"THE TOTALITY" part one! A brand-new era begins here! Comics legends Scott Snyder and Jim Cheung launch the Justice League into a cosmos-shaking mystery that will draw out their most terrible foes…in ways our heroes couldn't possibly imagine! In this debut issue, Martian Manhunter struggles to protect the team from an incoming threat that will shatter the world as they know it, while a familiar face strikes out on a dark path… In Shops: Jun 06, 2018
SRP: $3.99
Enjoyed this article? Share it!