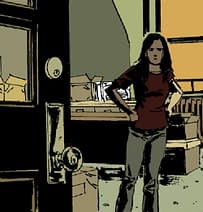 Mark Robert Bourne writes for Bleeding Cool!
Credits:
Greg Rucka – Writer
Matthew Southworth – Artist
Rico Renzi – Colorist
James Lucas Jones – Editor
The truth is Greg Rucka is one of the finest Crime writer's out there and the Stumptown series has proven this without a doubt. I totally enjoyed his run on DC's Gotham Central from back in 2003 and was VERY disappointed when it ended. Even his super-hero stuff has his particular touch of mystery and drama that makes pretty much everything he writes worthwhile. Highly recommended is the "In the Line of Fire" storyline from issues 1-2 of Gotham Central and "Dead Robin" from issues 33-36 which rival any CSI/NCIS TV show. Think NYPD Blue intense without all the wrinkled naked men.
The second volume of Stumptown finds private investigator Dex Parios moving into a new office and ready to start anew after her problematic last adventure. Volume 1 had her investigating the disappearance of the granddaughter of a local casino owner whom Dex owed money. Now, after that case was solved, she is visited by Mim Bracca from a local band that is back from tour. She's missing her prized "baby" and Dex is hired to find out what happened to it. Ok, that doesn't seem to be much of a plot to base a 4 issue series on, let alone hold our attention and keep us on the edge of our seats. So then they throw in some DEA agents, skinheads, gun play and enough plot twist at the end to satisfy anyone. Okay, now I'll be back for #2.
Rucka's essay at the end of the book is probably only interesting for those over 40 and was around in the late 1970s. He speaks at some length about his early influences with old TV show P.I.'s like The Rockford Files and the classics from writers like Dashell Hammet and Donald Westlake. I don't think I've seen someone mention reading the "Great Brain" book series, anywhere in forever. I always enjoy the insights from the Author about their own works giving us an idea of where the ideas come from. It's been ages since I've seen an episode of the Rockford Files but I can kinda see where it is influenced in the main character of Stumptown Dex.
The artwork by Matthew Southworth is fantastic in both this and the previous Stumptown series. His lines are intriguing, sketchy, and blotchy and remind me of the Bill Sienkiewicz or Alex Maleev style of art. As seen below, Southworth's background and thriving landscape architecture is top notch while still remaining simple rough line- work. I can't imagine these stories drawn by anyone else.

Stumptown #1: The Case of the Baby in the Velvet Case from Oni Press is a captivating beginning to another entertaining adventure from Greg Rucka and Matthew Southworth that is totally worth picking up. Equally, the original series is out in collected form and is worth getting if you haven't already.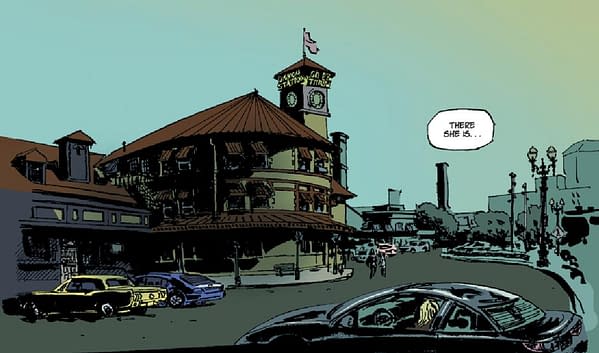 Enjoyed this article? Share it!