Tom Taylor is a busy boy. As well as writing Mary Jane Watson as Spider-Man in September's Friendly Neighborhood Spider-Man, he also had four solo Star Wars one-off comics on his schedule for Marvel's September 2019 solicitations. Part of the Age Of Resistance line, we knew about Rey getting her own book – but not that Kylo Ren, Snoke and Rose Tico would join her in that honour. Each will get a one shot to tell their story…
And Leonard Kirk is pretty busy too, drawing three of the books, and only letting Ramon Rosanas draw one – Rey. Which will include unseen scenes between Rey and General Organa…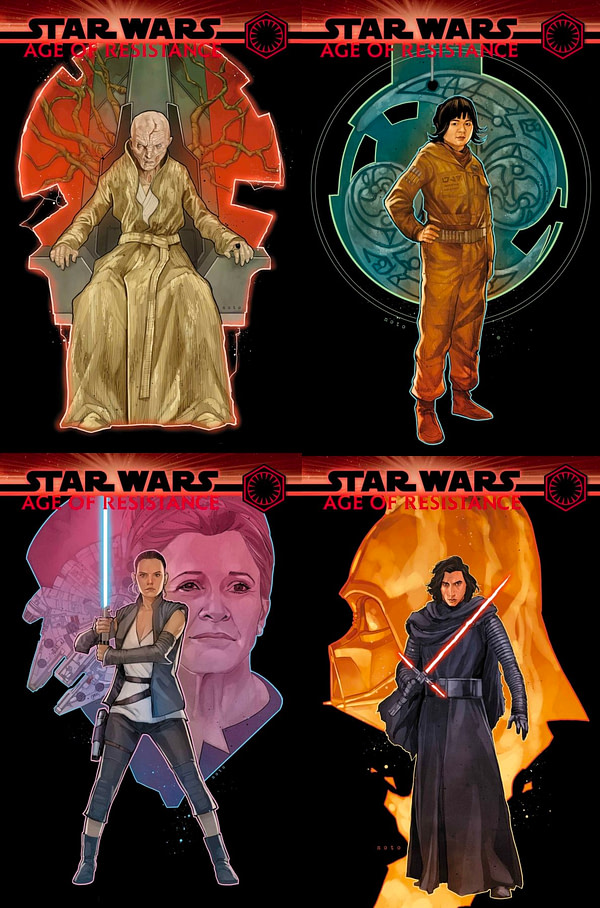 STAR WARS: AGE OF RESISTANCE – REY #1
TOM TAYLOR (W) • RAMON ROSANAS (A) • Cover by PHIL NOTO
PUZZLE PIECE VARIANT COVER BY MIKE MCKONE
VARIANT COVER BY JOE QUESADA
SEARCH FOR SKYWALKER!
• After HAN SOLO'S fall, REY searched for LUKE SKYWALKER. But before Luke, there was LEIA.
• Witness never-before-seen moments between REY and GENERAL ORGANA.
• What will Rey, CHEWBACCA and R2-D2 encounter on the way to find Leia's missing brother?
32 PGS./ONE-SHOT/Rated T …$3.99
STAR WARS: AGE OF RESISTANCE – KYLO REN #1
TOM TAYLOR (W) • LEONARD KIRK (A) • Cover by PHIL NOTO
PUZZLE PIECE VARIANT COVER BY MIKE MCKONE
STAR WARS GREATEST MOMENTS VARIANT COVER BY TBA
A DYNASTY OF DOOM!
• ANAKIN SKYWALKER casts a long shadow.
• Can KYLO REN ever escape his infamous grandfather's reputation?
• Or will he succeed where DARTH VADER failed?
32 PGS./ONE-SHOT/Rated T …$3.99
STAR WARS: AGE OF RESISTANCE – SUPREME LEADER SNOKE #1
TOM TAYLOR (W) • LEONARD KIRK (A) • Cover by PHIL NOTO
Puzzle Piece Variant by MIKE McKONE
THE DEVIL'S APPRENTICE!
• SUPREME LEADER SNOKE'S brutal training of KYLO REN begins.
• Will the sadistic Snoke break his tormented protégé?
• Or has he underestimated the son of HAN and LEIA?
32 PGS./ONE-SHOT/Rated T …$3.99
.
STAR WARS: AGE OF RESISTANCE – ROSE TICO #1
TOM TAYLOR (W) • LEONARD KIRK (A) • Cover by PHIL NOTO
Puzzle Piece Variant by MIKE McKONE
"MY HERO"
• Sisters. Friends. Co-pilots. Growing up, Rose and Paige Tico were everything to each other.
• Until the First Order tore their world apart.
• See the bond between Rose and Paige before it was forever broken.
32 PGS./ONE-SHOT/Rated T …$3.99