Not everything Image Comics and Robert Kirkman do together is Walking Dead-related. He has a whole studio after all, Skybound.
Oblivion Song is a series created by writer Robert Kirkman and artist Lorenzo de Felici. A supernatural science fiction story that chronicles Nathan Cole, a man who makes daily trips to try and rescue those still living in the apocalyptic hellscape of Oblivion, a part of Philadelphia lost a decade ago along with 300,000 of its citizens. And I know that's how some people feel about Philadelphia now… it was just revealed that Universal Pictures and Skybound Entertainment will produce an Oblivion Song movie with Sean O'Keefe , writer of Wonderland and upcoming Green Hornet, writing the script.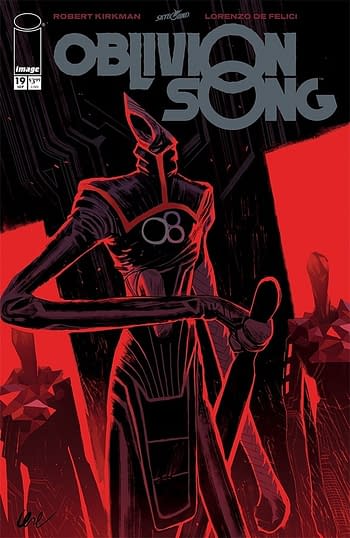 Anyway, the comic is barrelling on with issue 19 out in September. And they are promising answers to all the questions that have been asked so far.
OBLIVION SONG BY KIRKMAN & DE FELICI #19 (MR)
(W) Robert Kirkman (A) Annalisa Leoni (A/CA) Lorenzo De Felici
NEW STORY ARC
Who ARE the Faceless Men? Finally… SOME ANSWERS. In Shops: Sep 11, 2019 SRP: $3.99
Only some answers, mind.
In a lot of ways, it's the start of the next phase for the book. While at first, the series may have seemed to just be about this strange parallel world and how we got there, the most recent issues have illustrated that things are actually quite dangerous in the world of Oblivion. A number of humans have been abducted at this point, and I am told that things only get worse with issue #19.
I'm told we've also got the debut of a major new character, and it occurs to me that it's a new character with a sword…
The last time Robert Kirkman introduced a key player with a sword, was this comic…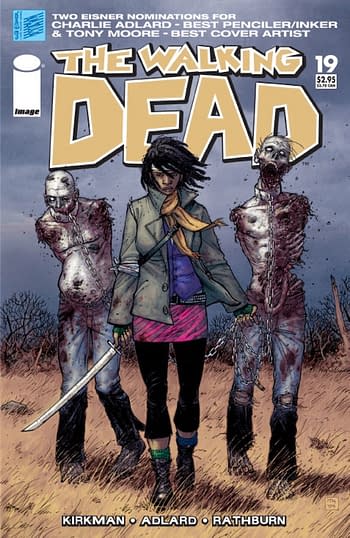 Also, is it just me, or does that insignia on the alien's chest look like it has something in common with the series' logo too?
Lots of answers, yes,… but I bet there are a shedload of new questions as well. If you want to start preparing, Oblivion Song #17 came out yesterday…
Enjoyed this article? Share it!