Sanford Greene Talks Power Man, Iron Fist, De La Soul And NPR In Charlotte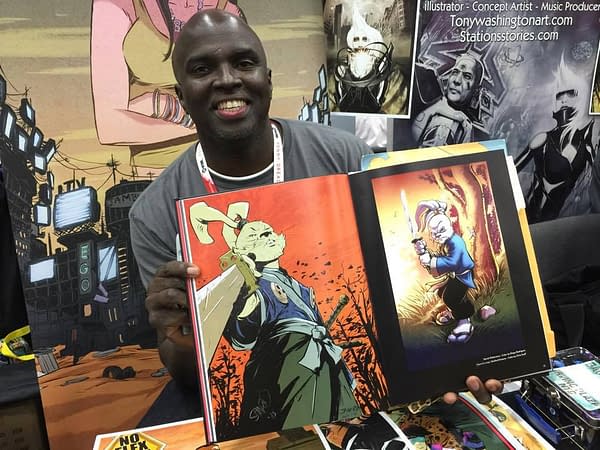 Jonathan Rich writes for Bleeding Cool
Many consider North Carolina's Heroes Aren't Hard to Find one of the premier comic book shops in the southeast, and because of that it was no surprise when one of the medium's rising starts stopped by to sign copies of Marvel's hot book Power Man and Iron Fist for fans.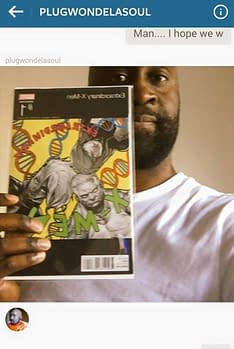 However, you might not expect Sanford Greene to reveal a love of both De La Soul and National Public Radio when he spoke with Bleeding Cool.
As radio-friendly hip hop played over the in-store stereo speakers, more than 200 fans of the South Carolina comic book artist who made a name for himself with Marvel's Runaways patiently waited for a moment to meet the man who is bringing the company's diverse duo back together for a regular monthly series.
And for Sanford Greene, who is drawing David Walker's Power Man and Iron Fist scripts, it truly is a labor of love.
"I'm blown away, man," Greene said as he finished up an inked recreation of Iron Fist's tattoo on a blank cover variant for a grateful Greene fan in line. "The fan reaction has been tremendous and the critics have been really high on the story. I'm nothing but pleased with how things have been received by everyone."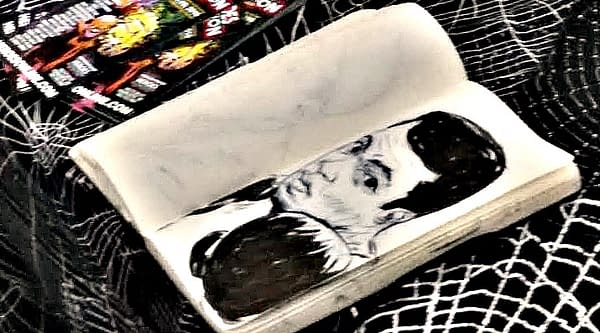 Greene said Luke Cage was one of the first superheroes' he identified with during his formative years and he jumped at the chance to draw the African-American icon and his kung fu friend for Marvel in 2016.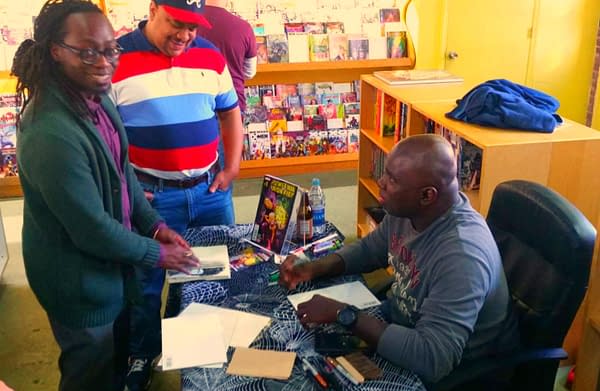 "I've been wanting to do these actual characters for years," he explained. "I grew up with them and it was one of those things where all the stars aligned. I couldn't believe it when I got the phone call from Axel Alonzo and he said 'Hey man, we think you would be good for this title. Are you interested?' Before he could even finish the sentence, I had said yes. It's one of those things. Since I was a youngster some of my collections had Luke Cage in it, so it's a dream come true."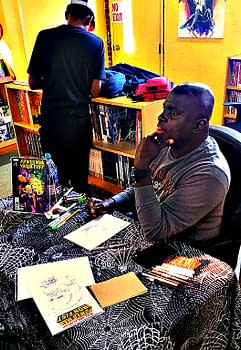 The first issue of the book began flying off store shelves in February, and that was before more official news broke regarding bringing Danny Rand to life via the popular live-action Netflix series of shows featuring Marvel's street-wise characters.
Greene acknowledges there may be more pressure to deliver fan favorites Power Man and Iron Fist to the masses since devotees know they will eventually come together for online adventures as part of The Defenders, but he also sees this series as an opportunity to share both Luke Cage and Danny Rand with new comic book readers.
"It just gets the eyeballs of the people who would not regularly come into brick and mortar comic stores to view these characters," he said. "Multimedia forms of entertainment … movies, streaming, and digital entertainment … are just another way these things exist now and this allows us to bring more attention to the initial product itself ."
The collaboration with David Walker also allows for these Marvel characters and their creators, to be part of a growing trend in the greater comics industry championing a sense of inclusion and diversity rather than repeatedly showcasing yet another white alpha male wearing a cape.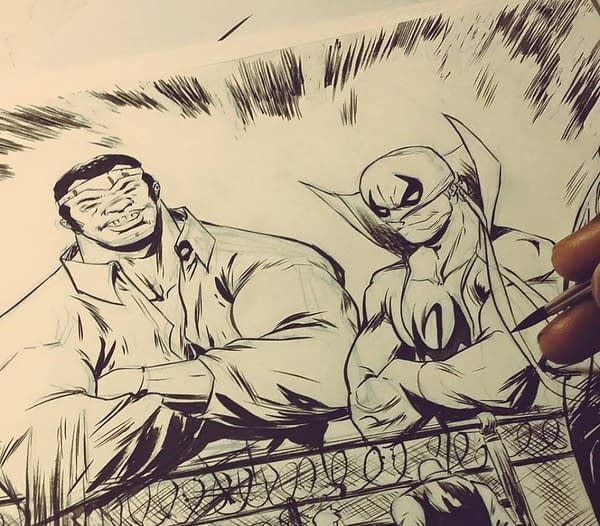 "One of the things I am excited about is showing not only is the Marvel universe diverse, but the creative team that helps make it up is diverse too," Greene said. "It means a lot that me and David Walker, who is an African-American writer who has done some tremendous work over at Dynamite Entertainment working on Shaft before he went over (to DC) to work on Cyborg … It's really an awesome experience being able to work and have that connection with him. Just being able to have all those stars align to have a diverse creative team working with diverse characters is really a tremendous feeling.'
Greene lives near the capitol city of South Carolina and Walker writes his stories on the other side of the country from Portland, Oregon, but being on opposite sides of the United States does not inhibit their shared creative process.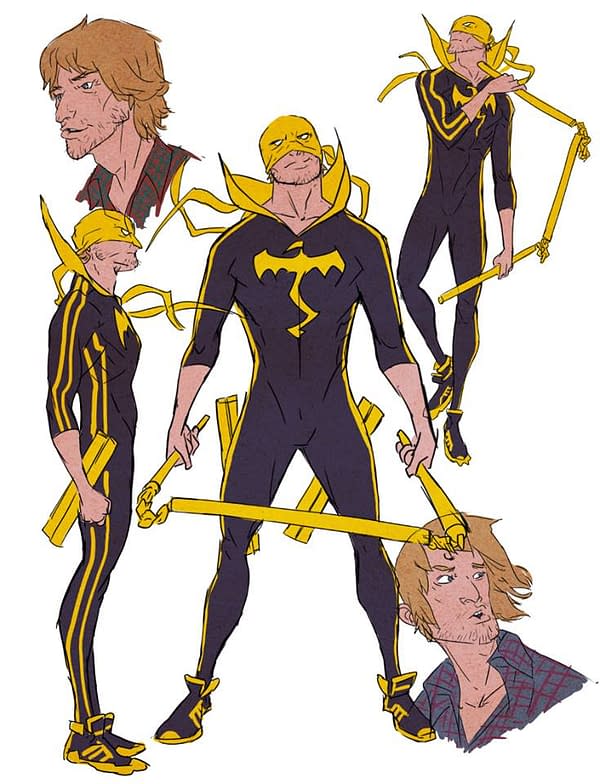 "How does it work? The Internet," Greene joked. "We just correspond online and then meet once or twice a year with Marvel or at a convention. In terms of physically meeting with Marvel, we only go to New York together a few times a year."
Working for New York-based Marvel Comics also allowed Greene to take part in the recent collection of variant covers with hip-hop themes, and his kinetic art style allowed him to come in contact with one of his musical heroes when rapper Posdnous from De La Soul tweeted out an image of himself holding a copy of Extraordinary X-Men reimagined as the album cover to the seminal group's first album "Three Feet High and Rising."
"It was pretty funny because we're now friends," Greene gushed. "He tweeted it out and I reached out to him to say 'Hey, I'm a huge fan and I'm the guy who did the cover!' He actually replied and that was really cool. It shows how much music in general and this genre can connect with comics. As a fan from that side, I had to geek out a little bit when he replied to me."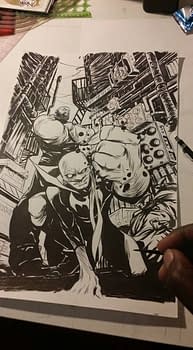 While the hip-hop influence is evident in Greene's artwork, some of his fans might be surprised to learn about some unexpected sounds playing in his studio when he gets down to business.
"Music is a component of my creative process which allows me to come up with characters and scenarios, but I actually listen to a lot of NPR, talk radio, and podcasts when I work," Greene said. "Music is, of course, still a huge influence, but I like to have information coming towards me while I put together some things."
Greene let it slip during his signing that he is contributing some special pages depicting the superhero Black Panther to Marvel's upcoming celebration of Captain America, but added that while he does have a dream assignment in mind for the future, he is quite content and grateful for the work he is doing now.
"This really is the biggest thing I have ever done in terms of an established character," he said when put on the spot about his hopes for the future. "I could say something like Batman, but in terms of what I have thought about for the past five years it has been this project. At some point, I would love to do my own thing, have my own idea go to the big screen and make a million dollars. I would love one day to have a creator-owned thing which is really successful, but that's just so I could leave a legacy. Right now, I'm just overjoyed to be doing this. Power Man and Iron Fist is out and I want to thank everyone for supporting it. It's doing great and we are going to keep going."
Jonathan Rich is a freelance journalist, high school educator, and professed comic book nerd working in the Blue Ridge Mountains of western North Carolina. He writes about entertainment and pop culture for various print and web publications, including bleedingcool.com. He does not respond to the nasty comments left by Internet trolls on his posts, so knock yourselves out jerks.