Christopher Sebela has to get a Lyft early this morning for Image Expo. He was a busy boy.
gotta get to the Image Expo to announce a thing

— Christopher Sebela (@xtop) February 21, 2018
After his first presentation, he was joined by Josh Hixson to talk about their new comic for Image, Shanghai Red. Which so happens to be set in Portland Oregon, home of Image Comics and Image Expo — which is handy for research. If you can see back over a hundred years.
The series is about a woman pretending to be a man to get work in the nineteenth century. She gets pressganged on board a boat for two years, but takes control of the ship and returns it to Portland — to kill everyone who put her on it in the first place.
A violent, emotional revenge story, out in June. Josh has been drawing and colouring the comic since 2014.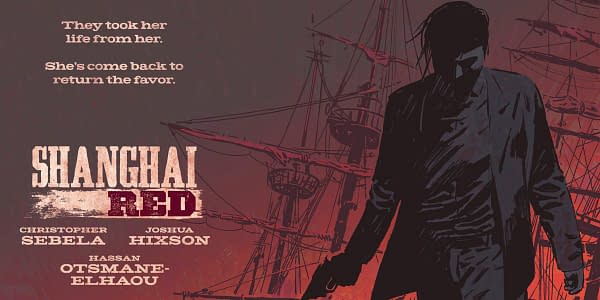 SHANGHAI RED by Christopher Sebela & Joshua Hixson
Christopher Sebela and Joshua Hixson team up for a turn of the century revenge thriller SHANGHAI READ, a story that stretches from the deck of a boat outside Shanghai to the bleak streets (and the secret tunnels beneath them) of Portland, Oregon. A violent journey of vengeance, identity and family.
"Josh and I have been working on this book for a few years now in secret, just waiting for the chance to unleash it on readers and we're kinda freaking out that this thing we've put so much time and sweat into is really real and really good," said Sebela.
The series launches from Image Comics in June 2018.
Enjoyed this article? Share it!