Second Coming, the comic book that Bleeding Cool was unintentionally partially to blame for getting bowdlerised, then pulled from DC Comics, was published yesterday. Mark Russell and Richard Pace's book also came out on much better quality paper than it would have done over at Vertigo, with a whole bunch of backmatter stuffed in the back as well.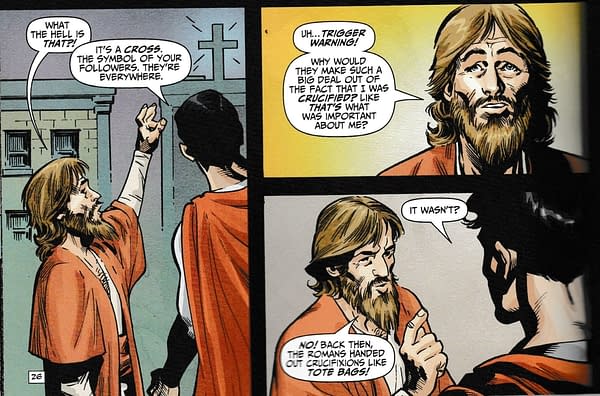 It's a gentle religious comic book satire, with Jesus being sent back to Earth after God The Father looks at superheroes and thinks that maybe his son could learn a bit from them. It both manages to channel the likes of CS Lewis' Screwtape Letters as well as the routines of Bill Hicks. It's rather fun, and nothing the like the likes of Hellblazer, Lucifer or Preacher when it comes to portraying the Almighty. That it caused so much fuss indicates that a) people have more time on their hands these days b) the shadow of the Batpenis stretched far across DC Comics' approval procedure. But what is DC Comics' loss is Ahoy Comics' gain – and the readers, who get a better-looking product, That's if they can find it. It has sold out from the publisher and from Diamond Comic Distributors and so goes for up to $20 on eBay right now.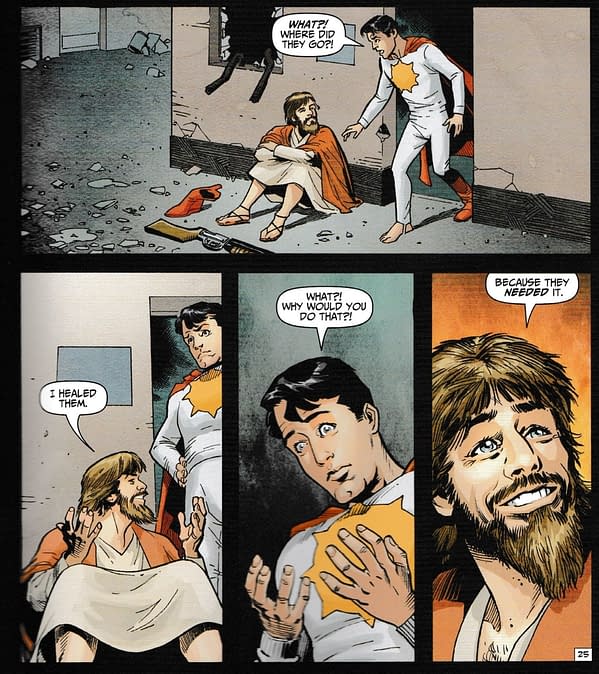 However, it has also gone to second printing for August the 14th. If you can wait that long, it's yours for four bucks still.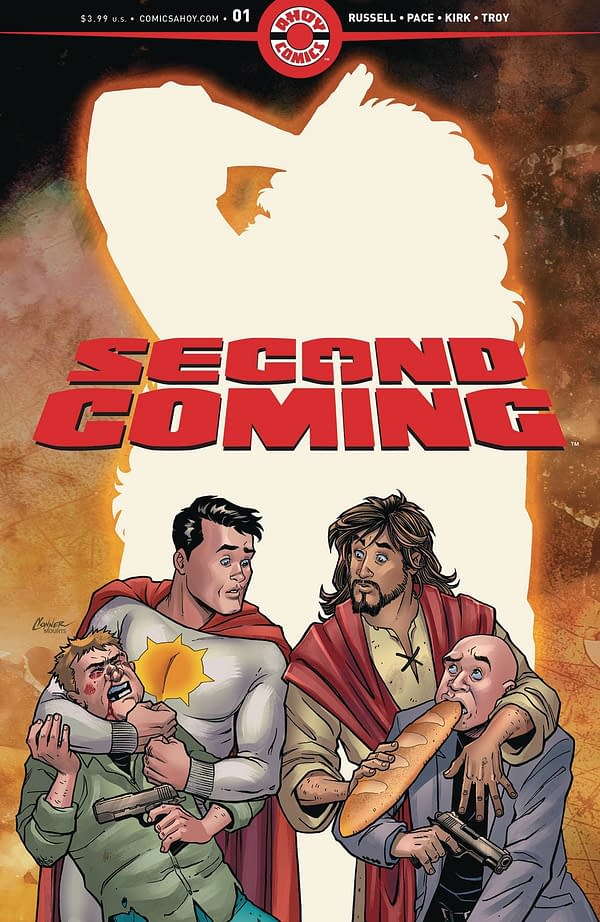 SECOND COMING #1 2ND PTG (MR)
(W) Mark Russell (A) Richard Pace (CA) Amanda Connor
From Ahoy Comics. It's the second coming of Second Coming #1 – a new printing of the sold-out book that everyone's talking about, by award-winning writer Mark Russell (Snagglepuss, The Flintstones) and artist Richard Pace (Pitt, New Warriors)! God commands Earth's mightiest super-hero, Sunstar, to accept Jesus as his roommate and teach him how to use power in a…more powerful way. Jesus, shocked at the way humans have twisted his message over two millennia, vows to straighten them out. This deluxe first issue features 30 pages of story, and a different logo color for the second printing.
"This may end up being one of the most talked about books of the year. It deserves to be. It's absolutely brilliant."- Forces of Geek
"Headlines aside, if you read the book, what you actually find is not a takedown of religion, but, as Russell describes it, an attempt to spread the Gospel." – The New York Post
"The world's most dangerous comic and the most lovely." – Comics Beat
In Shops: Aug 14, 2019 Final Orders Due: Jul 22, 2019 SRP: $3.99
Enjoyed this article? Share it!