Secret Empire has been and gone. The Nazi Captain America is locked up. The Real Captain America is driving a motorcycle around America to connect go it, before travelling to the future encased in ice (again). And in Scarlet Spider, we saw how the city of Las Vegas was recovering from its losses and successfully rebuilding. Even though that's a little different to how it appeared in Champions a few months before that. America and Marvel have moved on.
Except Secret Empire writer Nick Spencer hasn't. And in today's Doctor Strange: Damnation we discover why he is co-writing the series with Donny Cates, it's a chance to dig up Secret Empire again, quite literally, and try and make amends.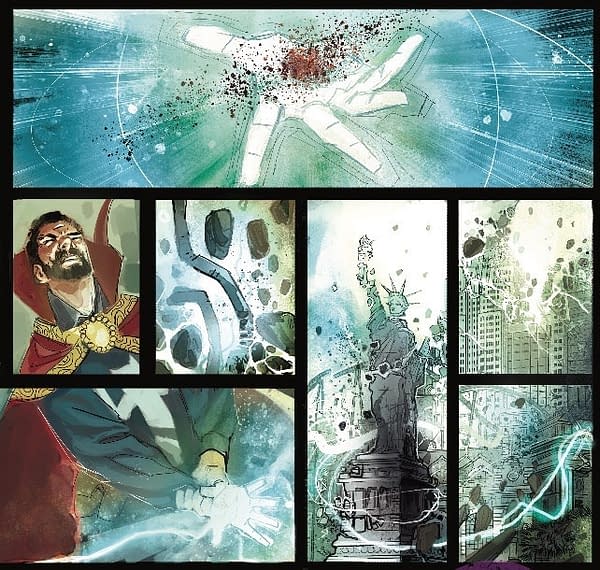 So even though in Scarlet Spider, Las Vegas was rebuilt and the damage didn't seem as bad as it was in Secret Empire, in Doctor Strange: Damnation, it has gone to being as bad as it was in Secret Empire, no Scarlet Spider repairs having been done and Doctor Strange not only rebuilding the city but bringing everyone back from the dead.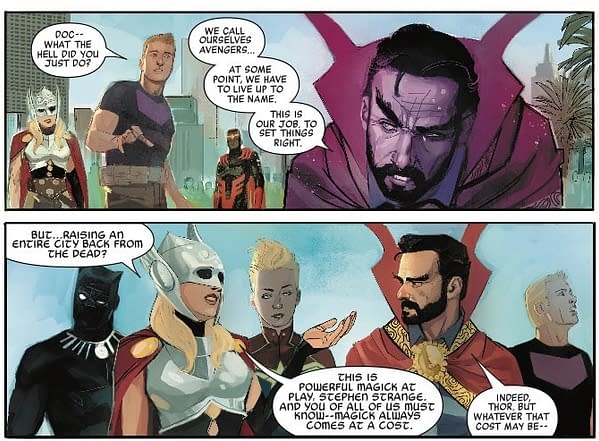 You know that's not what Avengers means right? Avenging doesn't mean rebuilding. And the cost, of course, means bringing the section of hell the Las Vegas dead were in with them.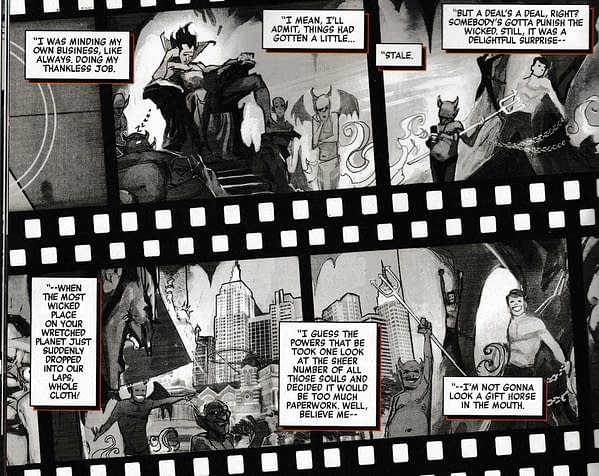 Because, yes, everyone in Las Vegas went to hell. But there were still more Secret Empire arguments to be had.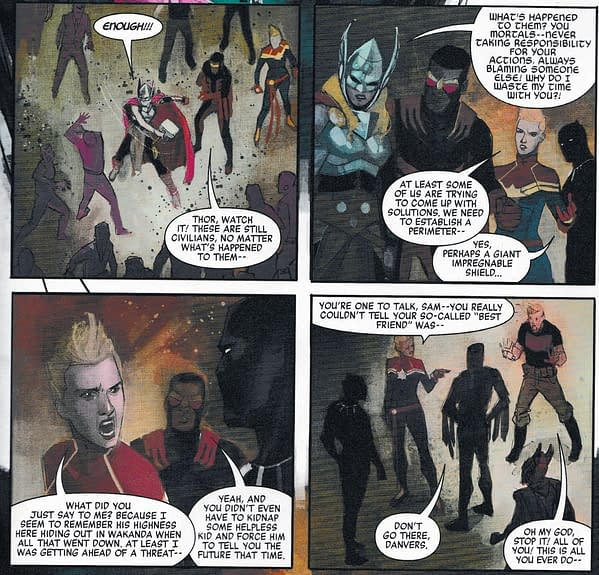 Man it's going to be so much fun when Captain Marvel, Black Panther and Iron Man are all in the new Avengers #1 in May, right?
Let alone what Marlo Chandler, the harbinger of death living in Las Vegas is going to make of all this.
Talking of bringing people back from the dead, that's what Hydra did to Bruce Banner and the Hulk. It was meant to be some temporary mystical gubbins, but then they dropped the Hulk on the Resistance, dropped a big bomb on everything and everyone forgot there was a Hulk.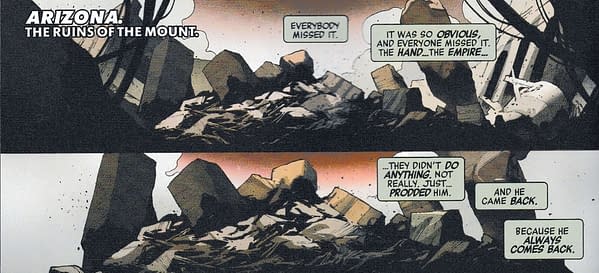 But remember… he's Hydra Hulk…
DOCTOR STRANGE DAMNATION #1
(W) Donny Cates, Nick Spencer (A/CA) Rod Reis
The city of sin gets its biggest sinner yet. When Doctor Strange raises Las Vegas up from its destruction during SECRET EMPIRE, he inadvertently opens a big door for the embodiment of evil, MEPHISTO! The devilish villain takes the city for himself and sets his sights on the rest of the world. It's going to take heroes from all over the Marvel Universe to defeat him, but there's nothing simple about fighting the lord of Hell.
Rated T+In Shops: Feb 21, 2018
SRP: $4.99
AVENGERS #681
(W) Al Ewing, Jim Zub, Mark Waid (A) Aaron Kim Jacinto, Mike Perkins (CA) Mark Brooks
NO SURRENDER Part 7
Who is Voyager? Valerie Vector, the forgotten founding Avenger, tells all! And a fan-favorite Avenger returns to the fold as the stakes in the battle for Earth become clear!
Rated T+In Shops: Feb 21, 2018
SRP: $3.99
Enjoyed this article? Share it!