Weapon Hex is an amalgam of X-23 and the Scarlet Witch, who was raised as a clone along with her sister, Speed Weasel, an amalgamation of Honey Badger and Quicksilver, to blend magic and, uh, claws to become the world's best killing machine. It's all a part of the Infinity Warps gimmick spinning out of Infinity Wars, mashing together two characters to create a brand new one and sell a few tie-in one-shots and mini-series. Or then again, maybe this is just the latest retcon for Quicksilver and the Scarlet Witch, whose history and parentage has been the subject of more interference from Marvel editorial than any Infinity Stone could possibly muster.
We haven't been following that closely, but we're pretty sure the last Scarlet Witch and Quicksilver retcon revealed that Magneto screwed Bova the cow-person and produced them as offspring, or something like that. It's hard to keep track. Speaking of Bova, her analog here in the Infinity Warps universe is Bavel, and Bavel is about to meet an untimely end at the hands of Hellhound in this preview of next week's Infinity Wars: Weapon Hex #2…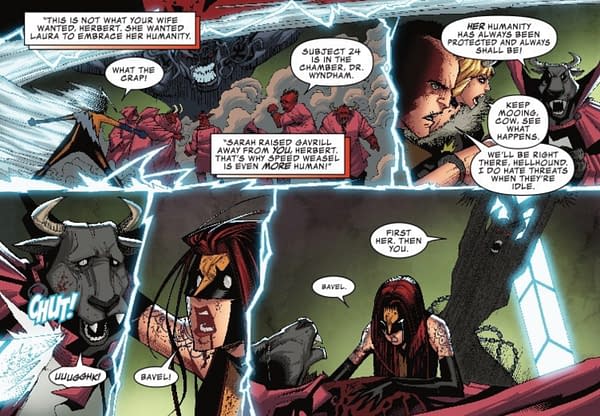 A sad moment? Yes. But presumably all of this is going to be undone by the time Infinity Wars is over, so why not make the best of the situation and have a BBQ? What?! Why let all that good beef go to waste?!
Infinity Wars: Weapon Hex #2 hits stores next Wednesday.
Infinity Wars: Weapon Hex #2 (of 2)
(W) Ben Acker, Ben Blacker (A) Gerardo Sandoval (CA) Giuseppe Camuncoli
Weapon Hex versus fellow program alumnus – the deadly Hellhound! Two be-clawed spell casters for the price of one…but that price may well be their lives!
Rated T+
In Shops: Nov 28, 2018
SRP: $3.99
Enjoyed this article? Share it!