Here at Bleeding Cool, we spend a lot of time spoiling comics (hi Dan Slott), exposing the poor behavior of comics creators on social media (hi again Dan Slott), and, in my case, relentlessly mocking mediocre comics from the Big Two (hi ag– oh, you get it by now). Once in a while, we need to get some of our karma back, and what better way than to talk about comics we actually… enjoy. In stores today from Black Mask is No Angel, written by the brother/sister team of Eric and Adrianne Palicki. You know Eric from work like Fake Empire, Red Angel Dragnet, a one-off in Marvel's Guardians of Infinity #6, and the occasional snarky comment at the bottom of a Bleeding Cool article. You know Adrianne from starring as Bobbi Morse in Marvel's Agents of S.H.I.E.L.D., which, okay, kind of trumps Eric's accomplishments. In addition, the book features the debut of Indonesian artist Ari Syahrazad, so in the event he becomes the next Rob Liefeld (but with better art – see below), this book could be worth millions one day.
I managed to snag a copy of this at Cartoon Crossroads Columbus, and like just about everything else Black Mask puts out, I really enjoyed it. Black Mask isn't paying me to say that, either. It's Avatar Press that pays me to say I love their comics (and boy, do I love them).
The story in No Angel centers around Iraq War veteran Hannah Gregory, who returns to her hometown of Tucker's Mill, WI, after her father and brother are murdered. She's quickly pulled into family drama and a supernatural mystery which I can't really reveal any details about without spoiling it, so here's the company-approved spoilers from the solicit instead: NO ANGEL #1
(W) Eric Palicki, Adrianne Palicki (A) Ari Syahrazad (CA) Amancay Nahuelpan
Religious texts from The Bible to the Sumerian tablets speak of strange creatures descending from the heavens and mating with humans, their children the superhuman heroes of myth. None of this ever meant anything to Iraq War veteran Hannah Gregory, until she found herself in the crosshairs of a dangerous cult convinced that she's a descendant of these mysterious bloodlines… bloodlines they're determined to eradicate. No Angel is a cosmological and conspiratorial modern Western in the style of Preacher meets Justified by way of Jodorowsky. (STL023486)
MATURE THEMES
32pgs, FC $3.99
Bleeding Cool has been hyping this comic since way back in April, and it's finally in stores today. And since we saved you $5 by telling you that nothing of any consequence happens in Inhumans vs. X-Men #0, why not spend that money on a sweet new indie comic so you can brag to your friends about how hip you are? Seriously, all the cool kids are reading Black Mask. If that doesn't sell you, though, here's a preview: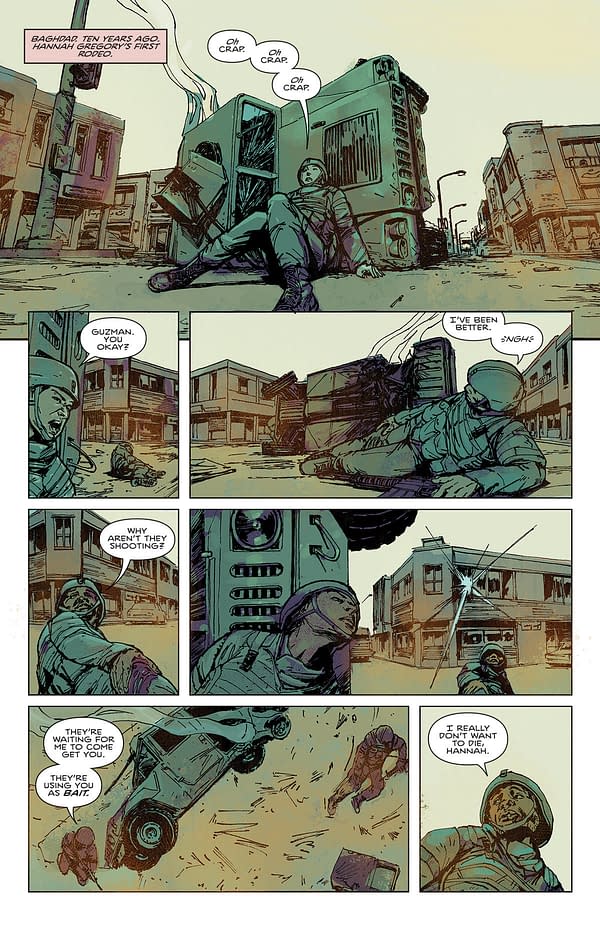 Enjoyed this article? Share it!