Once upon a time, Jean Grey, Scott Summers, Bobby Drake, Hank McCoy and Warren Worthington III were the X-Men. In fact, until Extermination #5 is published, they still are, a bit. But you know what I mean. Then they grew up and new folk joined the team. Storm, Wolverine, Nightcrawler, Colossus, Rogue, that lot. Years passed, more joined, and the school became a proper-sized school. Because, seriously a school with five students was never going to sustain itself. Also only 0% female and 100% white, what was up with that? The sixties, that's what.
But these new students want more than to just follow a Professor. And so, when the older X-Men deal with Legion in the way they have always done, following the patriarchal line set by Professor Xavier, knowing Legion will probably destroy everything and made a damn good stab at it last week, the kids have a different view. And because they are an entitled, agencied and bolshy generation, make this very clear in today's Uncanny X-Men #4. Go, Hisako…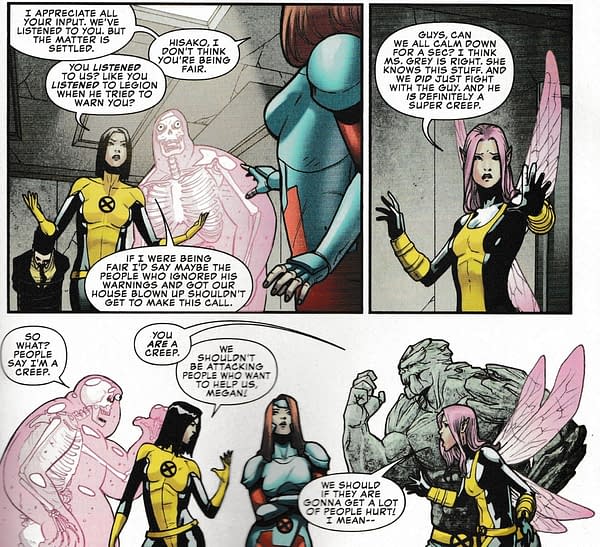 And she's not letting go. She's doing that Captain America thing. Well, she does have an armour against criticism. And bullets.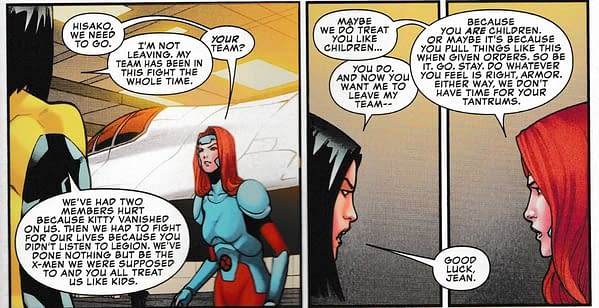 And I suppose respect for your elders is diluted when you've just seen them running around younger than you, I guess.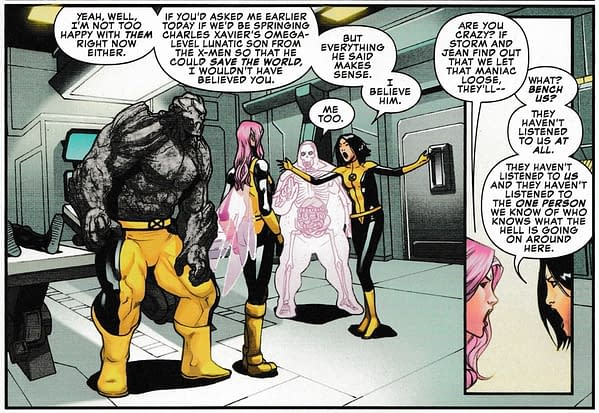 Will it all end in tears. Maybe. Maybe not. But at least we have some decent soap opera-style division with a modern twist with the mutants again. I missed the days of Schism…
UNCANNY X-MEN #4
(W) Ed Brisson, Kelly Thompson, Matthew Rosenberg (A) Pere Perez (CA) Elizabeth Torque
X-MEN DISASSEMBLED CONTINUES!
Just when things didn't look like they could get worse… The ride of the Four Horsemen of Salvation? The coming of X-Man? And…a return to the AGE OF APOCALYPSE? The weekly epic that threatens to leave the X-Men in tatters rolls on toward its explosive conclusion!
Rated T+
Enjoyed this article? Share it!