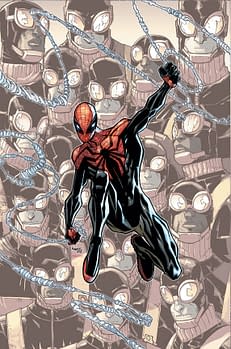 The week after the big show… and Superior Spider-Man pushes past new launches and Trinity Wars to take the top spot alongside the second issue of Batman/Superman. Of late we've noted how retailers are increasing their orders repeatedly on this title, and while some may have dropped the book when Doc Ock took over, it really is starting to become an obsession for more and more. Hawkeye Annual gives the title a higher than usual spit as well.This chart measures sales in stores on a Wednesday and Thursday, the comics that people just can't wait until the weekend to pick up. It is a lesson of desire…
=SUPERIOR SPIDER-MAN #14

=BATMAN SUPERMAN #2

JUSTICE LEAGUE DARK #22

UNCANNY AVENGERS

#10

NEW AVENGERS #8

HAWKEYE ANNUAL #1

=HUNGER #1

=SUPERIOR SPIDER-MAN TEAM UP #1


AQUAMAN 22

WOLVERINE X-MEN 33
Thanks to contributing retailers
I'm surprised at the position of Batman Superman #2 only because all of my copies arrived damaged due to a UPS drop. I put them on the shelf with a note saying that and that replacements were coming.

Spidey is still on top here! I was a bit worried about how the Dark side of the Justice League crossover would fair, but I was happy to see it sell as well as the first two parts, and it is returnable too! Batman Superman is doing quite well, and has actually outsold a rather disappointing selling Superman Unchained at our store. Maybe DC just needs to concede and put Batman in every comic;)

Right now its all about Trinity wars. We have seen all our back issues for this series continue to sell out. Pandora #1 sales hit over 200 copies after the series started and without any real push this week from the Independents its was DC's to lose. Marvel saved some market share with Superior Spiderman but wasn't enough to stay up with Dc this week.

Good week considering SDCC was here last week. Thought people would be burnt out on books for at least a week. Superior Spider-Man Team-Up #1 sold, but not as good as i thought for a #1

Superman/Batman back-issues sold briskly all week. Lazarus #1 is still moving great.Todd the Ugliest Kidd on Earth books no matter the printing is blowing out of the store, but that is to be expected with the cartoon news no confirmed.
Enjoyed this article? Share it!