In previous issues of Superman, we had seen that Jonathan Kent, Superboy and son of Superman and Lois Lane, went to Hamilton Elementary School.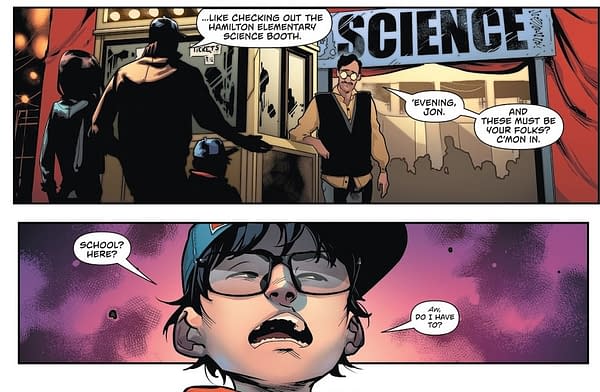 But that's before the town was revealed as a sham, a trap, an illusion, and they all moved back to Metropolis.
Today's Super Sons #10 published by DC Comics today, is written by Peter Tomasi, drawn by Jose Luis (not Brian Ching as solicited), inked by Scott Hana, colours by Hi-Fi, edited by Andrea Shea, Pail Kaminski and Eddie Berganza. And in it, Superman and Batman are making plans for their children, Jonathan Kent and Damien Wayne. Accepting that they are going to be a super-team no matter what and so making it as safe and organised as possible, a headquarters with a mini-fridge, the lot.
But also revealing that Damien Wayne will be going to school with Jonathan Kent in Metropolis. That the school is called West-Reeve after Adam West and Christopher Reeve, the actors who played both Batman and Superman so memorably.
Oh and also…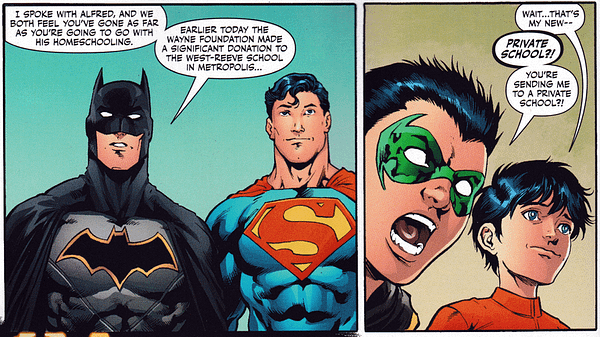 …that it's a private school. Batman, it's a given, obviously, that's how billionaire playboys roll. From Batman #35 today by Tom King and Joelle Jones…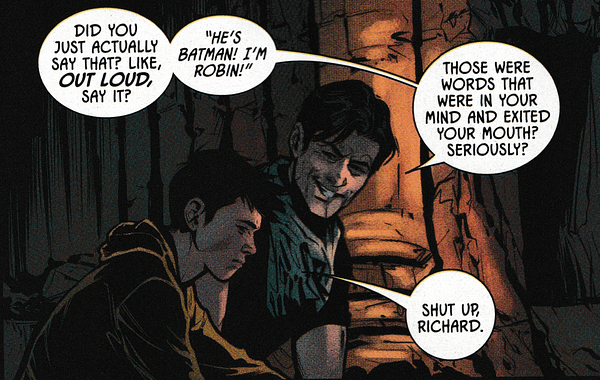 You know, Damien, if ever there was a time to call him Dick…
But where were we? Oh yes, private school. Oh, Superman, how disappointing. I thought you wanted your son to be more, what's the word,…. Grounded? You could always get some private tuition in at the Fortress of Solitude if there were educational concerns.
I blame Lois.
Here's the (incorrect) solicit.
SUPER SONS #10
(W) Peter J. Tomasi (A) Brian Ching (CA) Jorge Jimenez
"SECRET HEADQUARTERS"! In the aftermath of "Planet of the Capes," big changes challenge both Damian and Jon, as Superboy revels in his new power and a decision by Batman rocks Robin's world forever. And as promised earlier, the debut of the Super Sons' new secret headquarters!In Shops: Nov 15, 2017
SRP: $3.99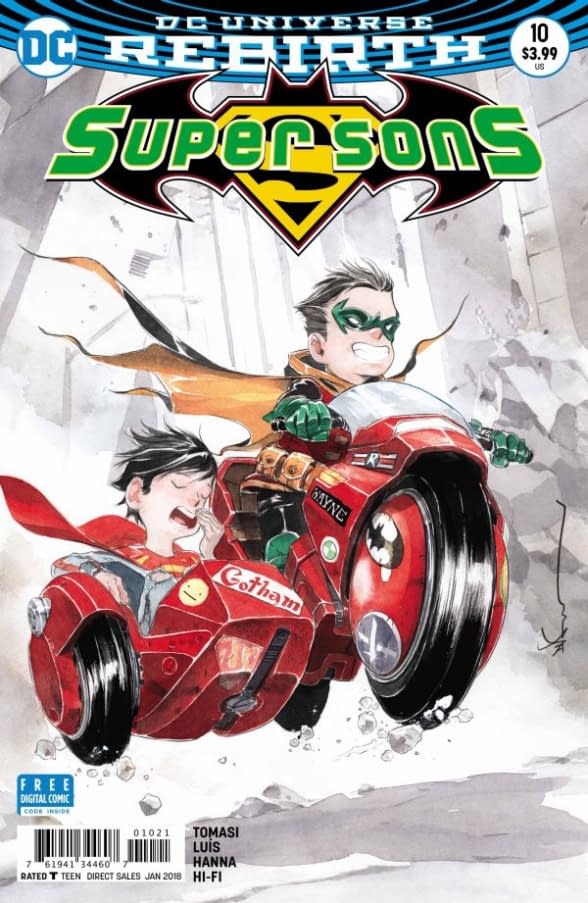 Enjoyed this article? Share it!