If you have Facebook then you've probably seen that section where the site suggests friends you may know. Well, comic book colorist Charlie Kirchoff noticed a familiar face with an unfamiliar name the other day.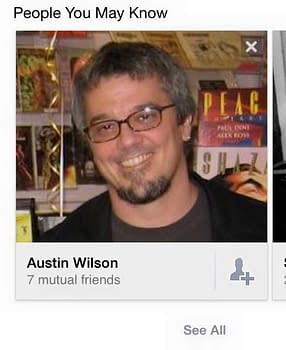 Yes, some of you may recognize horror/comic writer Steve Niles co-creator of 30 Days Of Night and creator of Criminal Macabre. But his name isn't Austin Wilson. Nor is it the website of one of Steve's fans who posted his favorite creator's face instead of his own… the reality is that Austin Wilson is a spam site for selling erectile dysfunction medication called Forzest.
So if you see a picture of Steve trying to sell you other something other than his latest comic or novel, then it's not him. Steve has nothing what-so-ever to do with this company or the Facebook page. It's basically a spam account that swiped a random photo and just ended up getting his. That has to make you wonder just how often this occurs… and if your image has been copied and is now being used to promote pharmaceuticals.
Enjoyed this article? Share it!