Christopher Priest and Pete Woods continue to place the Justice League in a border conflict in Africa with… okay not exactly hilarious consequences, but tragic ones, that show the limits of a superhero group dynamic dealing with anything more complex than an alien invader. Where bad guys and good guys aren't as easily painted as they try. And where any decision is a bad one.
As the Justice League Watchtower has crashed on a border, everyone steps up. And fails.

Remember the days when DC Comics wouldn't let Mark Millar name President Habibe of East Timor? Or even Indonesia. Now Mugabe gets thrown around…

…as do Palestine and Israel. And no one has a clue what to do.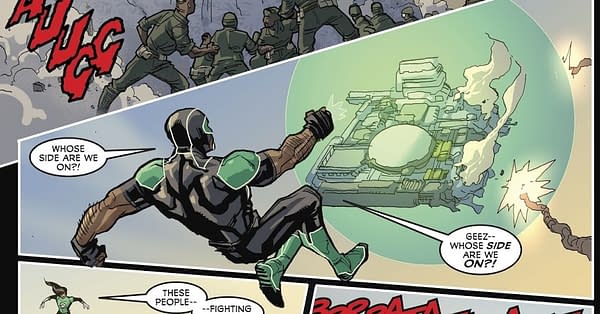 But everyone has ideas.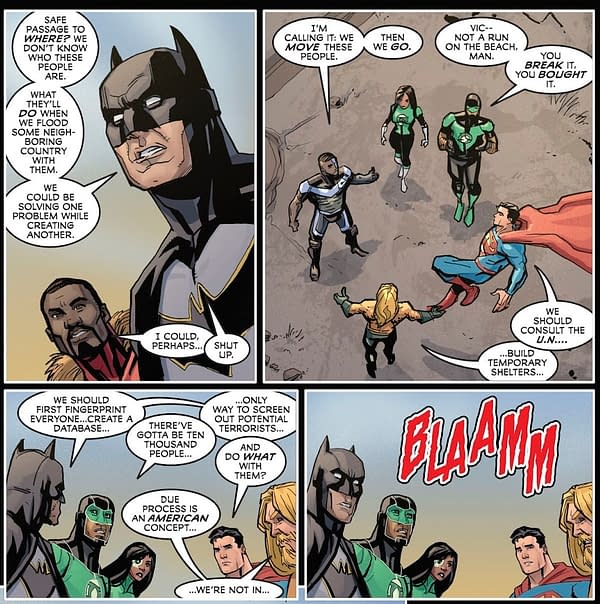 While round the corner, the real story is happening.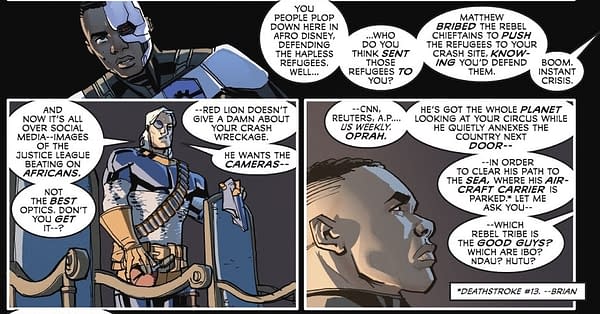 And not even Superman's super-sight or hearing can see this one coming/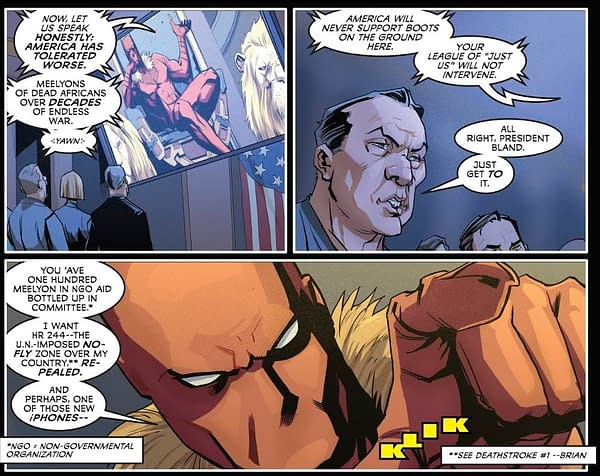 Oh yeah, and it looks as if Deathstroke doesn't expect Cyborg to know who he is.
So the whole Cyborg-in-Titans-or-not status is also up in the air again. I wonder which comic book readers will care about most?
Anyway, we are coming to the end of the best run on Justice League possibly ever, doing what the Authority couldn't and getting down and dirty with realpolitik. Given the limits of Justice League and American superheroics, how do they come back from this?
Especially if it takes Deathstroke to save them all?
Welcome to the best superhero comic book being published right now, by far. The only one that won't allow them to cop out. Get in before it all goes away…
JUSTICE LEAGUE #42
(W) Christopher Priest (A) Pete Woods (CA) David Yardin
"JUSTICE LOST" part two! Trapped in the chaos of tribal conflict, the Justice League becomes divided over whether to intervene in a civil war in order to protect thousands of fleeing refugees-and a crucial decision could have dire consequences for one of their members! Meanwhile, Batman and Aquaman clash over how to take down the nemesis known only as the Fan, who holds all of their secrets hostage.In Shops: Apr 04, 2018
SRP: $2.99
Enjoyed this article? Share it!