So what do today's Civil War tie-ins promise for the future?
We're wondering which Hulk is meant to kill all the heroes, as foreseen by Ulysses for Civil War II. Amadeus Cho admits to concerns about his own Totally Awesome Hulk…


…even as Bruce Banner remains totally chill.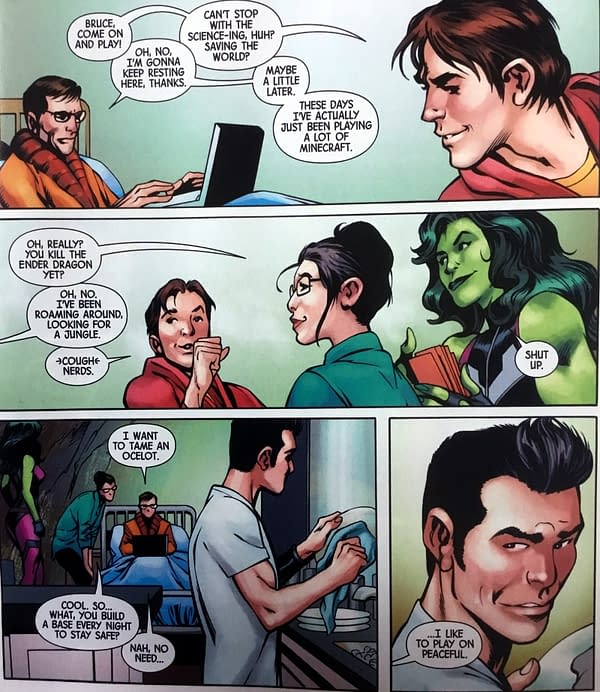 Captain Marvel is still in the early Ulysses days of Civil War II in Spider-Woman, as Jessica Drew reminds us that she is British again. But she doesn't at this point have a clue about his abilities and their reliability. But has a plan to get better intel… While in Captain America: Sam Wilson, she's being juxtaposed against Iron Man. And he has a theory as to how all this is happening. It's exactly what Iron Man used to do back in Force Works, is what it is. Creating a Chaos Computer and plugging in Scarlet Witch, like the Infinite Improbability Generator did with a nice hot cup of tea. Sam Wilson is won over, and in Civil War II: X-Men, Nightcrawler seems to be going the same way… See, here's the thing. If Iron Man's theory is correct, Ulysses can only predict the future with available data. How did he come by the data that would predict a Celestial intervention or Thanos' arrival on Earth?
However, thanks to Civil War II: Kingpin, it might all be moot. With the Inhuman Janus. Woith a very spoecific skill set… That is the real danger. If you put all your faith in one system, when it goes wrong… so does everything you have built on top of it.

Enjoyed this article? Share it!