Titan Comics may not have any new Doctor Who comic books for a little while. But they're launching five new (or newish) series in April 2018, including Peter Milligan on The Prisoner.
ASSASSINS CREED ORIGINS #4
(W) Anne Toole, Anthony Del Col (A) PJ Kaiowa
Direct tie-in to the brand-new videogame, Assassin's Creed Origins! Witness the very beginning of the Assassin's Creed!
In Shops: May 02, 2018
SRP: $3.99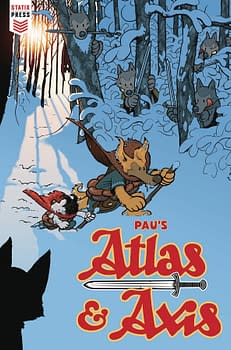 ATLAS AND AXIS #4 (OF 4)
FEB181817
(W) Pau (A/CA) Pau
Bone meets Vikings! When roaming warriors Atlas and Axis return home to find that their village has been destroyed by Viking raiders, they set off on a perilous journey across land and sea to save their friends!
In Shops: Apr 11, 2018
SRP: $5.99
BLOODBORNE #3 (OF 4)
(W) Ales Kot (A) Piotr Kowalski
Written by Image Comics superstar Ales Kot, with artwork by Piotr Kowalski! Awakening in an ancient city plagued by a twisted endemic – Where horrific beasts stalk the shadows and the streets run slick with the blood of the damned – a nameless hunter embarks on a dangerous quest in search of paleblood…
In Shops: Apr 18, 2018
SRP: $3.99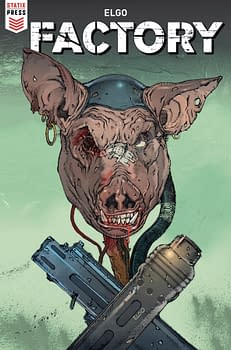 FACTORY #2
FEB181816
(W) Yacine Elghorri (A/CA) Yacine Elghorri
Mad Max meets Fallout in the nightmarish vision of life on a dystopian planet!
From Alejandro Jodorowsky and Moebius collaborator – Yacine "Elgo" Elghorri!
A band of mutants slog through the harsh deserts of a dystopian planet in search of the factory – The last semblance of civilization left among the wasteland.
In Shops: Apr 25, 2018
SRP: $3.99
FIGHTING AMERICAN TIES THAT BIND #2
(W) Gordon Rennie (A) Andie Tong
The critically-acclaimed series returns with a brand-new story featuring Fighting American and Speedboy!
In Shops: Apr 04, 2018
SRP: $3.99
FOREVER FREE #1
(W) Joe Haldeman, Gay Haldeman (A) Marvano
Based on the award-winning Forever Free novel by Joe Haldeman. Surrounded by a society that is too autocratic and intrusive, living a dull existence which cannot compare to the certainties of combat and feeling increasingly alienated, the veterans plan an escape to the future by means of space travel and relativity. But when their ship starts to fail, their journey becomes a search for the unknown entity responsible.
In Shops: Apr 25, 2018
SRP: $5.99
PENNY DREADFUL #11
(W) Chris King (A) Jesus Hervas
Continues the story directly after the shocking events of Penny Dreadful's season three finale!
In Shops: May 23, 2018
SRP: $3.99
PRISONER #1
(W) Peter Milligan (A) Colin Lorimer
The cult TV series comes to life in a brand new comic series by writer Peter Milligan and artist Colin Lorimer!
Timed to coincide with the 50th anniversary of the first US transmission, this new series transports readers back to the mysterious village where everyone is a number!
In Shops: Apr 25, 2018
SRP: $3.99
SEA OF THIEVES #2
(W) Jeremy Whitley (A) Rhoald Marcellius
Written by Jeremy Whitley (Princeless, Thor Vs Hulk) and illustrated by Rhoald Marcellius. Explore and raid across the treacherous Sea of Thieves with this epic story based on the action-adventure multiplayer game from Rare Studios due for release in early 2018 on Xbox One and Windows 10! Voyaging to far islands in search of legendary buried treasure, our heroes will face rival thieves, the wrath of undead hordes guarding their riches, and the worst that the vast sea has to offer!
In Shops: Apr 11, 2018
SRP: $3.99
SEASON OF THE SNAKE #1
(W) Serge Lehman (A) Marie Michaud
Written by award-winning science fiction writer Serge Lehman, creator of the Chimera Brigade. Rich and intricate world, perfect for both science fiction and fantasy fans! In the intersection, order is key. Having connected solar systems to one another through a series of space tunnels, humans have managed to conquer the universe. But long before humans dominated, there were native species, and after thousands of years something is waking up…
In Shops: Apr 11, 2018
SRP: $5.99
SUPERMANSION #1 (OF 4)
FEB181805
(W) Barry Hutchinson (A/CA) Jake Elphick
After a battle with the evil Psy-Clone and his army of identical clones, the League is exhausted. Unfortunately, crime never rests, and they are immediately called to another emergency. Rather than rush off, though, they realise they can use Psy-Clone's cloning machine to make duplicates of themselves and send them into battle instead. The clones turn evil and start running riot, and when Black Saturn reveals he has spent years developing ways in which to kill the rest of the League in case they ever go rogue, a horrified Rex kicks him off the team. The League is jailed, and it's only when Black Saturn proves his loyalty by breaking into free them that they find a way to defeat the evil clones once and for all.
In Shops: Apr 04, 2018
SRP: $3.99
TANK GIRL FULL COLOR CLASSICS 1988-1989 #1
(W) Alan Martin (A) Jamie Hewlett
Featuring original pages by Jamie Hewlett, released in 1988 and 1989, coloured by Sofie Dodgson! To coincide with Tank Girl's 30th anniversary celebrations!
In Shops: Apr 18, 2018
SRP: $6.99
Enjoyed this article? Share it!