We talked about how today's Batman #47 by Tom King, Tony Daniel, Danny Miki, Sandu Florea, and Tomeu Morey may tie into the setting up of Tom King's big Sanctuary series/event. But one of the reasons that Booster Gold might find himself in that institution was also revealed at the end of today's Batman.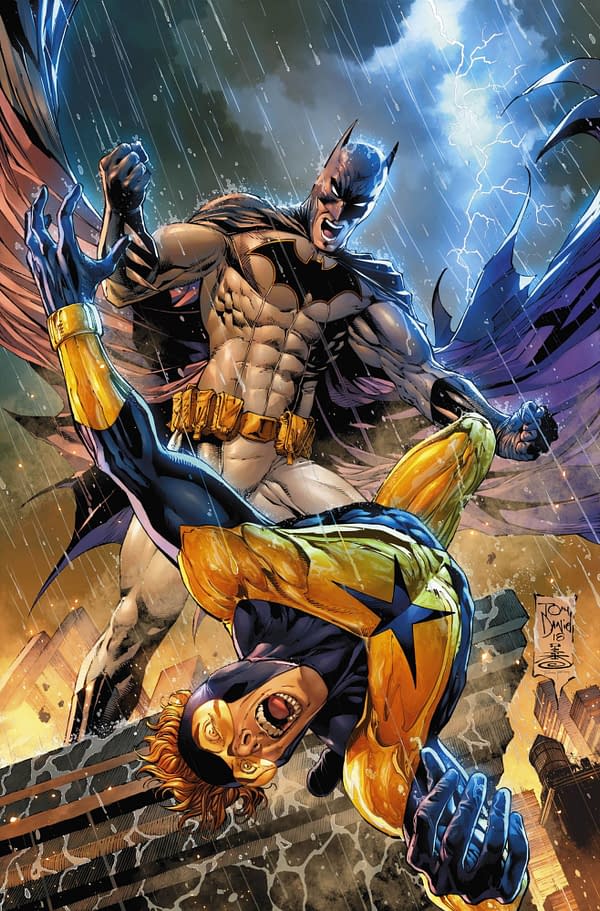 Tom King already told us that Bruce Wayne tried to commit suicide sometime after he died, adding gravitas to the Bane storyline 'I Am Suicide'.
Well, as Booster Gold went back in time to stop his previous self from preventing the death of Bruce Wayne's parents, there was a commotion on the rooftop as the adult Bruce Wayne got involved…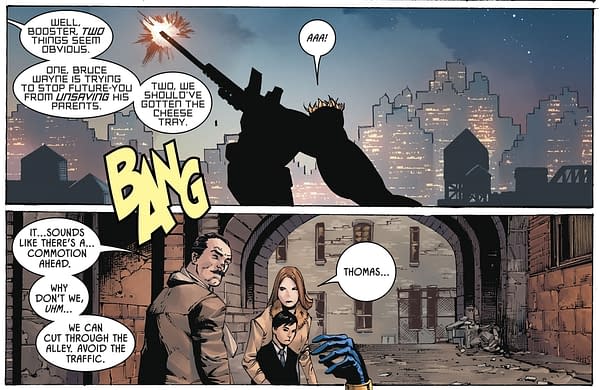 …where Thomas and Martha meet their ends.
So… is this saying that Booster Gold was responsible for the deaths of Bruce's parents in the first place? But what about before he went back in time? What happened in the original timeline? Or is this now the original timeline that always was and previously Booster Gold created a pocket universe in which he hadn't stopped the killing, which he has now put right?
My head hurts. But not as much as Bruce's…
BATMAN #47
(W) Tom King (A) Sandu Florea (A/CA) Tony S. Daniel
"THE TRAVELERS" part three! As Booster Gold, Batman and Catwoman zero in on the time anomaly, what they find and their actions to correct it will have ramifications on all of the DC Universe. Tom King and Master Class artist Tony S. Daniel end their first story with a bang that will tee up the next big development in the Batman/Catwoman romance.
In Shops: May 16, 2018
SRP: $2.99
Enjoyed this article? Share it!