Everyone in comics loves a good sequel, well, except Alan Moore, and what better sequel could you imagine than one for the classic 2018 dispute between Marvel Comics writer Matthew Rosenberg and the FedEx delivery service? Rosenberg's fight to get FedEx to deliver his package went on for nearly a week, with Rosenberg providing live updates on his Twitter feed. Eventually, he got his package, one day after Bleeding Cool published an investigative report on the matter. Coincidence? You be the judge.
In any case, Rosenberg has taken to Twitter once again with a new shipping dispute, this time with the United States Postal Service. Rosenberg first indicated there was an issue last weekend, tweeting:
Hey @USPSHelp @USPS, what does it mean when it says my package is "In Transit for delivery on 1/22" and today is 1/25?

— Matthew Rosenberg (@AshcanPress) January 25, 2020
But it turns out the issue had been going on for weeks, even creating an alliance of sorts between Rosenberg and his former enemy, FedEx.
Well this is actually a redelivery from something they "tried to deliver on 1/9" but couldn't. Even though I was home all day and got a fed ex package that day.

— Matthew Rosenberg (@AshcanPress) January 25, 2020
Well, as Shakespeare once said, missed delivery acquaints a man with strange bedfellows.
When the package continued to be missing in action, Rosenberg sought to resolve the dispute directly with the USPS, but soon turned to sarcasm to attack his new foe:
So… Umm… Is there a twitter handle I can tweet to ask for help getting @USPSHelp to help me? https://t.co/X0gxsp4Tp6

— Matthew Rosenberg (@AshcanPress) January 27, 2020
But a full twenty days since the package's original delivery date, Rosenberg was no closer to obtaining his cherished goods than before.
Post office called and left a voicemail to say the found my package and what should they do with it. I called back and told them to deliver it. Now they can't find it again.

— Matthew Rosenberg (@AshcanPress) January 30, 2020
Post office: Found it. What would you like me to do with it?

Me: I mean… It's a package I had shipped to me. Would it be possible for you to just get it to me, like I paid you to do?

Post office: …I guess.

Me: Then let's do that.

Post office: Ok. I'll see what we can do.

— Matthew Rosenberg (@AshcanPress) January 30, 2020
Some might argue that when one has a single dispute with a delivery service, the problem is with the delivery service. But if one has disputes with multiple delivery services, might one consider that they might actually be the problem? Well, as it turns out, Rosenberg isn't the only one to have trouble with his local post office branch.
For those wondering why I have so many problems with my local post office, I point you to their Yelp page- pic.twitter.com/I3LAf0nU2O

— Matthew Rosenberg (@AshcanPress) January 30, 2020
— Matthew Rosenberg (@AshcanPress) January 30, 2020
Etc. That was a few excerpts from page one of Yelp. There are 8 pages of one star reviews.

— Matthew Rosenberg (@AshcanPress) January 30, 2020
It looks like Rosenberg's current postal opponent is an enemy unlike any he's ever faced. Will the post office locate and deliver Rosenberg's package in a timely manner? Will the postal universe be rocked to its foundations as a result? Can a little help from Bleeding Cool once again save the day? We'll be keeping a close eye on this situation with the hope of extracting at least one more clickbait article out of it, so stay tuned!
And, er… buy Hawkeye: Freefall #2, in stores now. But don't have it shipped. It's best to pick it up yourself, given the ongoing hostilities.
HAWKEYE FREE FALL #2
NOV190859
(W) Matthew Rosenberg (A) Otto Schmidt (CA) Kim Jacinto
WHO THE %$&@ IS RONIN? The mystery surrounding the volatile new Ronin deepens as his actions begin to destabilize the seedy underbelly of New York City. Hawkeye finds himself caught in the middle of an increasingly dangerous turf war between Ronin and the Hood. Though Clint may not approve of Ronin's methods, it's hard to argue with his results. And pretty soon, he may need to choose a side that his allies in the Avengers won't be happy about…
Rated T+
In Shops: Jan 29, 2020
SRP: $3.99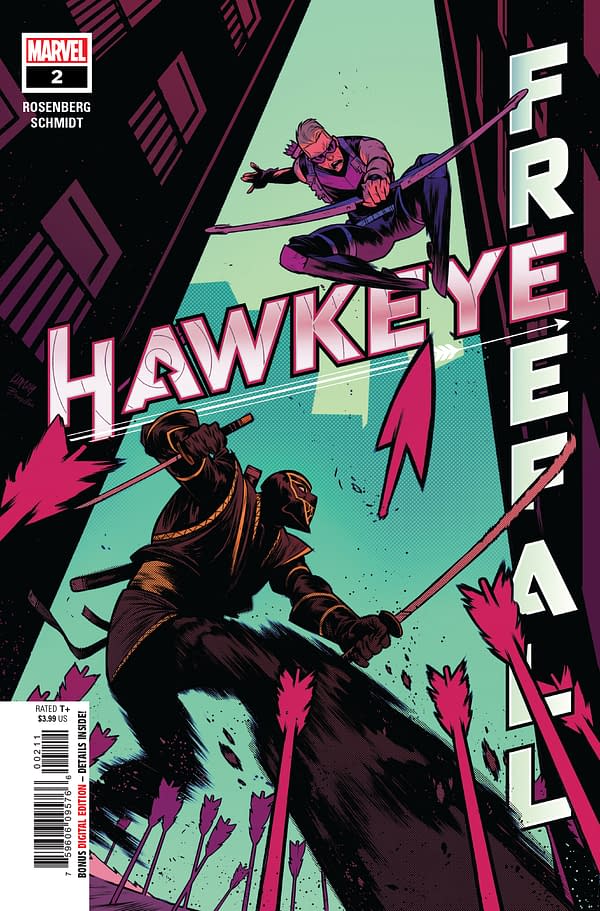 Enjoyed this article? Share it!