Valiant has a reputation for being inventive with their variant covers, from extreme ultra-foil to brushed metal to the "Most Variant Cover of All Time." I hear they'll be announcing a new innovation at the Diamond Retailer Appreciation Lunch at San Diego Comic-Con on Friday for their new Bloodshot: Rising Spirit series coming in November. Any guesses what it could be?
Here's what Valiant will be giving away to retailers at the show though…
Following a presentation at the annual Diamond Retailer Appreciation Lunch, attending retailers will receive advance looks at two of the biggest series to lead into Valiant's new "Beyond" initiative – Britannia: Lost Eagles Of Rome #1 and Bloodshot Rising Spirit #1:
Britannia: Lost Eagles Of Rome #1 Ashcan Edition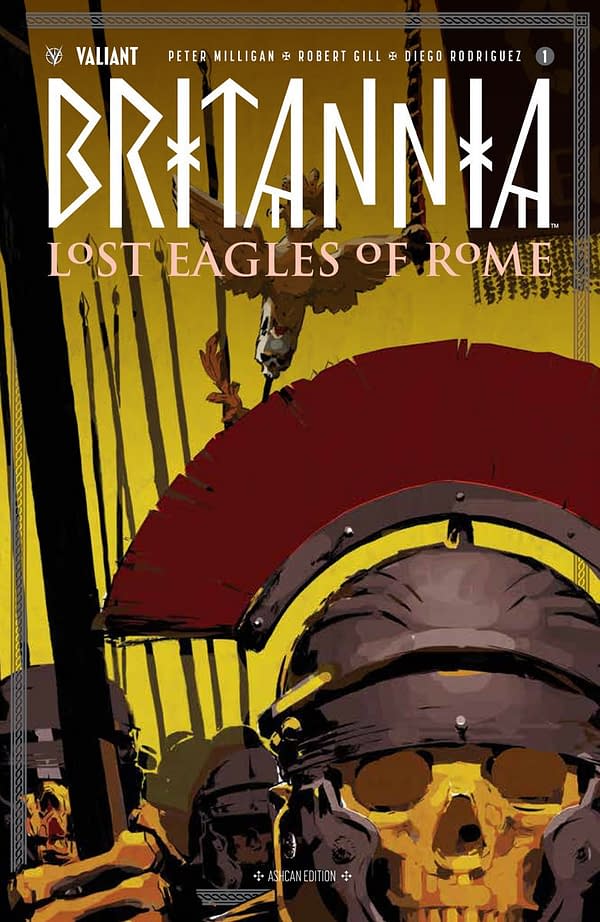 Before history's first detective returns on July 25th, retailers will get a closer look at a fully lettered, inked, black-and-white rendition of the brand-new series from writer Peter Milligan (Detective Comics) and artist Robert Gill (BOOK OF DEATH), as they descend into the horrors of the ancient world with the latest chapter in Valiant's sold-out series!
Bloodshot Rising Spirit #1 SDCC Draft Script Book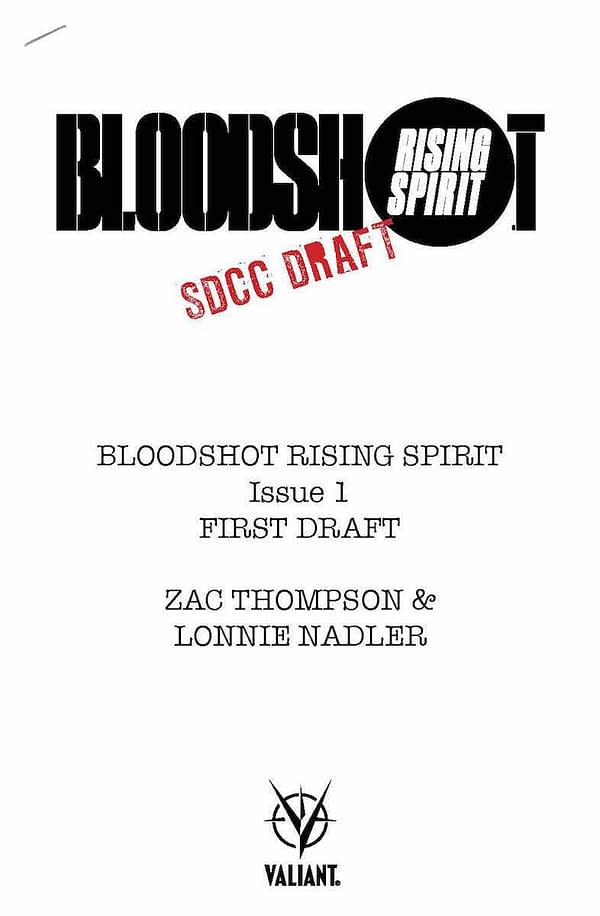 Witness a one-of-a-kind glimpse into the very first issue from writers Lonnie Nadler & Zac Thompson (Cable), where they explore the early days of military contractor Project Rising Spirit and dig into the never-before-divulged origin of the walking weapon known as Bloodshot!
Retailers who cannot attend the Diamond Retailer Appreciation Lunch and are hoping to obtain these items can contact Valiant directly at sales@valiantentertainment.com. Fans seeking these exclusive collectibles are encouraged to have their retailer contact Valiant for additional stock.
Anticipate more information about Valiant's "Beyond" initiative, a new wave of series that will carry the publisher into 2019, born from the aftermath of Harbinger Wars 2.
FAITH: DREAMSIDE #1 by Jody Houser & MJ Kim in September 2018
BLOODSHOT RISING SPIRIT #1 by Lonnie Nadler, Zac Thompson, & Ken Lashley in November 2018
LIVEWIRE #1 by Vita Ayala & Raúl Allén with Patricia Martín in December 2018
INCURSION #1 by Andy Diggle & Doug Braithwaite in February 2019
Enjoyed this article? Share it!