Only six crossover/tie-ins to Marvel's The War Of The Realms event this week – Marvel must be slipping. But maybe, just maybe, a chance to see where some of this is going. The standout by far is today's The Unbeatable Squirrel Girl #45 which includes this meta break from the action, as Doreen finds herself along with every other superhero in North America, fighting the Frost Giants. Or, in her case, not.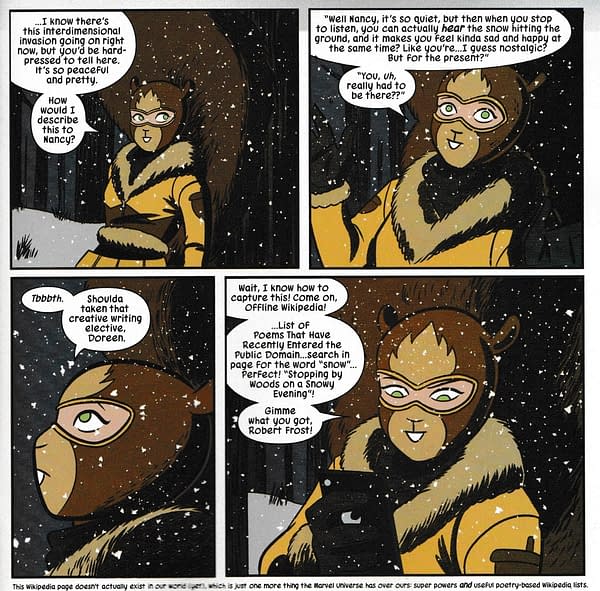 With Ryan North stepping that line between all knowing and know-it-all. And continuing to deliver dense recompressed storylines, sizeable speech balloons and stuff just… going on. For all that some complain about this comic book, it may be the most traditional title Marvel Comics is currently publishing, which it also faces up to tropes and conventions, choosing a different path where possible. Such as the Frost Giant happy to take a kip and kick things off a bit later.
While Superior Spider-Man #7, while fighting Frost Giants with the West Coast Avengers, and his old-man-shouting-at-clouds routine…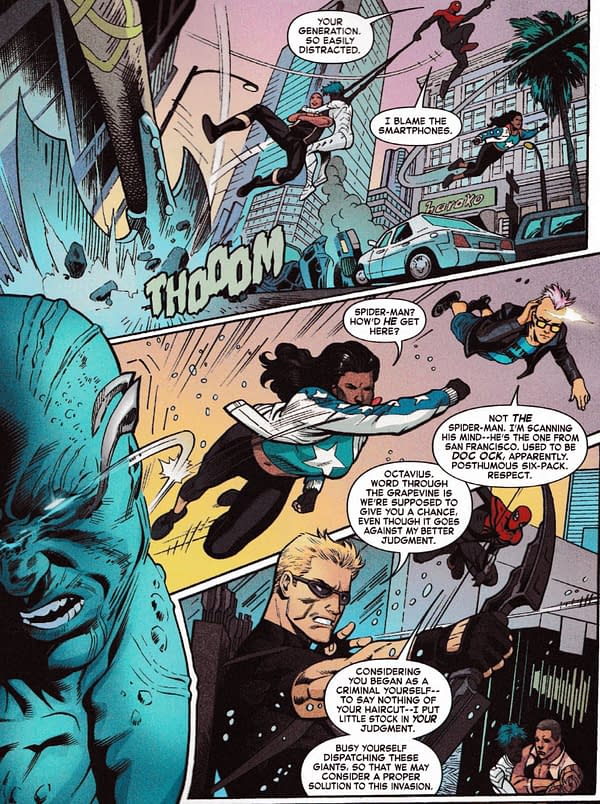 …gets visited by the meta as well,, courtesy of a certain Gwenpool.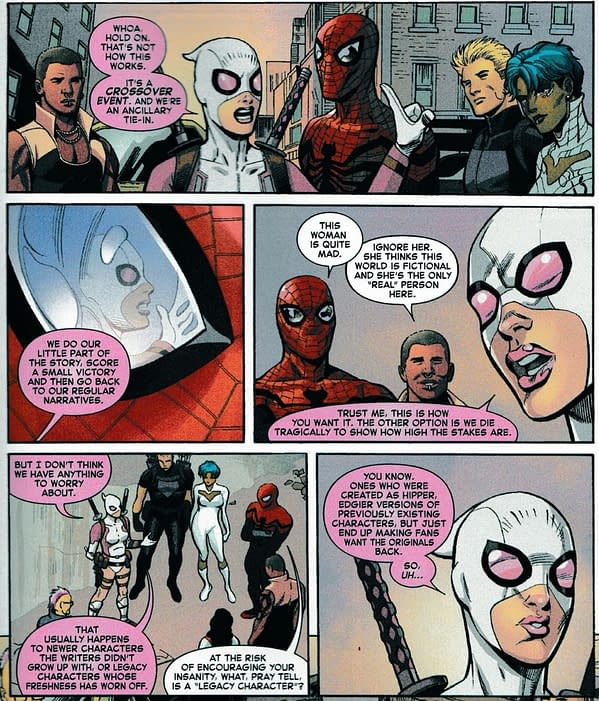 Yeah, West Coast Avengers was only just cancelled. Does she not know yet? And while these titles look at the trips, traps and tropes of crossover, where nothing changes and goes back to normal, Venom #15, courtesy of Donny Cates and Jason Young being so tight, even when written by Cullen Bunn, is setting up what's to come. With a new look magic-based Venom…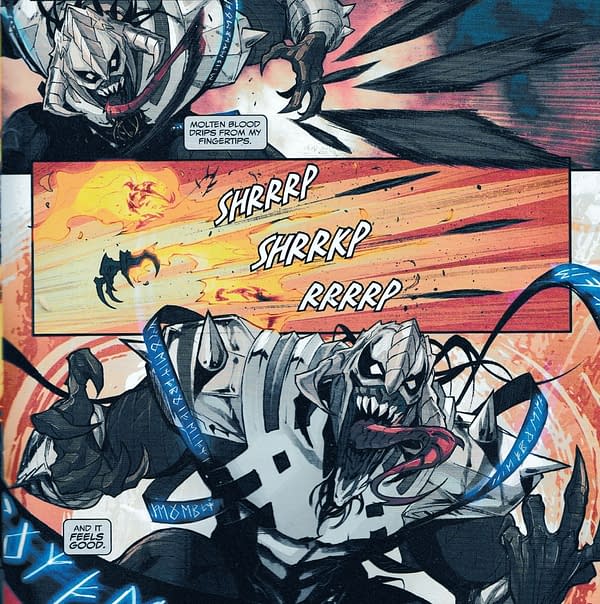 But with the witch that gave him that new power set divining the future like she's out of Macbeth or something.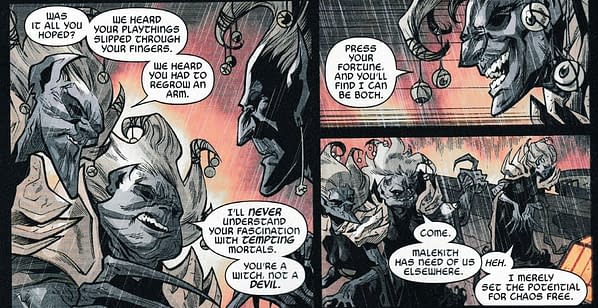 …Thane of Glamis, Thane of Cawdor…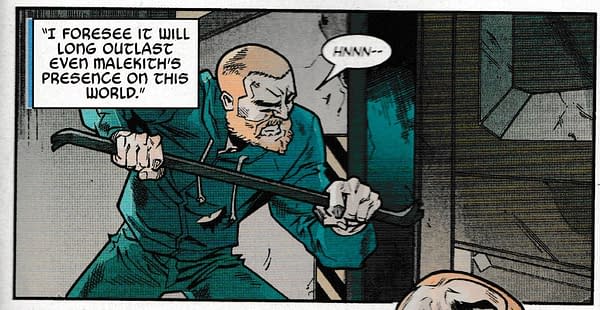 …and magical Venom hereafter. Equally in Champions #6 as they manage to fight someone other than Frost Giants, in South America. And as a result, gaining a little insight…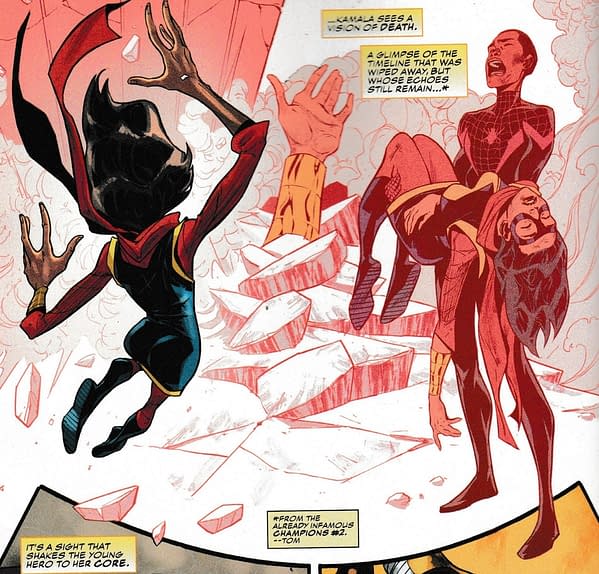 … and having a major impact on how the comic book will develop post-event.
Like that. Over in Giant-Man #3, they are fighting Frost Giants again, which to be fair, is all to the good as they are all giants themselves.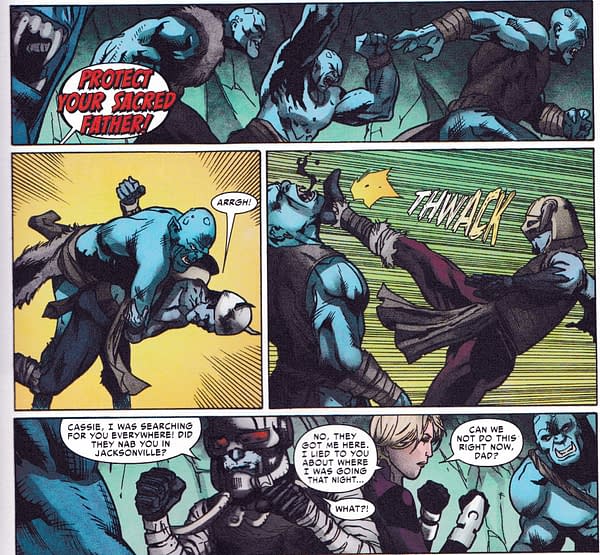 While the Asgardians Of The Galaxy #10 reach their final issue as well, but go out fighting. And with an ending that will make… certain fans happy too. But first, the angels.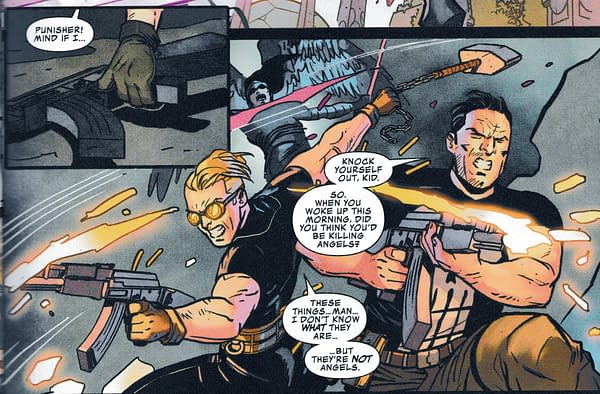 Beats Frost Giants. And man, the Punisher gets around in this crossover, doesn't he? I thought he was still inside a tunnel? War is hell… and hey, at least you learnt more than you did from some of these comic book's solicitations.
VENOM #15 WR
(W) Cullen Bunn (A) Iban Coello, Alberto Jimenez Alburquerque (CA) Kyle Hotz
In Shops: Jun 12, 2019 SRP: $3.99

SUPERIOR SPIDER-MAN #7 WR
(W) Christos Gage (A) Lan Medina (CA) Mike Hawthorne
In Shops: Jun 12, 2019
SRP: $3.99

CHAMPIONS #6 WR
(W) Jim Zub (A) Juanan Ramirez (CA) Aaron Kim Jacinto
In Shops: Jun 12, 2019
SRP: $3.99

UNBEATABLE SQUIRREL GIRL #45 WR
(W) Ryan North (A) Derek Charm (CA) Erica Henderson
WAR OF THE REALMS TIE-IN!
• The historic team-up of Ratatoskr – Asgardian chaos squirrel god – and Squirrel Girl – Midgardian squirrel, uh, girl – has not gone well!
• Well, that's not technically true: it's gone well for Ratatoskr, who now has a human identity to play with…but this team-up hasn't technically saved anyone yet.
• And now it probably never will! Squirrel Girl realizes that Ratatoskr isn't playing by the rules, and they split up!
• But can one girl save all of North America? And does one Asgardian chaos squirrel god have machinations going on beneath the surface?
• Answers to these questions, plus fights, plus friendship, plus Frost Giants, PLUS some public domain poetry all await you! THERE IS NO MORE ALLURING A SENTENCE THAN THE ONE WE JUST TYPED. WE CHECKED, THIS IS IT!
Rated T In Shops: Jun 12, 2019 SRP: $3.99

GIANT MAN #3 (OF 3) WR
(W) Leah Williams (A) Marco Castiello (CA) Woo Cheol
WAR OF THE REALMS TIE-IN! THE BIGGER THEY ARE…
Moonstone's army of primordial Frost Giants is gaining in number with every passing moment. Only Ant-Man, Giant-Man, Goliath and Atlas can stop them! But an unseen enemy is about to get in their way… CAN YOU GUESS THE IDENTITY OF THE MOLE?
Rated T In Shops: Jun 12, 2019 SRP: $3.99

ASGARDIANS OF THE GALAXY #10 WR
(W) Cullen Bunn (A) Luca Maresca (CA) Gerardo Sandoval
WAR OF THE REALMS TIE-IN!
ANGELA VS. THE QUEEN OF HEVEN! Angela was kidnapped at birth, stolen from her Asgardian heritage and raised an outcast in the less-than-heavenly Heven. For years, she has wandered the universe as neither a true Asgardian nor a true Angel. Now she has the chance to repay her "debt" to the Queen who stole her away. The Asgardians of the Galaxy fight for their comrade and for all of Midgard in the depths of Heven-controlled Africa!
Rated T+In Shops: Jun 12, 2019 SRP: $3.99
Enjoyed this article? Share it!