So… What Does Batman #62 Mean Then? (Spoilers)
At the end of Batman #60, with Alfred critically injured (again, he just got stabbed by someone pretending to be Zorro over in Detective Comics)…
We had the return of Batman. The Thomas Wayne Batman from the Flashpoint dimension. Who, it seems, has been behind the whole Bane operation to defeat Bruce Wayne at a fundamental level. Getting rid of his fiance, Catwoman Shooting Nightwing in the head. And more, much more…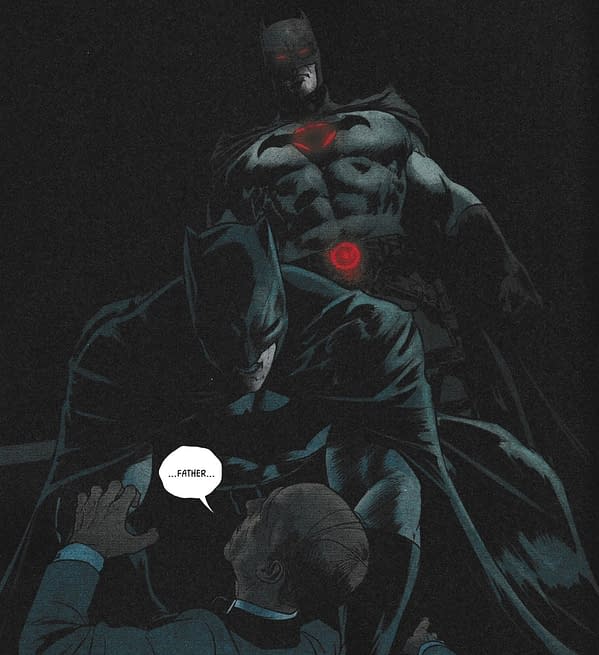 Batman #61 looked at the fantasies of Matthew Warner, Master Bruce, The Boy Who Would Be Bruce Wayne, getting himself placed in Arkham Asylum. Which only seemed to follow on thematucally.
However, Batman #62 sees Bruce Wayne having his own nightmarish experience with Professor Pyg. And trying to recall what led up to this moment…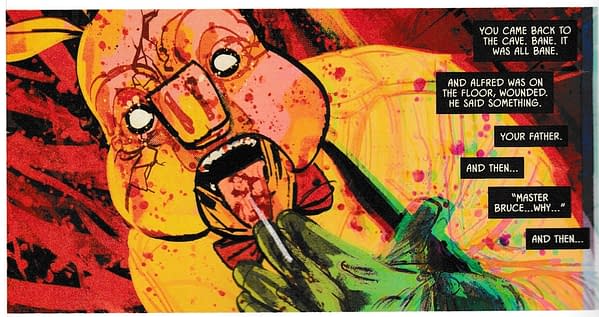 Let's be clear. So Alfred said 'Master Bruce' after the end of Batman #60? Was he referring to Bruce Wayne or Matthew Warner – Master Bruce is now the supervillain name of Warner.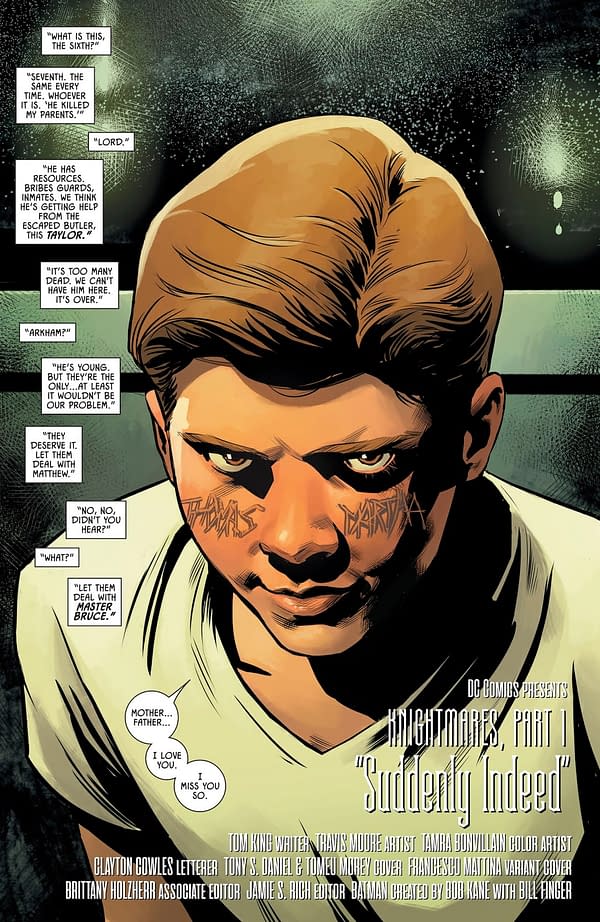 And in Lost, we have a very different Father/Son experience than in Batman #60. Or for that matter #61.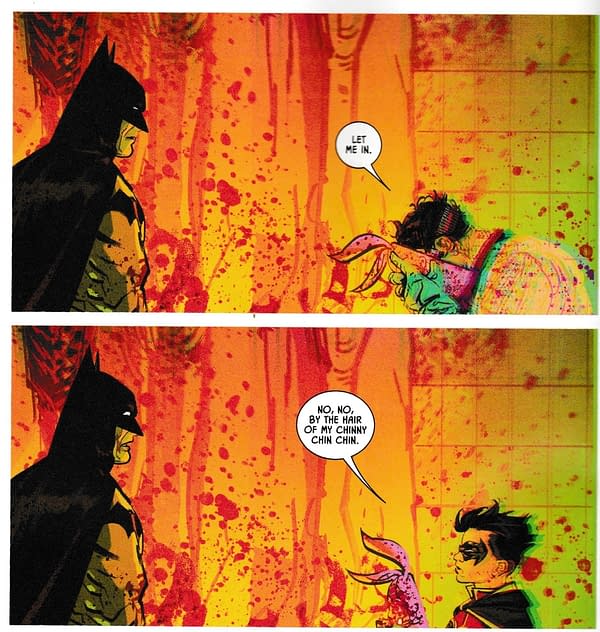 How much of Damian Wayne's relationship with Bruce Wayne is a mutual dependency fantasy? Is whatever Thomas Wayne doing to Bruce Wayne comparable to what Bruce Wayne is doing to Damian? Bruce Wayne did let Damian Wayne in… should he have? Will Damian Wayne be able to grow any hairs on his chinny-chin chin? Who are the Three Little Pigs?
And what happens when Thomas Wayne meets Master Bruce?
Very little of Batman #61 happened anywhere outside of Master Bruce's fantasy. But some did. What about Batman #62? What here is real? What comes from Bruce, what from Damian, what from Thomas?
More knightmares to come…
BATMAN #62
(W) Tom King (A/CA) Mitch Gerads
Now features the Story solicited for #61 written by Tom King with art by Mitch Gerads. The Eisner-winning creative team behind MISTER MIRACLE is back together as artist Mitch Gerads rejoins the Bat team for a special issue! Professor Pyg is loose in Gotham, and you know that means things are going to get weird… and bloody! In Shops: Jan 09, 2019 SRP: $3.99

BATMAN #63
(W) Tom King (A/CA) Mikel Janin
There are strange goings-on in the dark alleys of Gotham City, mysteries that will require a different skill set than the Caped Crusader's if he's going to stop the whole city from succumbing to the darkness. John Constantine, the Hellblazer, is a person with just those skills-but after the events of "The Witching Hour," is Constantine in any condition to help the Dark Knight Detective? In Shops: Jan 23, 2019 SRP: $3.99

BATMAN #66
(W) Tom King (A/CA) Jorge Fornes
The "Knightmares" storyline continues! Something-or someone-is forcing Batman to live through some of his darkest fears, amplifying the Dark Knight's anxieties and reimagining some of his worst traumas. Now that Batman has become aware of the nature of these delusions, he must find a way to break through and find out the source of this disruption. So who does he turn to for answers? Why, the Question, of course! But is Vic Sage just another figment of the Caped Crusaders imagination? In Shops: Mar 06, 2019 SRP: $3.99

BATMAN #67
(W) Tom King (A/CA) Lee Weeks
The "Knightmares" continue as Batman chases a new foe in an impossible race. Over rooftops, across alleyways, up and down the streets of Gotham City, this lightning-fast crook outsmarts the Dark Knight at every turn. Is that because the man under the mask is someone more familiar than he knows? Artist Lee Weeks returns to BATMAN for an all-out action issue unlike any you've seen before. In Shops: Mar 20, 2019 SRP: $3.99