Neil Greenaway of NerdTeam30.com writes for Bleeding Cool,
Saturday at the Denver Comic & Art Expo (or DINK!), started with a walk around the main floor. Everyone was talking about the VIP Denis Kitchen Panel, but there seemed to be some confusion over where the panel would be held.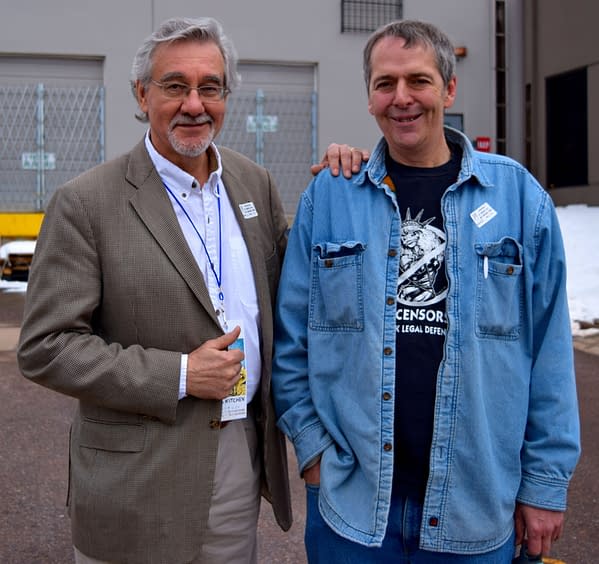 A quick check in with Denis himself sent me across the street to the 5th floor of the Hampden Inn, in the Frank Lloyd Wright room. The panel room was set up with about 50 seats for attendees, and most of them were full before the panel started. The panel itself consisted of Denis Kitchen being moderated by Tom Burns, the owner of Capri Records. The talk started off with Denis handing out 8 pieces of original art that he had worked on throughout his career.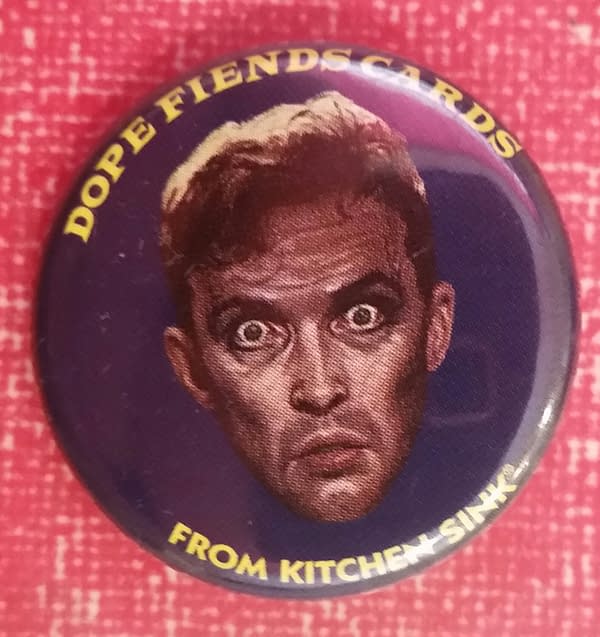 He also had a bag of vintage "Dope Fiends Cards" pins that he handed out to the crowd. (We were asked that the artwork be returned, but told to keep the pins) He also said that the first 16 people back to his table to ask his wife for a vintage Dope Comix promo poster would get one for free.
After that introduction, Denis talked for a little more than half an hour about his life in comix and publishing. He told stories about when he was starting out, meeting like-minded friends, and helping to start the underground comix movement. He talked about working with R. Crumb, saying "There were no contracts. I showed him some of the work I was doing and he said 'I'll give you my next book'. Of course that book turned out to be Homegrown Funnies."
He talked about the dark side of distribution, "I was told subtly, and then not-so subtly, that it was a dirty business. I was shown a map, marked out with lines, and told 'these areas belong to families, and we don't have any control over how things work there.' And it didn't take us long to learn that 'families' was a code word."
The truth is that in that 30 minutes or so, he talked about a lot of things. And he did so with eloquence and style. I do not think that I heard an unkind word spoken about anybody, even when detailing his time working with Marvel and Stan Lee – an experience he had an obvious distaste for. He ended his time talking about how much had changed in independent comic publishing and what an exciting time it was to be making small press comics. He collected his artwork and a man came in to tell us that the bus was ready. It was time for our Cannabis Bus Tour of Denver.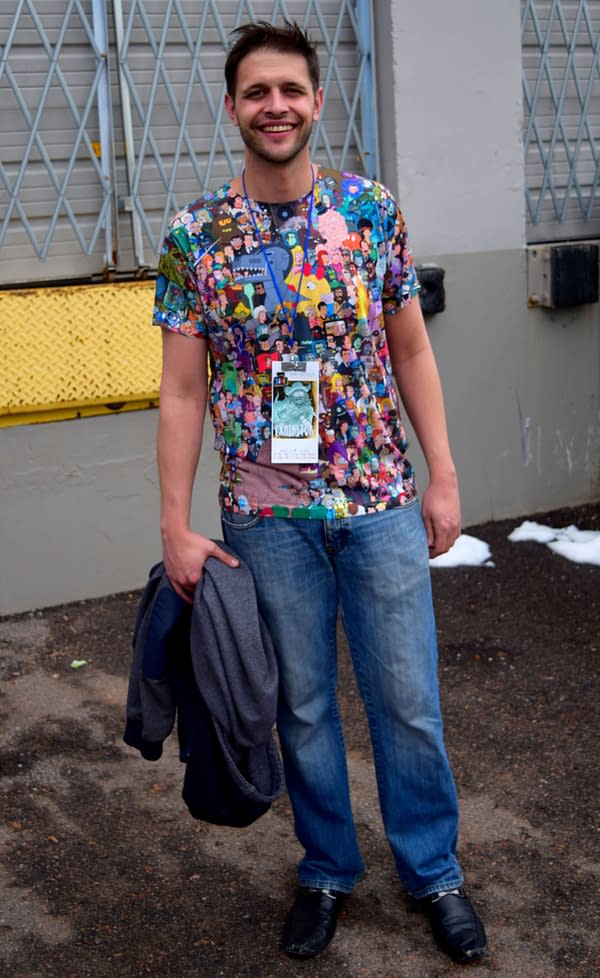 The thirty-five of us that had purchased tickets for the tour were led out to the waiting bus, which on first inspection looked like any other party bus. The walls were lined with leather bench seating, the windows were all tinted, and the driver had a partition that went up the moment a pipe came out. We were introduced to Jake Browne, our guide for the bus.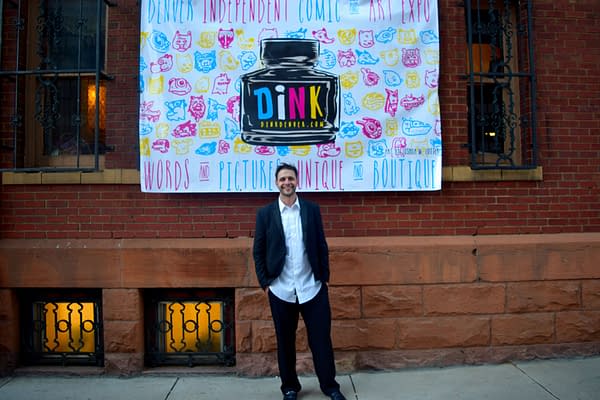 Jake is the Marijuana Review writer for the Denver Post by day and the host of Uncalled Four – A Comedy Game Show by night. He explained that we would be driving up to the Medicine Man dispensary in Aurora (about 30 minutes away) and that we were free to smoke on the bus.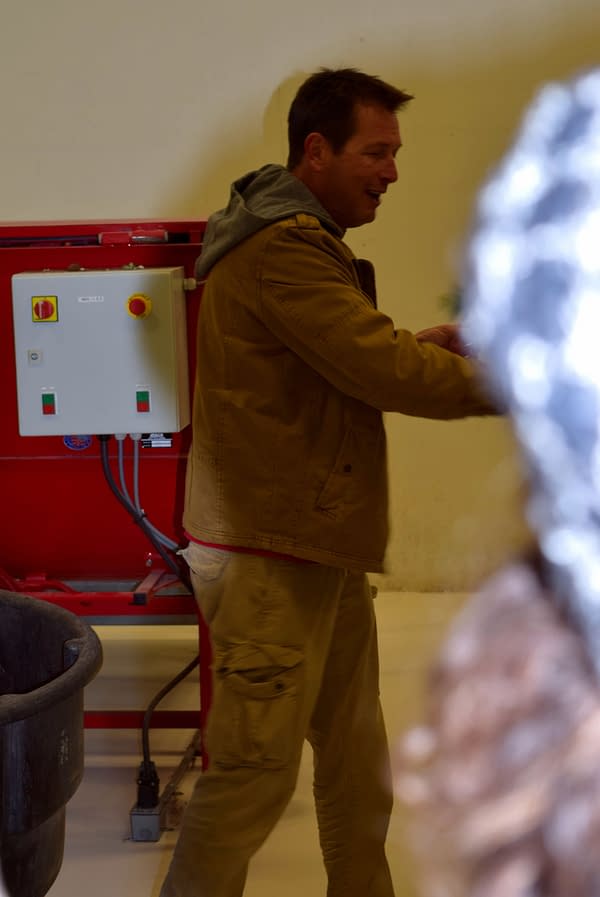 There was a standard glass pipe that belonged to the bus, and a guy at the front who reloaded it with fresh marijuana every time the bowl got cashed. Things were a little muted on the way up. We all smoked, but it was mostly Denis or Jake talking while everyone else listened. Denis talked about the old days as a pot-smoking hippie, and how they never actually thought legalization would come. Jake talked about how he had traveled and been able to judge different cannabis contests around the world thanks to his job. It was a pleasant, if sedate, ride.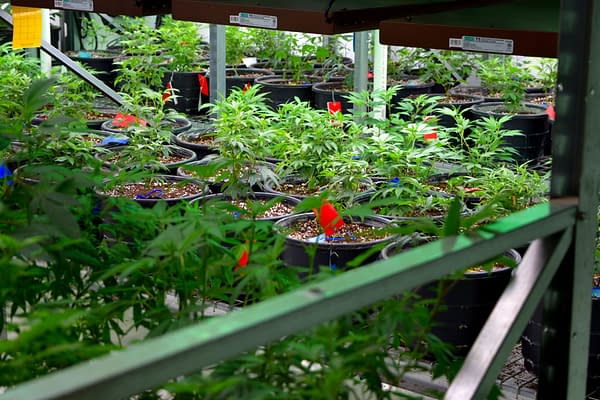 Once we arrived at the Medicine Man dispensary we were told that before we got the chance to visit the shop, we would be touring the entire grow facility – which we were told was one of Colorado's largest. We were introduced to our tour guide and off we went.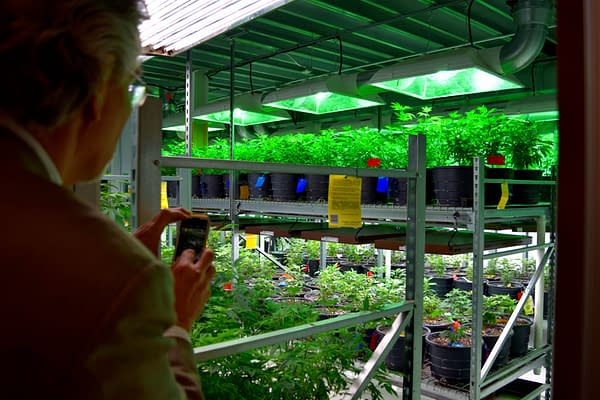 The tour started with a description of their cloning process and an example of how they would cut a clipping. Next, we were shown several rooms of vegetative state (or early life) cannabis plants at varying ages and heights.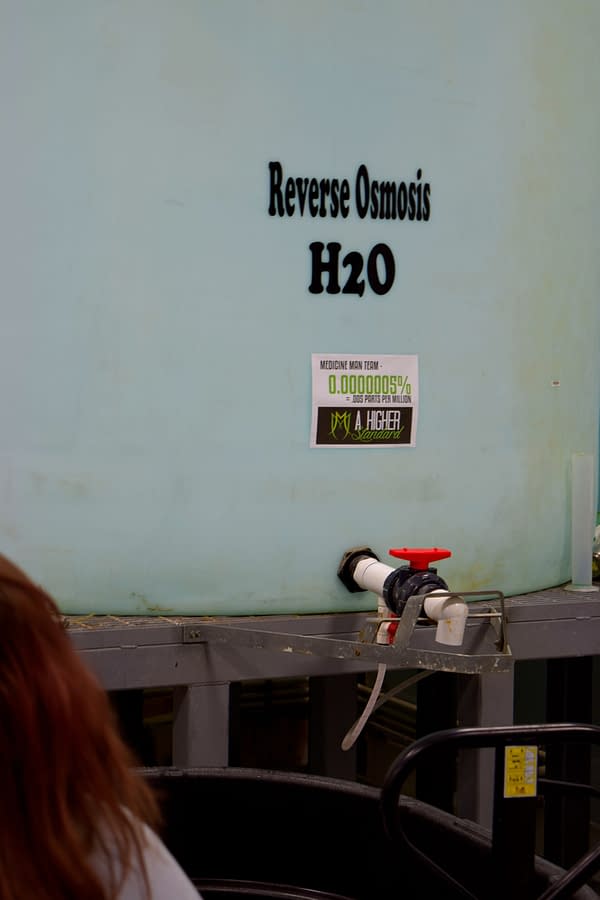 Our guide explained the airflow, the nutrients used, and the light schedules involved. We were then led to another part of the building and shown several rooms full of flowering state (or late life) cannabis plants.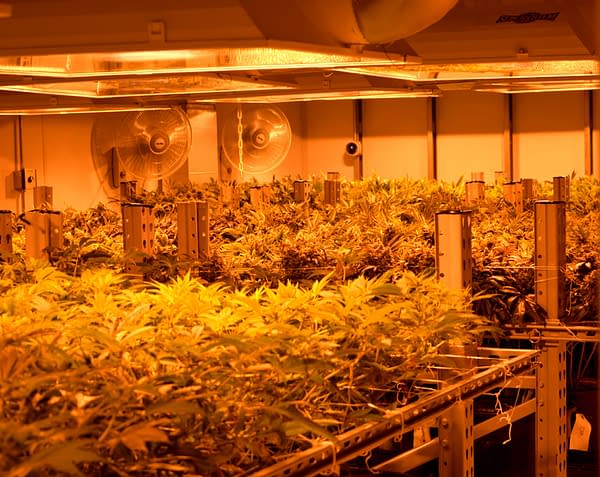 Once again, the different nutrients and lights necessary for this portion of the grow were gone over.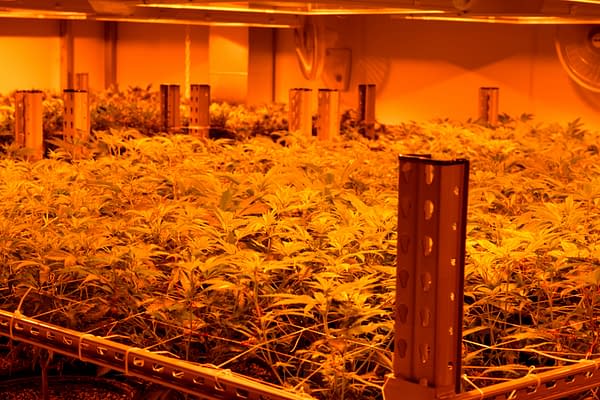 One of the numbers our guide quoted here really stuck with me.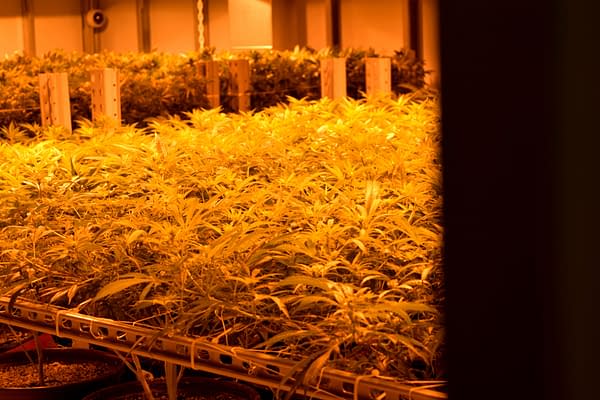 He said that they spend $40,000 a month on the power bill, but that was nothing next to what they spent on employees.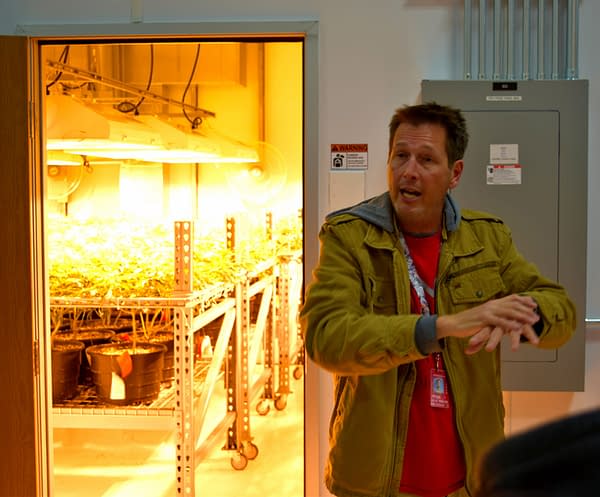 There is obviously a LOT of money moving around in this industry. With that, the tour was more or less over, and we were led back to the storefront. Everyone on the tour was given a 10% discount in the shop and told to meet back at the bus.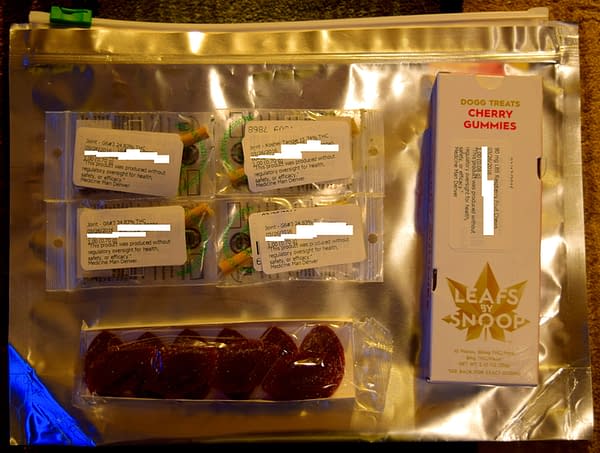 Where the ride up was relaxed and fairly quiet, the ride back to the convention was more light hearted – jovial even. We were friends now. People shared pre-rolled joints that they had purchased, and boxes of edibles were passed around. The open bar on the bus (which had gone untouched on the ride up) had a few beers pulled out. One guy even poured himself some unlabeled liquor. Everyone was obviously more comfortable. We talked so much that all of the over-sized windows on the bus fogged over.
We arrived back at DINK a little over 2 hours after we had started out, and everyone exited the bus. And this is where the Canni-bus set itself apart from other party busses I have seen. Everyone stood up under their own power, waited patiently for their turn to move, and left the bus with a smile. I did not see one angry or even inebriated looking face. No one stumbled, no one fought, and no one looked sick. I had never personally tried anything like this tour before, but I definitely see the appeal. For me, this is much better than drinking.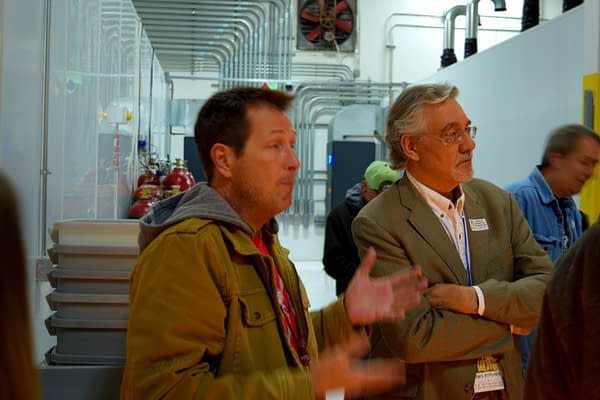 I had a chance to catch up with Denis at the end of the day, after his other panels. He said that he enjoyed the experience, but that smoking had changed a lot since his time. He said that all the new wax, shatter, and other forms of ultra-potent hash seemed to take the social aspect out of the equation. He said that he prefers taking a few hits off of a pipe or a joint and then talking to friends for hours on end. Smoking just enough to get the creative juices flowing without killing his motivation. "I want to be high," he said, "not catatonic."
And so I walked away from this experience with only one real piece of advice. If you ever find yourself faced with the opportunity to sit and smoke a bowl with Denis Kitchen, take it.
Enjoyed this article? Share it!