I'm always fascinated when the comic industry crosses over into sports. For years the idea of the Jock / Nerd worlds meeting was one of ridicule and wedgies. But with sports stars claiming their love of comics like Shaquille O'Neal, that has been changing. Athletes are identifying with costumed heroes more and more… and last night we saw the good and the bad.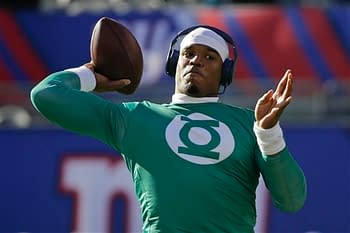 The Carolina Panthers, the NFL's only undefeated team, headed to New Jersey to play the New York Giants. The Panther's quarterback Cam Newton is known for doing his Superman celebration where he mimic's pulling open his shirt to reveal the Superman logo like Clark Kent. He's been doing that since he entered the league. Last night during pre-game he warmed up wearing a Green Lantern t-shirt.
But it's not Cam that made headlines… it was a feud between Panther's rising star cornerback Josh Norman and the Giant's amazingly talented wide receiver Odell Beckham Jr. Arguable considered the best at their positions, the two were destined to go head-to-head. And where Cam uses the Man of Steel as is signature celebration, Norman considers himself the Dark Knight when he's on the field. Yes… he thinks he's Batman when he hits the gridiron.
The sports media spent the majority of the week hyping the hell out of the match up, saying that the Giants were likely to be the team to hand the Panthers their first loss and that all eyes would be on the Beckham / Norman match up. They put an intense focus on these two young men… too much of a focus. They got caught up in it. Beckham began wearing cleats with the Joker on them and the media picked up on that. He claimed it had nothing to do with Norman's comments about Batman… but it was too far on the nose to be random.
Yesterday the game took place and the two of them started going at each other almost immediately. Beckham dropped a long pass that would've been a for sure touchdown and ended up with zero catches in the first half, something that had never happened to him before. The two were pushing and shoving and the lead to punches and cheap shots… which lead to personal foul penalties. The Panthers built a large lead and Beckham started losing his cool. Both players were more focused on each other than on the game.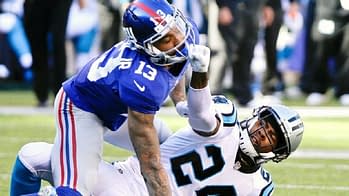 And then the worst possible thing happened. The players were left to play through it, both admonished by their coaches to cut it out and focus on the game. But a line was stepped over. On a play that didn't involve the wide receiver, Norman pushed Beckham out of the way so he could go and help tackle the ball carrier. Beckham circled around and with a fifteen yard running start, he dove helmet first into the head of Norman. This is a move specifically banned by the NFL. With the increasing knowledge of concussions and the long term damage they can cause, the league has cracked down on this kind of move. Beckham received another personal foul… but was not ejected from the game. I can't see a way to interrupt Beckham's actions as anything but a willful decision to try and cause severe bodily harm to Norman. The fact he was not ejected immediately surprised me and many others watching the broadcast.
There is talk now of Beckham receiving a one-game suspension and both players getting fined for their actions. Norman appeared on the Mike & Mike radio show this morning and when he was told about the possible suspension for Beckham, he said it would be justice being served. And when asked about the Joker cleats again he said:
And yeah, that man had the Joker cleats on, he knew what he was doing. That man knows what he was doing. That's no Joker, man, that's no Joker. That's Harvey Dent, that's Two Face [Dent is Two Face's alter ego]. That's who he is. I can respect the Joker because at least he would give me a sweet contest. He would give me a sweet epic battle, but that right there was a melee. How can you respect a guy like that, that was ridiculous.
I'm always happy when comics get brought into something mainstream like sports… it's usually a good thing like the way Cam Newton uses it just prior to giving a young fan a touchdown ball. But in this case, it was a display of anger that I wouldn't want any young football or comic book fan to see.
Enjoyed this article? Share it!