Over on TVLine.com, Matt Webb MItovich ran a scoop that the producers of Arrow landed Summer Glau for a reoccurring role as an adversary for Oliver Queen. The role in question is Isabel Rochev, the Vice President of Acquisitions for Stellmoor International, a company looking to take over Queen Consolidated. Fans of the Television series can probably already see how that will put her at odds with Oliver's family who I'm sure will be dealing with a lot of legal issues from the first season finale. Glau would be quite a get for the series. The Whendonverse alum has quite the following in the comic/sci-fi fandom with her roles on Firefly, Dollhouse, The Sarah Connor Chronicles, The Cape and Chuck. She is bound to bring in more viewers to the already hit show. But who is the woman she's going to play?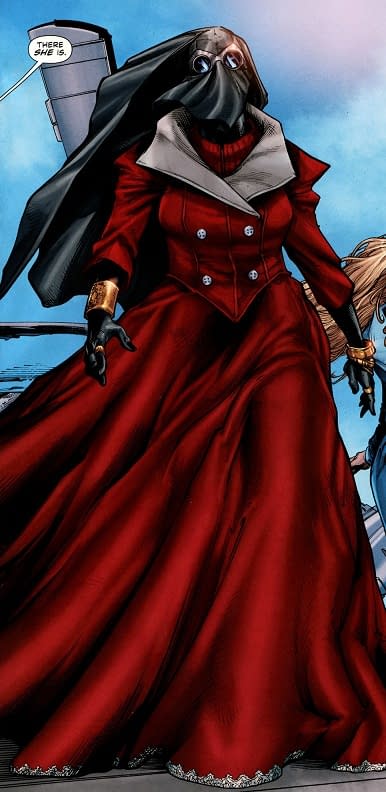 In the comics, Isabel Rochev grew up in servitude working a diamond mine in Siberia. She fell in love with Robert Queen when he came to visit her village. She saw him as a symbol of inner power and an inspiration to change her life. Whether or not Queen loved her back is unknown. She dedicated herself to making more of her life, a goal she achieved when she took over as CEO of Queen Industries. She acquired controlling interest by purchasing stock through a multitude of smaller corporations she owned. She is determined to return Queen Industries to its former glory at any cost.
Rochev is often seen wearing a mask in public to hide her face and she believes she is the true heir to Queen Industries and Robert Queen's one true love. She wears Moira Queen's wedding ring and other jewelry. She also wants to see Robert's disgraced son, Oliver, dead by whatever means necessary.
Isabel Rochev was created by JT Krul and Diogenes Neves in Green Arrow Volume 4 #1
How this television Isabel Rochev will differ from the comic version remains to be seen. The face that not only is Oliver alive but so are his sister and mother to get into new characters way. And with the reported four month jump form the season finale, it should become a adversarial relationship very quickly.
Enjoyed this article? Share it!