Nicole Kane writes,
Going to hell in a hand basket doesn't even give you a taste of the Kickstarter for Devil x 3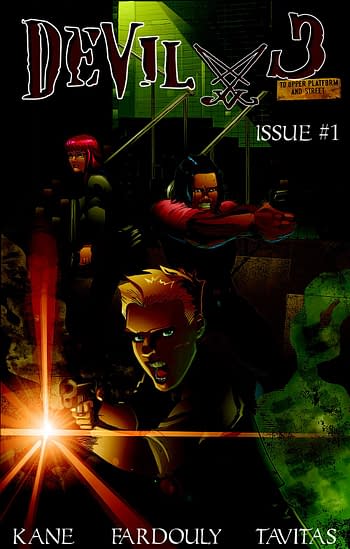 Ever had a cop fetish? Like ladies who are constant smokers, drinkers and have some brains? Well then Maggie Maine is right up your ally.
The story starts in the bottom room of a police station where Maggie is handed the SKINS case for the first time by her assistant Kat. Unfortunately unable to work alone, Maggie must play nice with the first detective on the case, the ice queen of the station Cornelia Abaddon, but she's not going in without backup as she drags long-time friend and senior detective Jarrod Rothchild into the bizarre events that follow.
Being a horror fan, this story was born from my fascination of the occult and the obsession with sexy cops. I wanted to show a darker side then what a typical detective comic can be and stretch the boundaries for themes along with the style of comics.
I started Devil x 3 almost 10 years ago as a novel style book but then life happened and re-wrote the thing so many times by the end of it not being perfect as I wanted it to be.
Then I found comics…… hello happiness, goodbye all my money.
While diving through my many, many….. MANY ideas, I realised this story needed to finally be told. I had worked with the artist Jimmy Faroudly on another title Clockwork (shameless plug) and loved him so much I stole him for this one. Now he's chained to me for the long haul.
Who is Maggie Maine?
Maggie is the amalgamation of everything I love; she is the quintessential "odd cop" and probably going to be every lesbian's fantasy woman. She is exceedingly intuitive and has her witty quirks that keep you coming back for more. With her immense background in occult and ritualistic knowledge, the police department gave Maggie a choice, go to jail for theft charges or work for them. Guess which one she took?
Maggie has been a pleasure to write, and with the first 5 issues done, I fell in love with her even more so it's up to the readers to do the same now.
Why horror?
Why not! I have loved horror ever since I snuck a copy of Silence of the Lambs into my room. It's a tapestry of complicated characters, crazy plot twists and just enough suspense to keep you on the edge of your seat. It is probably my favourite genre to write as you really can get in people's heads which is vital for anyone writing comics. I wanted to bring something else to comics; gore was too easy so I decided to go to suspense.
The series does keep readers wanting more and, fingers crossed, they can't do anything but read on.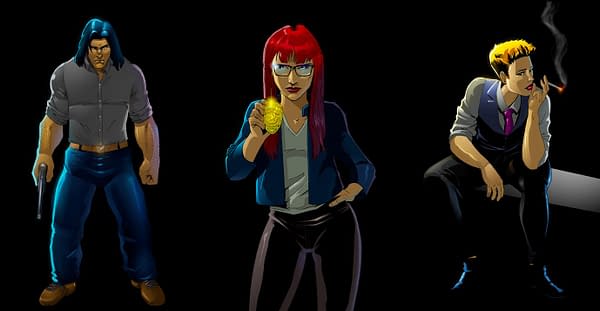 What inspired you to write this story?
Horror movies, books, games, you name it, I've got it. The big three are Dante's Inferno, Fatal Frame and Silence of the Lambs. These three works have become my staple for the mood I need to be in when writing. If you love things like this, then Devil x 3 is perfect for you.
Tip: Wack on a soundtrack from a movie in that genre to get you in the mood! It's not distracting like watching the movie but gives you the feeling of being there.
I also find inspiration comes from literally nowhere, so keep a book for phone handy so you can write everything down because you never know when it will come in handy.
So strap yourself in for the bizarre ride that is Devil x 3.
Also check out the updates for Devil x 3 on Facebook and Instagram.
Enjoyed this article? Share it!