Yen Press Announces Kingdom Hearts: The Novel Collector's Edition
Yen Press announced the release of Kingdom Hearts: The Novel Collector's Edition, a deluxe box-set that completes the Kingdom Hearts novel series, written by Tomoco Kanemaki and illustrated by Shiro Amano with editorial supervision by Kazushige Nojima and original concepts by Tetsuya Nomura.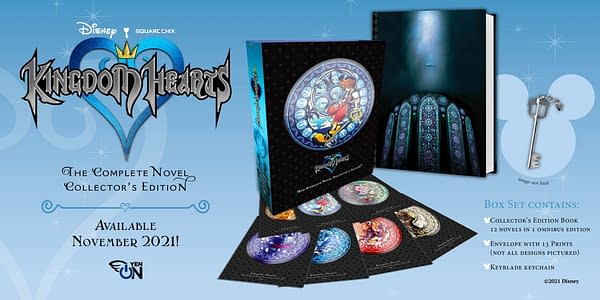 As you may know, the series began life as a hugely popular video game that melds classic Japanese RPGs with Disney characters to create an epic, massively complicated multigenerational saga about kids becoming key-wielding warriors on an epic quest to vanquish a great evil. It's really the plot of every fantasy RPG, with very familiar Japanese game and story tropes. In the end, a JRPG is really about the friends you make along the way, and you all band together with the Power of Friendship to kill God in the end. It's an evil God, mind you, so that's okay. And then everybody lives happily ever after. With a Japanese fantasy RPG, it can take a very long time to get there. The conventions have worked for decades, and they work for this series. Fans get to re-experience the novelizations of every installment of the Dark Seeker Saga, from the very first Kingdom Hearts all the way to Kingdom Hearts III, in one beautiful collection! In addition to all the text and illustrations from the novels, this collector's edition also includes 13 art prints and a metal keychain replica of Sora's Kingdom Key!
Within the box set is a giant hardcover book that includes every installment of the novel series as well as a collection of foil prints featuring prominent characters from the story. Both the hardcover book and the collection of prints are exclusive to Kingdom Hearts: The Novel Collector's Edition.
Kingdom Hearts: The Novel Collector's Edition is scheduled for a November 2021 release.