Yes, Danai Gurira can do The Walking Dead and Avengers: Infinity War…so relax.
If you're like most, your "geek radar" went into overdrive when it was announced that The Walking Dead's Gurira (Michonne) would be reprising her Black Panther role as elite Wakandan fighter Okoye in Marvel's Avengers: Infinity War. Social media exploded with concerns over whether shooting schedules and other factors would force Gurira to have to choose between the two. So I'm here to talk all of you down-off the ledge because there's no reason The Walking Dead fans should have to be deprived of their samurai sword-wielding walker killer…and here's why: ▪ With regards to filming locations, you're in luck because Avengers: Infinity War and The Walking Dead are both filming in Atlanta so distance and travel fatigue shouldn't keep her from balancing the two roles.
▪ The Walking Dead's season-long storyline structure is also a bonus for concerned fans since the show will sometimes spend entire episodes focusing on only a few characters, meaning even a main star like Gurira isn't needed for every episode. Less time with The Walking Dead would mean more time in the MCU. ▪ There's this working assumption that Gurira will need days or weeks to film Avengers:Infinity War…but we still don't know exactly how big of a part Okoye will have in the film. When you consider how large the cast of heroes is for the film (and you can see for yourself here), there's a strong possibility that Okoye may only have a few minutes of on-screen time. Less time with Avengers: Infinity War would mean more time fighting Saviors.
As fans, we're always obsessing on the negative and not concentrating enough on the positives. Instead of worrying about whether or not Michonne dies in Season 8 of The Walking Dead, we should be excited that Okoye won't be killed-off in Black Panther.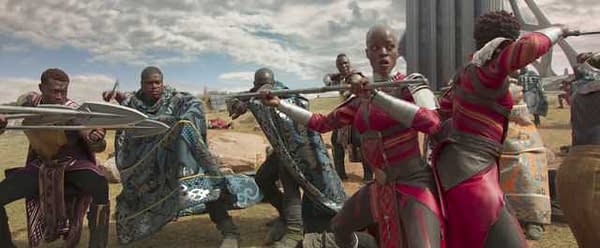 Of course, there's always the matter of whether or not she'll make it to the end credits of Avengers: Infinity War…but we'll worry about that next year.
Enjoyed this article? Share it!