By Joe Glass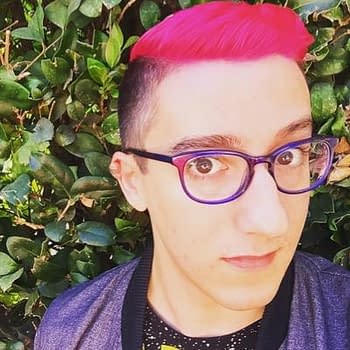 If you're like me and a regular viewer of YouTube, you have probably heard and seen Neil McNeil. I personally am I fairly newish viewer to YouTube, only really paying regular attention to the increasingly influential media outlet in the last year or so (maybe I'm that cusp generation that is coming into things a little slower and later than our younger counterparts), but it's become increasingly clear to me that YouTube is becoming a major thing to keep an eye on in the future of entertainment, in a multitude of mediums.
Thus is was that I was excited to learn that Neil was working on a comic himself. Neil is an unabashed and avid comic fan, in particular a bit of a Marvel Zombie, and literally wears his geek cred and love on his sleeve…or skin, in his geek-related tattoos.
Yesterday, Neil finally released that comic in the form of a free digital download. The Super Improbability of Marcus Egan's Heartbreak, available here, has it's first issue out, written by Neil and with art and letters by Patrick Beavers.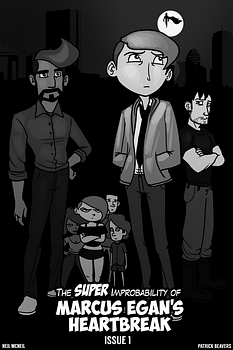 Presenting a world with superheroes in it, the comic doesn't focus on them. In fact, it focuses on the titular Marcus Egan and his dodgeball team, his life and more specifically, love life – or lack thereof when the series begins. It's an interesting choice, and one which is a lot of fun to speculate about – what is life like in a world with superheroes in it for the normal, everyday person? Whilst the comic only briefly touches on this, the times it does feels very natural in a way that makes the world feel recogniseable and larger than life.
What is immediately and wonderfully evident is a clear, funny, and entertaining voice that draws us into the world and caring about these characters and the situation they are in. As a Brit, I can't say I'm particularly familiar with the level of popularity dodgeball seems to enjoy in the States, but I eagerly anticipated watching the characters in their big game, and Marcus' plight was hugely relatable and modern.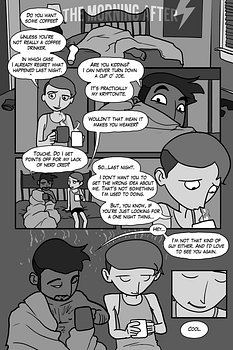 The art by Patrick Beavers is simple but clear, and by and large carries the story along in a fast, readable fashion. The art style works very well with the book and story, and I love how distinct every character is. My one criticism would lie with the lettering which is at times a little over-simple, and can occasionally be a little unclear or obtrusive to the art. That being said, from around the eighth page Patrick starts using the scene intros and some character intros as a mask that flows with the background scenery, which is really quite visually stunning, and I hope it continues in the series as it moves forward.
What is important to remember with this series is that it's a first comic that is self-published by creators who have never before made a comic. It is one thing to love comics, it is quite another to make them, and for all the how-to's and guides there are out there, many things you learn and get better at simply by making them. In my over seven years working as a self-published, small press comics creator and heading out to shows and seeing the books of colleagues and contemporaries, The Super Improbability of Marcus Egan's Heartbreak is an incredibly strong start.
The story is great, the art is fun and clear, and overall thematically it feels like a Scott Pilgrim for a modern generation – made even more clear by the wonderfully diverse cast. There are things to learn and grow with, and some first time stumbles, but overall this is a fun, entertaining book that shows a LOT of promise.
I, for one, eagerly look forward to watching this series continue and grow.
You can get the free digital download via Dropbox here, and you can use Indiegogo to preorder print editions here.
Joe Glass is a Bleeding Cool contributor and comic creator/writer, having created the superhero action adventure series The Pride that focuses on a team of LGBTQ+ superheroes for everyone to enjoy. He is also the co-writer of Welsh horror comedy series Stiffs, which features a monkey that hunts the undead, among other things. The Pride is available here and Stiffs is available here, and both series can be found on Comixology.
Enjoyed this article? Share it!