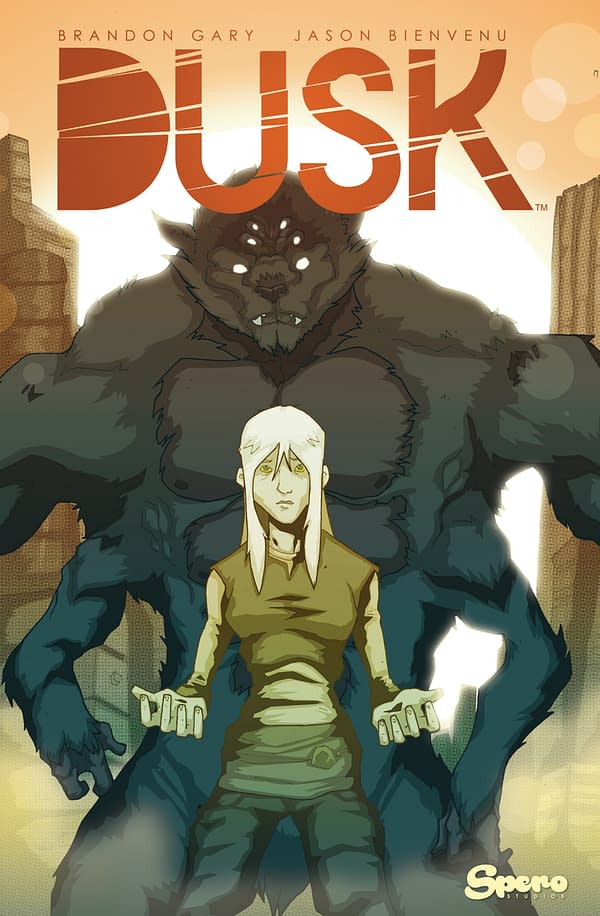 Senior Boricua Correspondent Marco Lopez writes,
As you all know the purpose of You've Never Heard Of… is to shine a spotlight on self-published creators who release their work in print or digital and creators who work for publishers that don't rank in the top 10.
We're in a golden age of comics right now and in an age of geek none of us could have ever imagined, but with the good comes the bad. As our geek news sites become more corporate they tend to focus less on comics and in some cases less on independent creators. Which is why this series was created. As you all know Bleeding Cool is a popular site and has never shied away from giving a soap box to those starting out and trying to carve a niche for themselves.
Brandon Gary is the writer and co-creator of Dusk. A self-published comic book that a couple of months back ended a successful Kickstarter to publish a collected edition of the first story arc (six issues).
Below is a summary pulled from their KS page that explains what Dusk is all about.
The story of Dusk takes place on a distant planet that is completely motionless in space. So, while one side of the planet is constantly blasted by the sun, the other side is dark and cold. The one habitable strip of land is the dusk-line. Encircling the planet where light and dark meet, it is the one area that is not too hot and not too cold. This is where the city known as Dusk was built.
The city is laid out in such a way that you can travel from lighter and brighter areas to darker and colder sections in just a few miles. The brighter areas are more resort-like with more recreation and shopping. As you move deeper into the darker parts of the city there is more nightlife and entertainment, but also a lot more crime. With less light people tend to get sicker and desperate, turning to crime in the shadows of the skyscrapers blocking the sun.
Two sisters find themselves caught up in the crime in the darker parts of the city. Mysterious deaths, kids disappearing, ancient alien artifacts being uncovered; to survive they'll need to discover how all of this ties to the deeper mysteries of the planet.
Ultimately, the fate of the planet is in the hands of a teenage girl.
Doesn't that make you want to pick up a copy and check it out? If not hopefully the images throughout this article and the interview below will.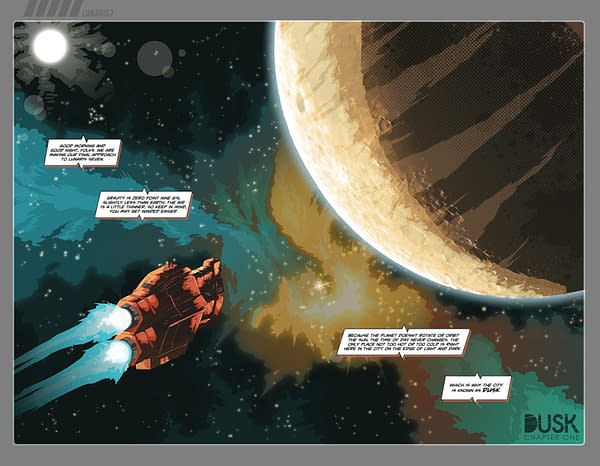 Marco: To start us off why don't you tell us a little bit about yourself and then how you got into comics as a fan and as a creator. On top of that also let us know how Dusk came together and your creative partnership with Jason Bienvenu.
Brandon: I've been a video editor for the past decade, mostly working on commercials, but I've always dabbled in other media like music and video games. Storytelling has always intrigued me and it has always reflected in any project I'm a part of.
I got into comics at a pretty young age. It was right around the time Superman was gonna die, Image was just getting started and the news was buzzing about someone whose mom had thrown away comics that were worth a fortune. All of these special issues were hitting the shelves and I guess my parents thought supporting my interests could also be a potential investment if I took care of the issues. (I still have most of those Image #1 issues and an unopened copy of Superman's death issue.)
I remember wanting my mom to read Cyber Force so I rewrote it as a kind of novelization on a yellow legal pad. I didn't think then about whether I wanted to write comic books, I just liked them. I think it's crazy how things like that come back around.
Jason and I met in our art college in the early 2000's and stayed friends after we graduated. Eventually, Facebook brought us back together when I saw he was working on a comic book. I helped him a little with the story for his first book, The Kingdom, and he asked if I'd want to write something. I said yes and eventually finished the six issues that make up the first volume of Dusk.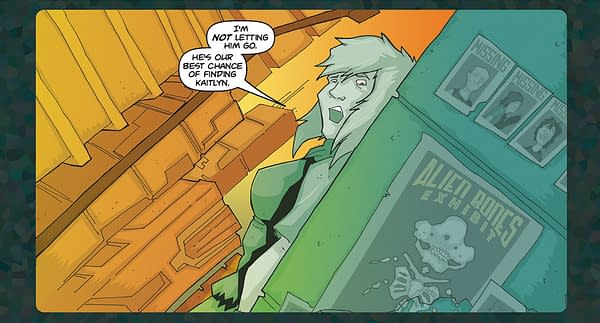 Marco: What inspired the world of Dusk? I got to say it's a pretty interesting world you and Jason have created. A planet that doesn't rotate so one side is hot and one side is cold but in the middle, it's just right and that's where everyone lives. I especially love the splash page breakdown you guys used to show Lunaris 7 and the districts.
Brandon: Jason and I wanted to do something that we hadn't seen before and the city of Dusk was sort of the culmination of us throwing away ideas that we had seen done already. After we got to the setting that seemed pretty unique it was a matter of asking why and what the consequences would be. Since we've started releasing the issues and traveling to conventions with them we've heard about plenty of similar settings, but we're still happy with our concept and how we brought it to life.
The splash page was designed to help people understand what was so unique about the city and hopefully inspire a sense of wonder as to what else is going in the city.

Marco: Let's talk a bit about more about Jason (and your creative partnership) because I'm loving his art style. Reminds me a bit of Tommy Lee Edwards and Alex Maleev. I saw in the credits that this is literally a two-man team. You do writing, layouts, and lettering and he does the artwork and logo design. Walk us through the process you two have when putting together an issue of this comic.
Brandon: First off, thank you for the compliments of Jason's style! I love it as well and the comparisons you've made are incredibly flattering.
Jason starts with a thumbnail based on my script, usually, I have it broken down into panels with a vague idea for the layout, which Jason will then tweak or reimagine if he can improve it. After we make sure everything flows and there will be enough room for dialogue Jason will do pencils and inks on paper. He scans that into Photoshop where small tweaks and layouts are solidified. I take the line-art and add flat colors using Clip Studio Paint. This saves him a lot of time adding in the details to the colors, giving everything depth and cohesion. While he's doing that I usually bring the files into Illustrator and add the lettering, tweaking my writing one last time to make it as natural as possible.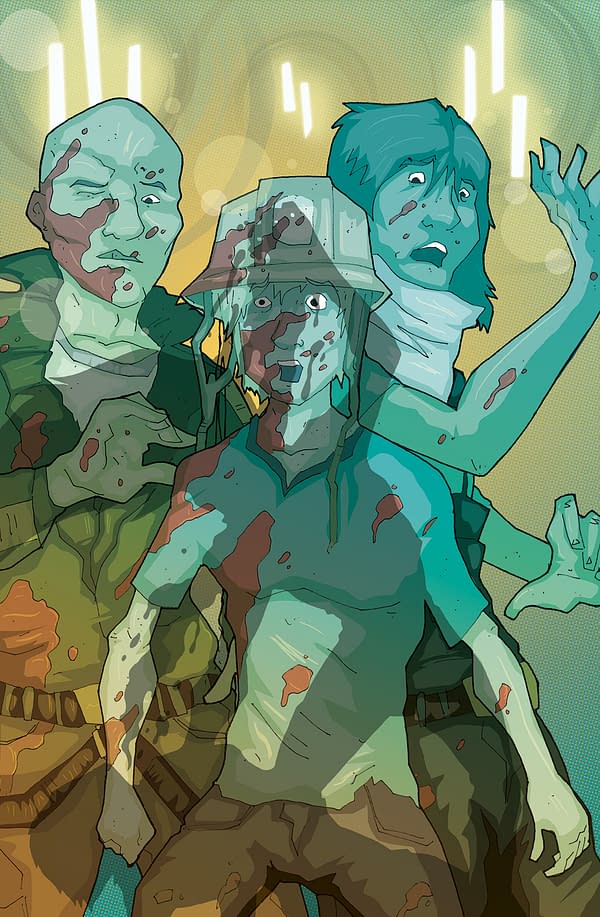 Thanks to Dropbox and Adobe's Dynamic Link Server most things are updated for each of us in real-time so we can see all the progress the other is making. After we're both done everything is combined in InDesign and it is pretty much ready for print.
Rinse and repeat.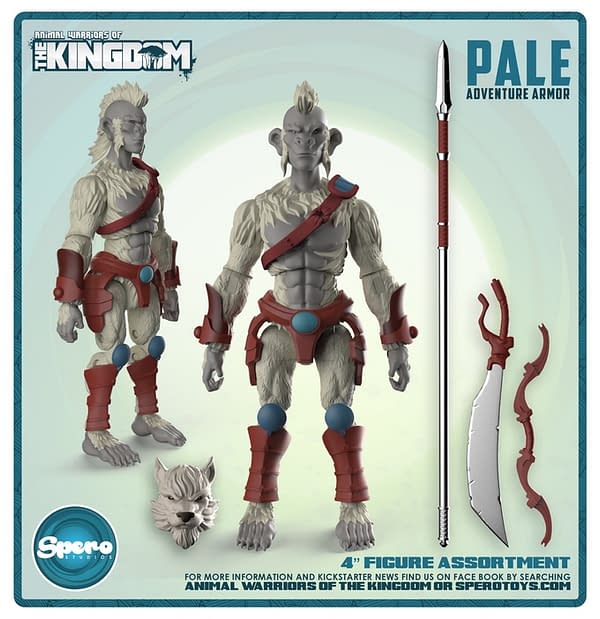 Marco: While I was waiting for you to get back to me on the questions I sent I noticed you guys have a Kickstarter up for a toy line. Animal Warriors of the Kingdom and the figures look GREAT! I love 3.75 to 4-inch scale figures. I know everyone raves for the 6-inch figures and I think mostly because on figures of that size there is more articulation and the detail is greater. But these look gorgeous and they have 17 points of articulation. That's crazy! Anything that's a throwback to 70s, 80s and 90s toys with modern sculpting and design is an instant want from me. You've already sold me but how about you tell the readers some more about this property and is it just toys or also comics? Could we possibly see a cartoon down the line?
Brandon: The toy line is meant to compliment the comic book series and vice versa. It's our love letter to the fun and joy of the 80's. The figures are highly articulated and feature removable armor, heads and even have weapons that can be taken apart to make customized weapons for figures you already have.
The figures are taken from the pages of the comic, which follows a young albino ape named Pale who discovers that he absorbs his enemy's powers after defeating them in battle. The only catch is that as he becomes more powerful the ghosts of his enemies have also attached themselves to him. He struggles with their attempts to corrupt him, threatening his quest to take his rightful place as the Ape King.
Pale explores the land discovering animal species of all types and this first series of action figures will focus on Ape, Canine, and Feline with more to come!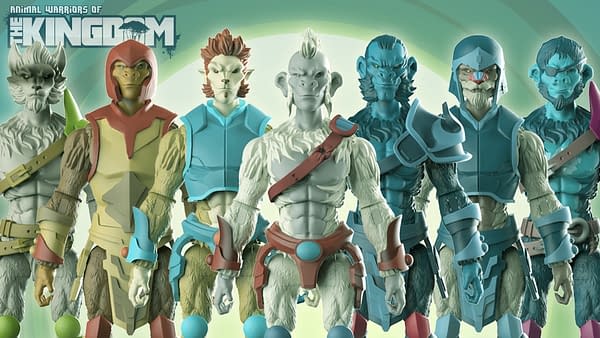 Marco: So, we talked about Dusk and your creative relationship with Jason and the Animal Kingdom toy line. Why don't you tell us about anything you've got going on that's coming out soon or down the line?
Brandon: We are working on a one-shot that is around 70 pages called GRITTS. It is an undercover redneck action comedy that we will be publishing as a bi-weekly web comic. Once the story is done we'll try to raise some funds for a limited edition run of prints. We are very excited about it and think it will be loads of explosive fun. We may even try to make some action figures of those characters someday.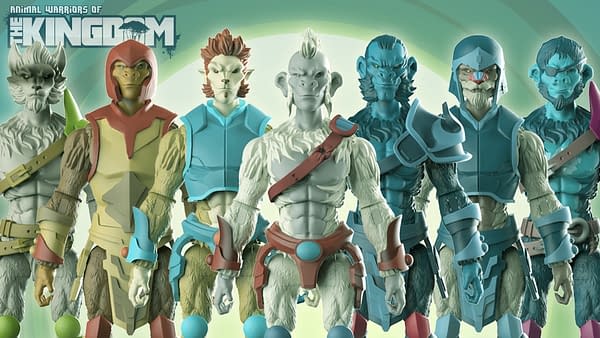 Marco: This last bit is what I like to call pimp your wares. This is where you will give a passionate plea as to why people should check out DUSK, and the Animal Kingdom Kickstarter. So, get to pimping!
Brandon: Jason and I are huge fans of almost everything the toy and comic industries are doing right now, but don't want to see either grow stagnant with reboots and remakes. Dusk and Animal Warriors of The Kingdom are our attempts to bring something new into the worlds we already know and love. We have a lot more planned that we want to create, but we need more people to support us and other independent creators like us if it is going to happen.
If you love sci-fi but want something you haven't seen yet, you should check out Dusk. We made it just for you!
If you know that toys are for people of all ages and you like mixing, matching and making your own creations from everything in your collection, Animal Warriors of the Kingdom Series 1 adds the monkey warrior spice you've been missing.
And if you want to discover and support something new. Start here.
And that's the end of that. I want to thank Brandon Gary for letting me interview him and I hope you all enjoyed this edition of You've Never Heard Of. Check out Dusk and donate to their Kickstarter. Those toys look amazing!
Marco Lopez is the co-owner of the website Atomic Rex Entertainment. Where you can find the web comic Massively Effective, that Marco describes as Bill and Ted in tights. Also, hosted on the site is Marco's web strip series Orion's Belt that follows a family of adventurers in space and his anthology series A Shot of Whiskey. Marco has also written for Zenescope Entertainment and Lion Forge Comics.
Enjoyed this article? Share it!