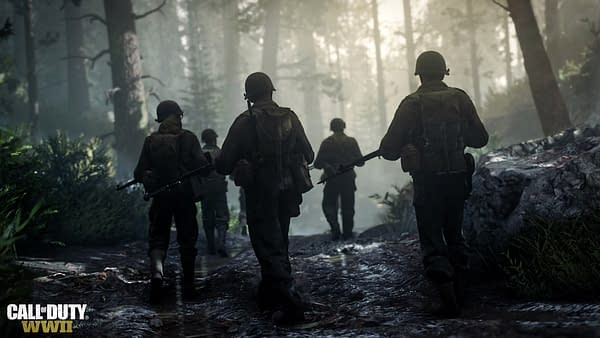 The two heads of Sledgehammer Games, the studio behind the incredibly successful Call of Duty: WWII, are stepping away from the studio they founded to work on other games with Activision.
Michael Condrey and Glen Schofield founded Sledgehammer in 2009 after leaving Visceral Games and creating the first Dead Space. The pair joined Activision as one of the three studios participating in the company's Call of Duty development cycle, helping to co-develop Modern Warfare 3 with Infinity Ward, then went on to create Advanced Warfare and Call of Duty: WWII last year.
The two are leaving just after WWII became the best selling game of 2017 despite having only released in the last few months of the year. Aaron Halon, the senior development director at Sledgehammer, will be promoted to head the studio following their departure.
Condrey and Schofield are not leaving Activision as a whole, merely stepping away from Sledgehammer to work on other projects.
"Activision has offered me the opportunity to focus my energy on something I'm very passionate about," Schofeld wrote, "exploring new game ideas for the company. It's something I just couldn't pass up."
Condrey echoed a similar sentiment in a statement. "On a personal level, I'm deeply grateful to the men and women who have poured their passion into the pursuit of excellence with us. I'm proud of what we accomplished together, it has been the greatest experience of my professional life. I am looking forward to starting a new chapter of my career with Activision. I couldn't be more excited for the future of Sledgehammer Games and look forward to seeing Aaron lead the studio to new heights."
Activision has not talked much about 2018's Call of Duty game, but has confirmed Treyarch will be developing it.
Enjoyed this article? Share it!