Evercade Reveals Arcade Collections For Handheld & VS Systems
Blaze Entertainment revealed this morning they are releasing a new set of arcade title collections for Evercade handheld and VS systems. All four of them will be made available for purchase individually later this year, and will come with support for save states just like their current existing collections do. The four sets will be from Atari, DataEast, Gaelco, and Technos. In case you're not familiar with Gaelco, the Spanish arcade company operated primarily in Europe from 1985 to the early 2000's, with an impressive catalog that a lot of people would love to get their hands on to this day. All four of these collections will be available for pre-order starting on May 28th and will officially be released on November 3rd, 2021. We have more info below along with a trailer.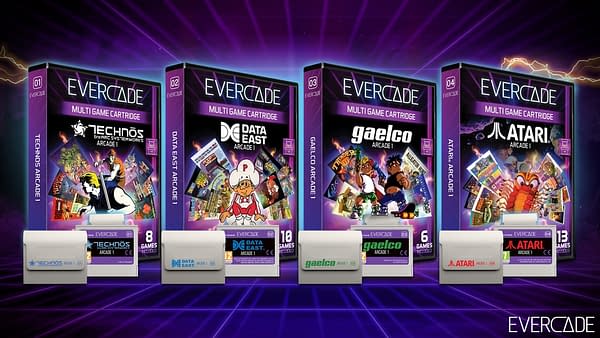 The new purple spine denotes the separation from the main console-focused collections of Evercade cartridges and the numbering system is reset for this new arcade line. But it still has the same great attention to detail with the cartridges coming with a bespoke manual and cover and provided in a bespoke plastic clamshell case, to fit in with the rest of the Evercade line. The price point of these cartridges is also in line with the existing Evercade price point of £14.99/$19.99.

All these collections have been curated by hand and feature the latest in commercial arcade emulation, and all games have been officially licensed from the license holders to provide Evercade gamers the most accurate and playable experience available. The four collections feature some of the greatest hits of the arcade era with titles such as Double Dragon 2 and 3, Bad Dudes Vs Dragon Ninja, Crystal Castles and many other great titles that became synonymous with arcade and home video gaming.