It looks like Gears 5 is going to head in a much different direction when it comes to bonus content as you won't be paying for it, you'll need to earn it. In a brand new blog post, the developers at The Coalition laid out the foundation for what they'll be doing with content in the game moving forward, which includes the fact that there will be no Season Pass, no Gear Packs, and that DLC Maps will be made free for both matchmaking and private play. But they also addressed how a lot of that content will be handled in Gears 5, and the short version is you'll need to head into the new Tour Of Duty system to earn whatever you're looking for in the game.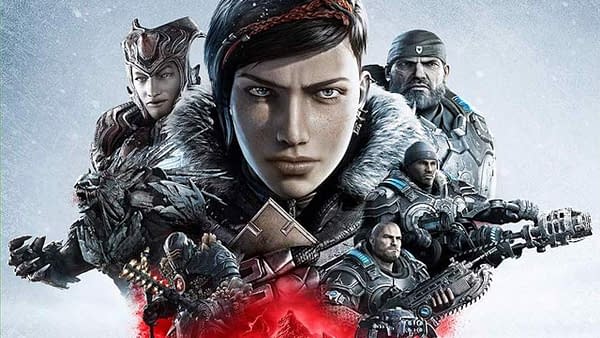 TOUR OF DUTY – EARNABLE CONTENT

We've committed to delivering more earnable content than ever before through an extensive new system called Tour of Duty. You take on Daily Challenges and seasonal Medals to rank up and earn customization content (including character skins). The path to each piece of content earnable is clear – you will know what you need to do to earn each specific customization item. In addition, there is no 'Premium' pay-only content for Tour Of Duty. Tour of Duty will also run in a seasonal format, delivering brand new content and challenges to chase every season. In addition to Tour of Duty, you'll also directly earn rewards in other ways, such as leaderboard placements in Escape or Versus.

SUPPLY – FREE CONTENT FOR PLAYING

With Supply Drops, every minute you play (across every multiplayer mode) contributes towards a random item drop from a unique pool of content we call Supply. If you draw a duplicate card, we'll automatically turn it into Scrap. Scrap can be spent on crafting Supply items you don't have or character skills you want to upgrade. Supply Drops and Supply Drop Content cannot be purchased with real-world money.

PURCHASABLE EXCLUSIVE CONTENT

Exclusive customization content can be bought with a premium in-game currency called Iron. Iron is purchased with real world currency. You will also be able to earn a limited amount of Iron through each Tour of Duty to spend in content in the Store. Content found in the store is direct purchase, meaning what you see is what you get. No Gear Packs, no randomness. We are committed to ensuring we preserve a fair competitive environment across our modes, so there will be no items in the store that provide a competitive advantage for real-money purchasers, i.e. no pay to win.
Enjoyed this article? Share it!