Masters Of The Universe Board Game Announced By CMON
Tabletop gaming company CMON has announced that they've reached a licensing deal with Mattel in order to create and publish Masters of the Universe: The Board Game! The game project will be spearheaded by Michael Shinall, Design and Development Manager for CMON, and Leo Almeida, a game developer for the company.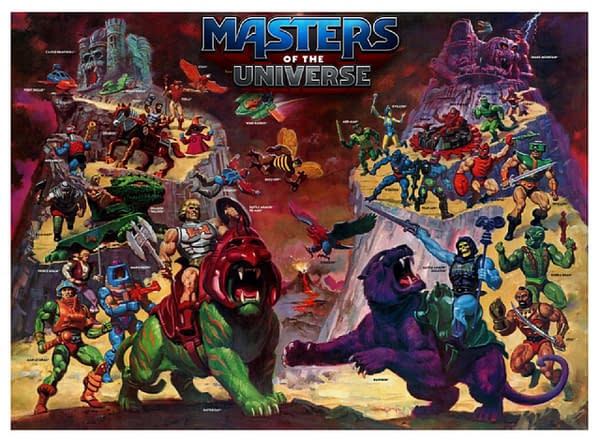 Shinall said, of turning the hugely-nostalgic and popular 1980's toy franchise into a board game:
Masters was a part of most of our childhoods. People of a certain age know all about it. Simply saying, 'I have the Power' is automatically said in one's mind a certain way because of it. Now, this game will bring an entirely new generation to Eternia and its many characters. Parents will be able to pass down their love for He-Man to their children, and that's amazing.
This franchise has been a significant force in the world of toys and collectibles since its creation in 1982. Over thirty years later, Mattel seeks to create "a global evergreen franchise with multiple content access points expanding the story and characters within the vast universe," according to the blurb from CMON.
The primary Masters of the Universe franchise follows the adventures of Prince Adam, a prince from the land of Eternia who "has the power" to transform himself into the mighty hero He-Man in times of dire peril. His nemesis is the wicked Skeletor, a man who has made pacts with dark spirits through sorcery to attempt to usurp the Eternian throne. His frequent efforts to try and become the ruler of all Eternia have prompted both Prince Adam and Skeletor to gather their own respective allies to each try and vanquish the other. The toy line was so popular that it has spawned many television series, reboots, and spinoffs, including She-Ra, Princess of Power.
So far, we don't know a lot about this board game as the deal has just been struck. However, what do you think of this board game announcement? Are you a fan of the Masters of the Universe? Do you think CMON will do it justice? Let us know!