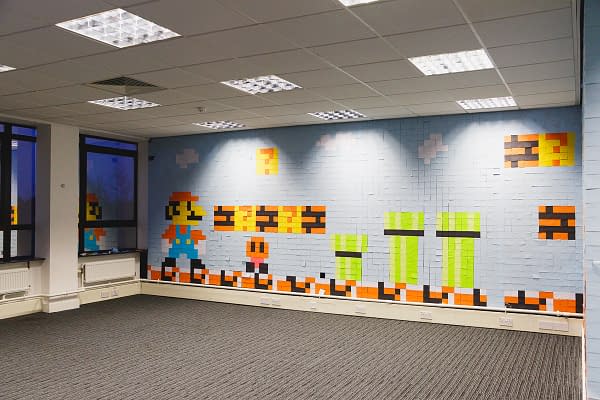 Office supply company Viking had so much fun playing Super Mario Odyssey that they just had to cover their break room in a copy of the 1-1 level of Super Mario Bros. And in true office fashion, the mural was made out of Post-its.
The company shared their enthusiasm for Mario in a blog post detailing the mural's creation on their site. And going over their reasoning, we can do nothing but sit back in awe at their majestic work of video game art. We're also slightly jealous of how cool their company break room is.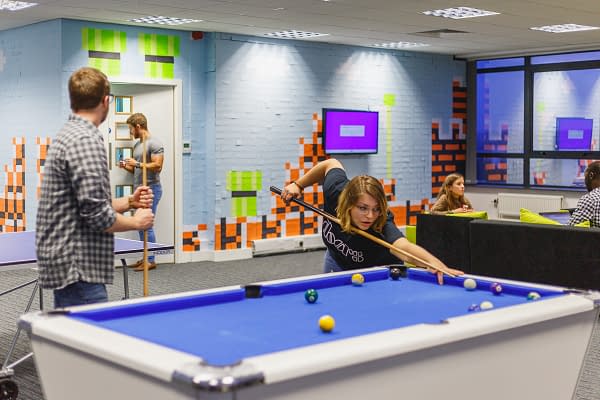 As they explain on their blog, the team at Viking is filled with gamers and after seeing each other playing Odyssey on breaks, they decided to plan an epic art project for the break room. It isn't the first time Viking have done this, either — but I'll let them tell you in their own words:
The latest Mario game has landed and made a massive impact worldwide, not to mention in our office! Our office is filled with gamers, so we noticed several people using their Nintendo Switches at lunch to explore the worlds of Mario Odyssey. Some of our employees thought we should take our love for Nintendo to the next level, just as we did with our Star Wars fans in the run-up to The Force Awakens, meaning we had our next big art project on our hands!

We took to our employee games room with a pile of Post-it notes to create our very own Mario tribute by recreating the iconic level 1-1 from the original Super Mario Bros.
And in case you thought the mural was awesome enough on its own, you are sorely mistaken. "One member of the team even brought in a Nintendo Entertainment System so we could enjoy some 8-bit, side-scrolling action while surrounded by the beautiful mural," the blog boasts.
Yeah, you may as well color us green and call us Luigi at this point.
You can check out the entire creation process in action in the video below, or read about it on Viking's blog.
Enjoyed this article? Share it!