Another great source we love for leaks are ratings boards, and we got an interesting one to end the week as Call of Duty: Modern Warfare 2 Remastered is on the way. The news came from, of all places, PEGI (Pan European Game Information) who do ratings for much of Europe and the U.K. Which is a bit of a shock as PEGI doesn't really leak information since they're usually one of the last to rate games. So it was a bit surprising when keen-eyed gamers caught the listing on their site with a fake release date of February 28th. The listing has since been deleted from their website, but not soon enough as multiple outlets caught wind and snapped pictures as proof.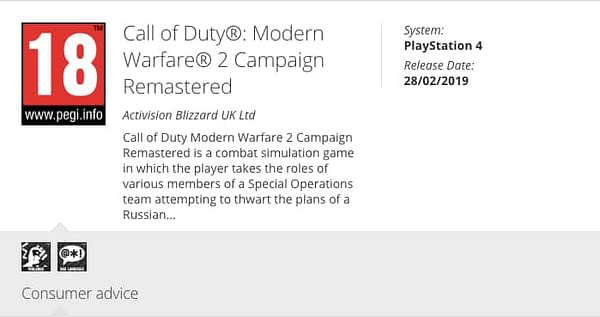 It shouldn't be all that shocking that we're getting a remaster of the game, especially since the first one was remastered back in 2016, it was just a matter of time. What is surprising about all this is that there's a focus from Activision Blizzard to do Call of Duty: Modern Warfare 2 Remastered rather than making Modern Warfare 4. It's been over seven years since we've seen a new entry in the series from Infinity Ward and not even a murmur about it being in production. (Sure, there have been rumors and innuendo, but nothing confirmed.) If they are working on it in secret, now is one of the best times to strike while the iron is hot as Black Ops 4 has been killing it lately. We probably won't get an official release date for the remaster until E3, so if they plan to drop any added news, that would be the time.
Enjoyed this article? Share it!