Things are about to get very bloody in Total War: Three Kingdoms, as the game will be getting a DLC pack called "The Reign Of Blood". If the name didn't already tip you off, the DLC will essentially be adding a lot of blood and violent effects to the game, making the war seem a lot more gruesome than what's even described in the story it's based on. We have the details and the trailer below as the pack will become available on June 27th.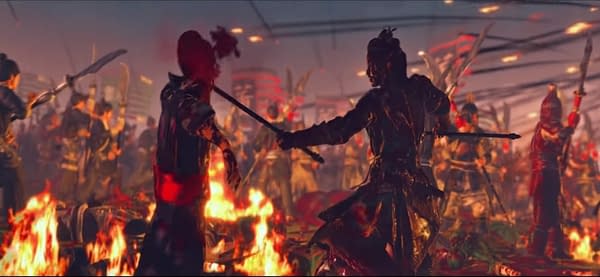 Experience the battlefields of ancient China in gruesome detail with the Reign of Blood Effects Pack for Total War: Three Kingdoms. This pack introduces a number of new gory and mature-rated effects, animations and kill-moves to the game in both Campaign and Battle. Once installed, these effects can be activated in the graphics settings of Total War: Three Kingdoms.

Campaign effects:

New campaign event-pictures depicting blood and gore
New blood effects for battle-resolution combat animations between characters

Battle effects:

Human dismemberment: limb-lops and beheadings
Equine dismemberment: leg lops
Charred bodies
Blood sprays on weapon impacts
New death animations for characters vs infantry
Dead bodies as battlefield set-dressing
Blood scaler: increase or decrease the level of gore to your tastes

Please note that, depending on your country of residence, the Reign of Blood Effects Pack may raise the age-rating of the main game.
Enjoyed this article? Share it!