Niantic are going to dive into the holiday season with a special Pokémon GO Community Day event that will celebrate a year's worth of events. The next event will kick off next Friday, November 30th at 1pm PST and run until Sunday, December 2nd at 11pm PST, and will have all of the featured moves from every previous Community Day wrapped into one for you to try and catch them all over again. There will also be special bonuses for each region for only three hours at a time. Here's the finer details of the event, as we wish you luck next week.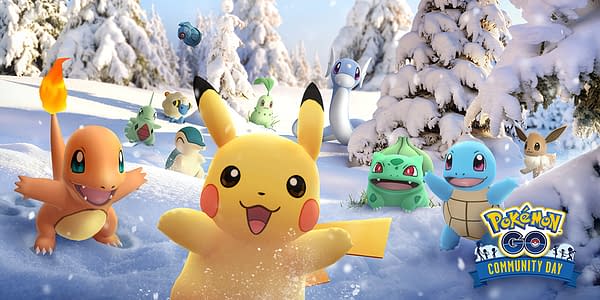 Event Date + Time

November 30, 2018, at 1 p.m. PST to December 2, 2018, at 11 p.m. PST

Event Features

Bulbasaur, Charmander, Squirtle, Pikachu, Eevee, Dratini, Chikorita, Cyndaquil, Mareep, Larvitar, and Beldum will appear more frequently in the wild.
Special moves previously featured during Community Day events in 2018 will be available again during the weekend!

Special Bonus Date + Time

Europe, the Middle East, Africa, and India: December 1, 2018, from 10:00 a.m. to 1:00 p.m. UTC (GMT +0)
The Americas and Greenland: December 1, 2018, from 11:00 a.m. to 2:00 p.m. PST (GMT −8)
Asia-Pacific: December 2, 2018, from 12:00 p.m. to 3:00 p.m. JST (GMT +9)

Bonuses

Double Catch XP
Double Catch Stardust
Double Incubator effectiveness
Enjoyed this article? Share it!