The Gears Of War 4 Multiplayer Beta Will Launch In April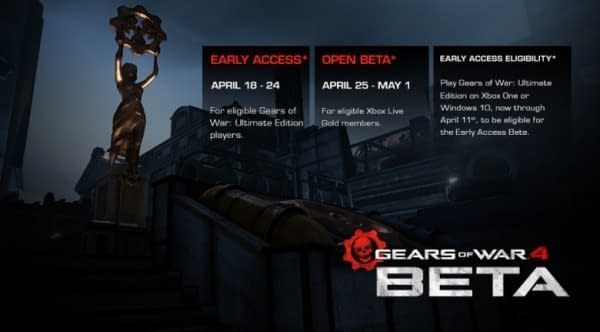 Gears of War 4 is Microsoft's big exclusive this year. This will be the franchise's first outing on the Xbox One, in theory setting up more stories down the line. It needs to all come together to be a pretty good package.
That's why it's good that the multiplayer is getting a beta to iron out kinks in public. For owners of Gears of War: Ultimate Edition on both PC and Xbox One, they'll be able to participate in the Early Access Beta on April 18-24. There will then be an Open Beta from April 25-May 1 for everyone elese.
I really am interested in seeing how the multiplayer has evolved with Gears of War 4, and it should tell us a lot about how the final game will play when it finally gets with us later this year.