On April 26th, 20th Century Fox and its partners will encourage fans to celebrate all things xenomorph. The day was chosen for its numerical similarity to planet LV-426, the source of most encounters with the Alien, and will see screenings of the film at various theaters and the introduction of new merchandise.
Alamo Drafthouse and Mondo, the collectables design firm, will host a number of these screenings and announced today that star Sigourney Weaver will appear at the New York screening of Aliens at the city's Town Hall. Meanwhile, in Los Angeles, Jenette Goldstein — Private Vasquez in the Alien sequel — and Carrie Henn, who played Newt, will appear at the Aliens screening at The Theatre at the Ace Hotel. In Chicago, the companis will co-present a double feature of Alien and Aliens at the Music Box Theatre.The screenings will also be the only place fans can pick ups a special Alien Day t-shirt designed by Jay Shaw: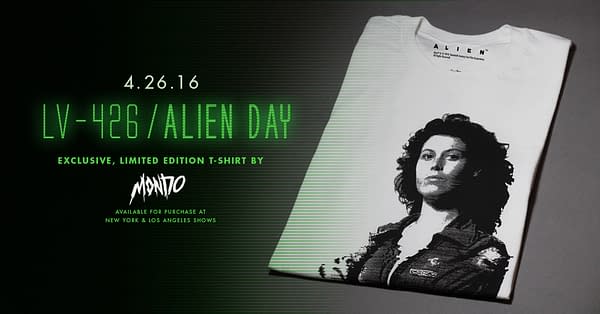 For more info and tickets, head to AlamoAliens.com.
Enjoyed this article? Share it!