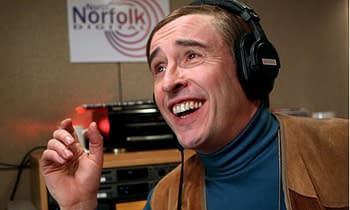 It seemed like a reasonable guess that Armando Iannucci would direct the upcoming Alan Patridge movie, currently going by the name of The Alan Partridge Movie, but he says not.
Speaking to Empire Magazine for their next issue – the most recent one is fresh on shelves so we['ll have something of a wait for the full interview – Iannucci gave a general update on the project:
It's just about all come together now, so that'll be shot later in the year… [The script] is written [but] we're always rewriting, rewriting and rewriting.
Iannucci will be taking an Executive producer credit, for what it's worth, while Father Ted and Little Britain alum Declan Lowney will be directing.
Lowney has been trying to make a movie about Eddie the Eagle Edwards for the last few years, at first with Coogan in the starring role, latterly with Rupert Grint lined up. That still hasn't happened, and I guess it won't happen any time soon with Partridge coming along.
The only feature by Lowney I have seen – and it seems to be his only one – was Wild About Harry, a comedy with Brendan Gleeson as a TV chef with a drinking problem and any number of domestic problems.
Perhaps unsurprisingly, it felt rather like an overstretched bit of TV, though it did have some laughs, and a lot of good work scattered throughout it, here and there.
Here's hoping Partridge fares better and feels a bit more at home on the big screen.
Enjoyed this article? Share it!