Alberto El Patron Blames Paige for All the Times He Told Off WWE and Triple H
With the news this week that WWE Superstar Paige's in-ring career could be over following an injury, her ex-boyfriend and Impact Wrestling star Alberto El Patron did the classiest thing possible in the situation: he blamed her for all the trash he talked to WWE while they were together.
In an interview with Spanish-language outlet Medio Tiempo, translated by Wrestling Inc, Patron blamed Paige for multiple drunken social media videos cursing off WWE and specifically WWE executive Triple H, who Alberto referred to as "the man with the big nose and no balls."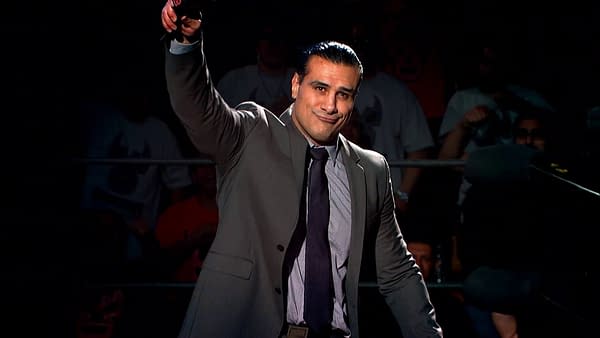 "As you know, I am a man who knows when he was wrong," Patron said in the interview. "In fact I was in contact with them. Like WWE, when they admitted their mistake the first time I left, I also admit my mistake. I personally apologized to Triple H for the issues we had when I was in a bad relationship with my ex-partner. She and her entire family made me believe that they affected our relationship. She made me believe that the [stolen personal sex] videos and all that was happening outside to her was perpetrated by Triple H and the company. At the time I believed her, because she was my partner. I defended her by heart and sword, then things were different. Later I realized how wrong I was to place my trust in that person. I deeply regret my words and apologized to Triple H, his wife and WWE. They understood me."
According to El Patron, he expects to be back with the company eventually, probably next year.
"Of course I would go back if the opportunity arises," Patron explained. "I would not go back full-time, but I would transition to a special appearance wrestler. Before I put down my wrestling boots for good it will surely happen. Surely before I retire, I will do something special with [WWE]. However I do not see it happening in 2018, but in 2019 before leaving the United States. I'm definitely going to do something special with them. I consider myself to be on good terms with WWE right now on my side, we will one day shake hands and everything will be fine. Time heals all wounds."
Patron then took to Twitter, where he implied that he has evidence against Paige and her family that the police would be interested in.
Patron is referring to a public altercation at an airport that made headlines and prompted claims from Paige's family members to have evidence of domestic abuse by Patron. However, police revealed that Paige was the one who could be charged with domestic violence for throwing a drink at El Patron.
El Patron's public feud with WWE spanned months during his tumultuous relationship with Paige, who was estranged from the company at the time. In April of 2017, El Patron appeared intoxicated in a video on Paige's Snapchat wherein he challenged Triple H to a fight. "This is my restaurant," Del Rio said in the video, turning the camera around to show the interior of the restaurant. "This is my country."
"And I still believe Triple H has a big nose and no balls," he added.
Del Rio and some pals then continue serenading the viewer, before Del Rio leaned into the camera and explained of the mostly empty restaurant, "If you are in San Antonio, this is the place to come. La Cantinita. [unintelligble] place. My place."
"We are happy people, my wife and I," Del Rio continued. "Paige and I. We're happy."
"For all of you out there trying to make us, go fuck yourself," Del Rio added as jarringly pleasant music played in the background. "Some people was saying stupid stuff about us and about me saying stuff about Triple H. Triple H, you're a fucking pussy. And I don't have to be drunk to say this. You're a pussy. "
In a video with a stuffed tiger earlier that month, Patron also trashed the company. "Just tell me if this is not entertaining," Del Rio asked before turning the camera to show a life sized stuffed tiger in a glass window. "I'm here, and we have a tiger. A fucking tiger."
Hearing the adult language, Paige asked Del Rio if his video was not rated PG.
"Oh no, you work for that company that is PG. I don't work for that fucking company anymore. Thank god," Del Rio proclaimed, adding, as Paige tried to cover his mouth with her hand. "Changing the subject, I know it was you, motherfucker, I know you did this to me, to my baby. But I'm gonna prove it was you, piece of shit."
"You know, she is better than you," Del Rio said, referring to his then-fiancee, before offering, "So you can suck my big–"
At that point, Paige cut him off, so Del Rio showed more footage of the stuffed tiger.
"This is the reason why I feel embarrassed sometimes with this woman because she loves to do stupid shit all the time" Del Rio continued. "The world used to think that she was the one always serious and never doing anything crazy."
"I'm actually the normal one," Paige clarified. The two had a brief argument, in which Del Rio claimed that he had "come out of the closet" in terms of revealing his true entertaining personality since leaving WWE.
"I used to work in that other place where I was angry all the time, hating people all the time, because most of the people working in that place are a bunch of pussies" Del Rio went on.
"Especially one with a big nose like that," he elaborated, mimicking a big nose with his fingers and clearly referring to Triple H. "But that's a different story for a different day."
A few weeks prior to that, El Patron accused WWE of harassing him on Instagram.
"I doesn't matter how many times you try to break us…" El Patron wrote, "is not gonna happen… we were harassed by a company we still are… cause you don't fool me MF's I know I was you trying to destroy us… destroy my baby… she's better stronger than all of you pieces of 💩 We are getting married Wednesday … Have a nice and go and F… yourself hatters."
Look for El Patron's triumphant WWE return in 2019.