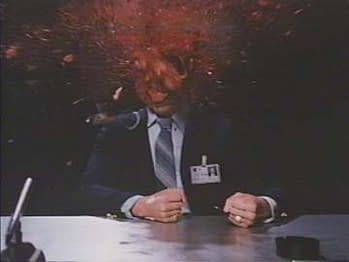 What the world needs now is a bad Scanners TV show like I need a hole for a head. A good Scanners TV show, though? Well, of course. Who doesn't love the world created in David Cronenberg's classic movie of psychic warfare? Or, perhaps more properly, love to hate it?
According to Deadline, Dimension have ditched plans to bring a David Goyer-scripted reboot of Scanners to the big screen, but have tapped Switchblade Romance director Alexandre Aja to develop a new TV series instead. Aja may direct the pilot himself.
According to insiders, it was Dimension principal Bob Weinstein and Aja who conceived of the plan to transform the Scanners property into a TV show. Malo, Peterson and David remain attached as executive producers on the series, while Goyer is no longer involved. Dimension is already in talks with potential showrunners to create and run the series. Aja is repped by WME and Industry Entertainment.
I'm glad we're in an age where a show like this could be made, exploding heads and all – and, to keep things fresh over several episodes, I expect we'll also have exploding limbs, exploding guts, maybe even exploding genitals. There's no point being shy of this stuff. Boom bang a bang is the gravy that Scanners fans want on their sci-fi drama meat and potatoes.
Enjoyed this article? Share it!