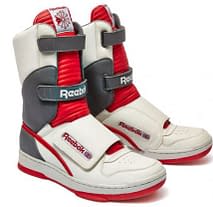 Following on the success of Star Wars's May The Fourth Day and last year's celebration of Back to the Future II's October 21st, 2015 date becoming a reality, 20th Century Fox intends to make April 26's Alien Day. The connection? 4/26 syncs up with planet LV-426 as seen in Aliens.
According to The Hollywood Reporter, the day will be celebrated with a Twitter contest, screenings at theaters in twenty cities, including some Alamo Drafthouse locations and the re-release of Ripley's Reebok footwear from Aliens. The company will also release the mid-top version as worn by Bishop. THR reports Ripley's high-tops were released for a short in 1988, but will be released to commemorate a day of Alien celibrations.
The replica shoes will certainly be cause for some to celebrate, but I'll admit to being curious about Bishop's shoes as I'm not much of a high-top guy. Both versions will be available at select Reebok locations and the company's online store.
The day will also feature the release of new Alien related comic books, digital games, action figures and high-end collectibles. NECA, for example, will release the first ever Lieutenant Vasquez and Newt figures; as well as the release of a Kenner toy-Inspired Ellen Ripley figure.
Enjoyed this article? Share it!