It's not Lego but Mega Bloks, their legally permitted imitators, who have scooped the Amazing Spider-Man licensing deal. Here are the box designs for three of the sets due to launch ahead of the movie.
This set…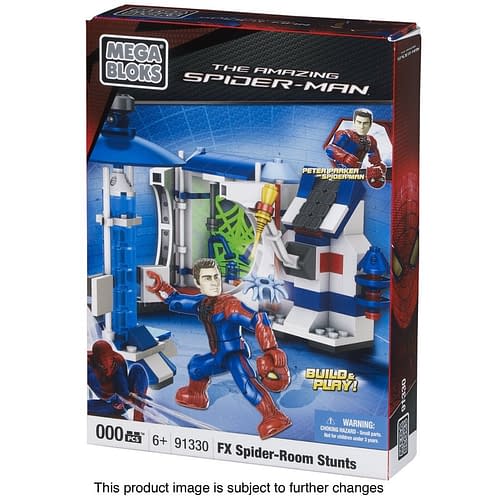 …replicates this scene from the movie…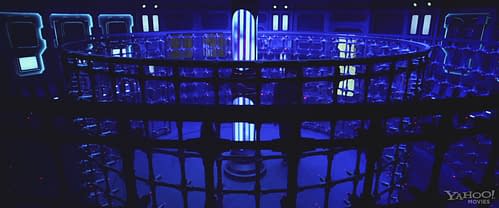 Just with a slightly less handsome Peter Parker.
And this next set reveals a sewer lab, a longstanding part of Lizard lore…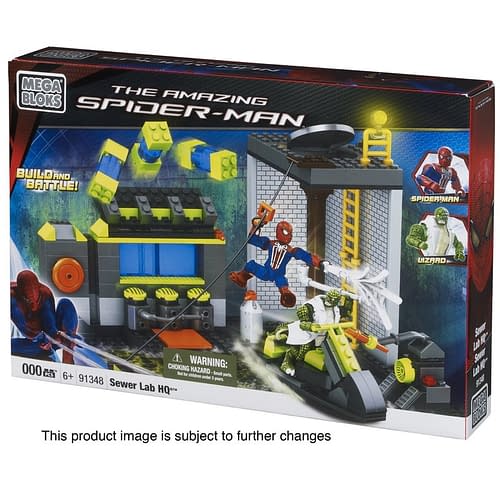 But the next two sets confirm a pair of spoilers that we've heard about.
First up, a bridge battle that C. Thomas Howell rapped about: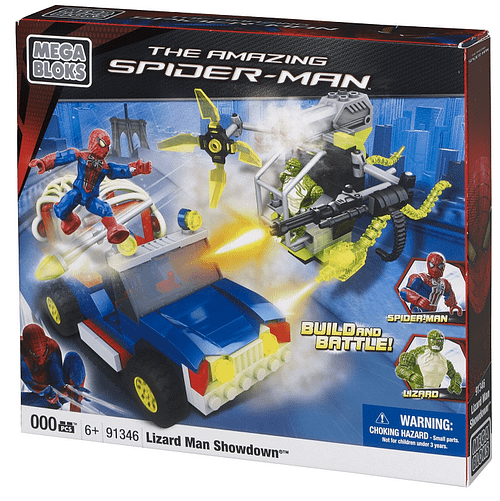 Howell said:
I play a construction worker who's son is caught in the middle of a battle between the Lizard and Spider-Man on the Manhattan bridge. Spider-Man helps me get my son back from this perilous situation. There is some payback there at the end of the movie. Spider-man is kind of hurting. I help him when all of the other people won't.
So, the bridge scene comes earlier in the story but is a key bit of set up. The next set shows something rather more climactic, and even more spoilery…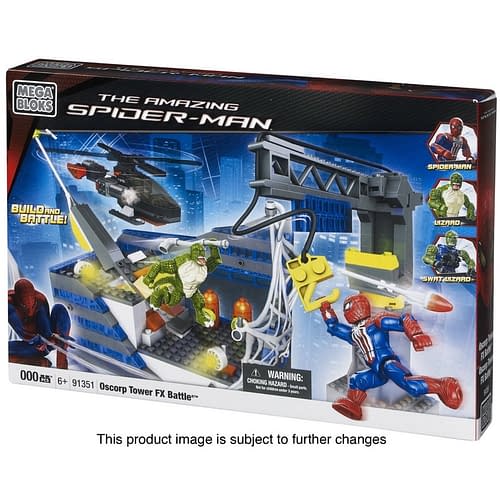 Here's what we were told about the scene in question:
One action set-piece towards the end of the film sees the Lizard transform a whole Swat team into scaly mutants that look like him. Then there's a huge battle. Some of the scene is based upon the famous issue of the comic in which Gwen Stacy died.
Incidentally, I enquired of our tipster if this was their way of saying Gwen Stacy was going to meet her sticky, neck-snappy end but they had no idea of her eventual fate, being a sneaky observer and not part of the production… but more than this we cannot say.
A cursory check of the Bleeding Cool archives revealed that the SWAT rumour was also showing up elsewhere. Put it in the bank.
So, once again, some licensed merchandise reveals key plot points.
Enjoyed this article? Share it!